Featured in:
Insurance clerks process insurance applications from customers and update existing customer policy records. This entry-level position requires strong attention to detail and the ability to communicate specifics to customers who may not understand certain insurance policies. Quick thinking and problem-solving skills also come in handy. Insurance clerks often work directly with insurance agents and report up the chain of a traditional corporate hierarchy. They usually work in office or call center settings.
If you are having writers block, our resume examples can help. Choose from hundreds of job titles to find the right example for your needs.
Boost your resume with an extra click. Our cover letter templates match our resume templates' designs for a cohesive application. Use a template in our builder to help you quantify and expand upon the experience from your resume and impress employers.
Insurance Clerk Duties and Responsibilities
The specifics of an insurance clerk's position can vary depending on the company they work for, but most clerks perform the same general duties:
Process New Policies
The insurance clerk's main responsibility is processing policy applications for potential new policyholders. These applications come from a variety of different sources, including online applications and applications from agents. Insurance clerks enter data from the applications into the company's internal software.
Update/Change Existing Policies
Sometimes mistakes are made, and sometimes policyholders' life details change. Insurance clerks are responsible for updating existing policies as needed. These changes need to be affected promptly, as policyholders often have unexpected events take place in their lives.
Communicate with Policyholders
Insurance clerks often fill the role of customer service representatives. When policyholders call in or send support requests, it often falls on the shoulders of the insurance clerk to answer those questions.
Review Policies and Documentation
Most insurance companies work with a lot of documentation, and it's the responsibility of the insurance clerk to review those records. They also review policies to ensure accuracy before processing them.
Work with Agents
Insurance clerks also communicate and work directly with insurance agents from all over the nation. As such, they must be able to problem-solve on the go, as insurance agents are often working with customers on one end of the phone while also coordinating with an insurance clerk.
Insurance Clerk Skills and Qualifications
Insurance clerks are efficient and professional in every aspect of their job. They should be able to catch errors on insurance applications and work well with customers to ensure high levels of accuracy. While most employers only require a high school diploma for education, they consistently seek candidates with the following skills:
Account management - insurance clerks work directly with customers and their specific policies. They should be able to manage these policies and adjust quickly to fit the needs of each customer
Call center experience - insurance clerks spend the majority of their day on the phone, so they should have previous experience talking on the phone in a professional environment
Application processing - prior experience processing applications of any kind is helpful for potential insurance clerk candidates. This includes possessing data entry skills and troubleshooting experience to help customers fill out applications correctly
Communication skills - insurance clerks are excellent verbal and written communicators, able to speak with customers from all walks of life
Positive attitude - changing insurance policies can be stressful for customers. To combat this anxiety, insurance clerks should always exhibit an upbeat and positive attitude
Tools of the Trade
Insurance clerks are most successful when they are comfortable with the following tools:
Commercial phone systems
Microsoft Office Suite
Insurance Clerk Education and Training
Insurance clerks typically don't need more education than a high school diploma. Some employers prefer candidates with an associate's degree or higher. Insurance clerks don't need any kind of extra certification, but previous training in insurance billing always helps.
Insurance Clerk Salary and Outlook
According to the Bureau of Labor Statistics (BLS), the median wage for insurance clerks is $38,430 per year. Those who are just breaking into the industry may find themselves in the bottom 10 percent with a salary of $26,510, while those with more experience can earn upwards of $59,310. Insurance clerks may or may not get comprehensive benefits packages, depending on whether they work full time or part time.
Growth projections for insurance clerks are mostly positive, due in part to the evolution of online technology that allows customers to submit applications from home. Insurance clerks with experience handling online applications can expect more success in this field.
Create your own professional resume in just minutes.
Try our resume builder today
Build Your Resume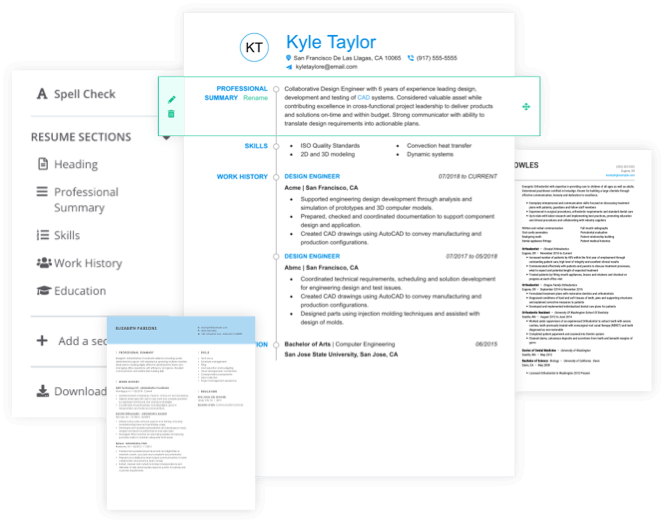 Helpful Resources
If you're interested in pursuing a career as an insurance clerk, you might also be interested in checking out some of these helpful industry-specific resources:
This organization provides a community of insurance professionals that can help you network and learn more about the insurance industry as a whole. You can also find a variety of resources that can help you develop your skills as an insurance clerk.
Written by a former Walt Disney World vice president, this book focuses on the idea that customer service can make or break a company. Since insurance clerks work heavily in a customer service role, they can learn a lot from this book about maintaining customers, like how to solve problems on the fly. The principles outlined here can easily be applied to the world of insurance.
This is an incredibly helpful resource that provides a huge variety of realworld phrases you can use directly in your job as an insurance clerk. The phrases in this book can help you learn how to "convey courtesy, warmth, and assurance" to the policyholders that you work with.
Insurance Clerk Resume Help
Explore these related job titles from our database of hundreds of thousands of expert-approved resume samples: