Featured in:
Chief technology officers (CTO) are executive-level employees who oversee a company or organization's technical development and implementation of new technologies. The CTO makes high-level decisions regarding technological enhancements, determining how to leverage technology investments and capital to support the company's long-term revenue and growth goals. While the chief technology officer frequently works closely with IT departments and developers, their decisions can affect an entire organization.
Because the chief technology officer's role is central to business operations, individuals in this position are vital to long-term planning and budgeting, strategic direction, and operations enhancements. Their decisions about how a company uses technology are critical in keeping companies productive and successful.
Need cover letter guidance? Add a cover letter to your resume using our cover letter formats how-to guide and add value to your resume.
Want to boost your resume? Your Jobhero subscription comes with a complimentary cover letter builder. Once you choose a cover letter template, the builder will suggest job-specific skills and prewritten entries, allowing you to save multiple letters for various applications fast.
Chief Technology Officer Duties and Responsibilities
A chief technology officer's role can change from company to company, but based on our research, many of the core duties remain the same:
Identify Technology Solutions
The foremost responsibility of chief technology officers is to identify both short- and long-term technological solutions. They assess current and anticipated business needs related to technology ranging from servers to application development and make critical decisions regarding hiring personnel and implementing solutions that will allow the company to grow and thrive. For many chief technology officers, these decisions involve considering how users interact with and utilize the company's technology.
Manage Operating and Capital Budgets
Additionally, chief technology officers closely manage the financial aspects of technology development and implementation by managing operating and capital budgets. Chief technology officers provide leadership and guidance in hiring and personnel development, determine how to best allocate funds toward building effective technologies, and perform careful analysis and forecasting of return on investment for the company's technologies.
Monitor and Analyze Technology Performance
Chief technology officers monitor technology trends and performance, which can include assessing user adoption, daily users of software or service, or areas where the company is not fully utilizing its technological capabilities. They determine metrics to measure the company's technologies, comparing actual results to forecasts and internal benchmarks, directing teams to solve issues as they arise.
Create Organization-Wide Technology Standards and Practices
Chief technology officers establish and implement company-wide standards and practices related to the organization's technologies. This can involve big-picture planning, as well as more focused decisions about user-facing elements of the company's technologies. They also monitor these standards and practices, making adjustments based on changing circumstances or company activities.
Identify Opportunities to Leverage Emerging Technologies
Forward-thinking, chief technology officers identify opportunities to utilize and implement emerging technologies into their organization's practices and operations. They work closely with development or IT teams to determine whether a particular technology or solution could benefit the company and may also make hiring and capital decisions related to developing and implementing these emerging technologies.
Manage Public Relations
Finally, chief technology officers are frequently the public face of their company's technological projects and developments. They organize and present press conferences to highlight new technologies or products offered by their organizations and manage negative publicity related to the company's technologies. Additionally, many serve as liaisons between customers and their organizations, reviewing customer concerns and integrating them into future development projects.
Chief Technology Officer Skills and Qualifications
Chief technology officers manage and direct many aspects of a company's technology development and integration processes. Companies typically hire candidates with advanced degrees in a related field, prior experience in a similar role, and the following skills:
Strategic planning - chief technology officers align technology and research with long-term business financial goals
Financial management - chief technology officers need a solid grasp on financial management, planning, and investment to manage capital and operating budgets
Software development - many chief technology officers have a background in coding and software development, which helps inform their decisions about the company's technologies
Public relations - many chief technology officers interact directly with their company's customers and the press
Communication skills - written and verbal communication is key to this role, as the chief technology officer works with executives and development teams to create and implement technology roadmaps and standards
Analysis and metrics - successful chief technology officers have experience analyzing and measuring technology use and adoption to guide development and marketing efforts
Chief Technology Officer Lead Education and Training
Most chief technology officers have at least a bachelor's degree in a related field such as computer science or business administration, although many also have advanced degrees in these fields. Experience is very important in this role, as many companies hire chief technology officers who have worked in this capacity with another organization. Many startup founders transition into the chief technology officer role as their companies scale up. In these cases, education and experience are less important.
Chief Technology Officer Salary and Outlook
Salaries for chief technology officers can vary widely based on industry, a company's size, and the CTO's level of experience. However, the Bureau of Labor Statistics (BLS) provides estimates for executive salaries that provide a general guideline. According to the BLS, the median chief executive salary as of May 2016 was $181,210, with the top earners making over $208,000 and the lowest-earning 10 percent making $69,780. It's also worth noting that many chief technology officers receive non-cash compensation including benefit plans and ownership stakes in their companies.
The BLS estimates that employment for chief executives will grow eight percent between 2016 and 2026, primarily through the establishment of new organizations.
Create your own professional resume in just minutes.
Try our resume builder today
Build Your Resume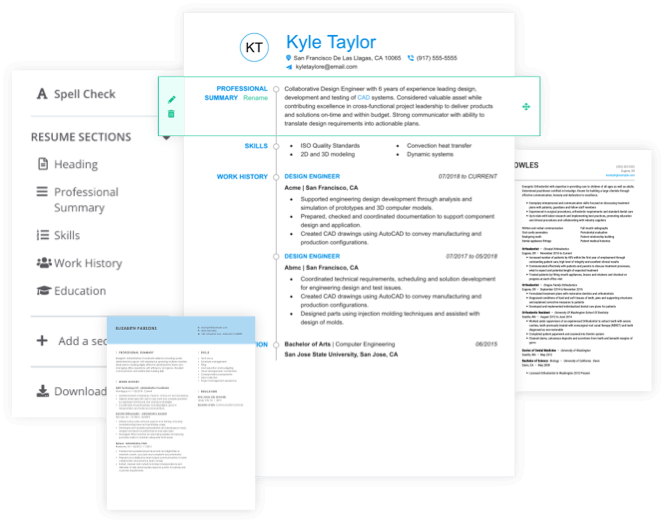 Helpful Resources
We found several resources if you'd like to find out more about working as a chief technology officer:
Chief Technology Officer Resume Help
Explore these related job titles from our database of hundreds of thousands of expert-approved resume samples: