Featured in:
Senior web designers work with various aspects of website creation, from the coding element to ensuring a site is responsive and optimized for search engines. Typical tasks that a senior web designer is involved with include developing website layouts, updating sites with changes or new information, and working with other teams to create concepts and strategies. Most senior web designers work full-time, although part-time positions are sometimes available, as are remote working opportunities. This role is well-suited to creative people with an aptitude for technology, computers, and problem-solving abilities.
Our certified resume writers have created a library of resume samples to show you exactly what a strong resume looks like. Use them as-is or customize them to your needs.
Boost your resume with an extra click. Our cover letter templates match our resume templates' designs for a cohesive application. Use a template in our builder to help you quantify and expand upon the experience from your resume and impress employers.
Senior Web Designer Duties and Responsibilities
The type of organization a senior web designer works for will determine the exact roles and responsibilities. Based on job listings we analyzed, a senior web designer's duties typically involve:
Meet with Clients
A key part of a senior web designer's duties is meeting with clients and team members to discuss the needs of the site or project and to create a plan of what's required. This involves ideation and strategy as well as a good understanding of the clients' brand and goals.
Create and Test Sites
Working from project briefs and concepts, senior web designers create and test applications to ensure that they're working effectively and meet the demands of the client. This involves checking that the site is responsive, fixing any bugs or faults, and checking the site on different browsers to assess potential usability issues.
Write Code
Part of this role involves writing programming code to build the website and alter the design. This involves staying up-to-date with the latest coding developments and changes, utilizing new technology to streamline the process, and adhering to best practices.
Integrate Media
Working closely with animators, video teams, and other designers, senior web designers are responsible for finding ways to integrate different forms of media into a site to improve usability and enhance the look and feel of the website.
Generate Ideas and Strategies
Senior web designers are expected to be creative and find original solutions to briefs. They also create strategies to proactively drive innovation with new options made available by upcoming technologies.
Senior Web Designer Skills and Qualifications
Senior web designers should have strong interpersonal skills, be able to explain complex technical information in an easy-to-follow way, and be able to find creative solutions to project briefs. Typically, employers will require a bachelor's degree in web design or a similar field, along with previous experience of web design and the following abilities:
Communication Skills - Senior web designers work closely with other departments to bring projects and ideas to life. They provide support on technical issues, often explaining information to people with no web design knowledge. This requires excellent communication skills and the ability to translate information clearly
Technical Support - Senior web designers oversee the technical web strategy at all stages and provide advice and support where they can
Problem Solving - When issues arise, it's the senior web designer's duty to identify and resolve the problem, including providing clear and concise explanations to other colleagues or clients
Search Engine Optimization - A large part of any web-based role is to optimize it for search engines, so senior web designers have a strong understanding of the fundamentals of SEO and how to put it to best use on web pages
Creativity - Senior web designers have a creative mindset and are able to come up with unique and interesting ideas for projects or layouts
Tools of the Trade
Senior web designers are expected to have a good understanding of:
Programming Languages – (HTML, CSS, Javascript, PHP, jQuery)
Adobe Software – (Photoshop, Illustrator)
Senior Web Designer Education and Training
The minimum requirement to become a senior web designer is a bachelor's degree in web design, computer science, or a related subject, along with previous experience in a web design role. Most employers will expect to see a varied portfolio and evidence of skills in software such as Dreamweaver, Photoshop, and Xara, along with programming languages like HTML and CSS. Depending on the company, senior web designers may be expected to have a good understanding of other coding languages such as Javascript and PHP.
Senior Web Designer Salary and Outlook
The median annual salary for senior web designers is nearly $69,000. Senior web designers in the 10th percentile earn around $50,000 a year and the highest paid earn nearly $96,000 annually. Bonus structures can reach as much as $10,000 with this position, and profit sharing can reach as much as $11,000. Commission is also available with some companies and roles, reaching up to $2,000.
Location and level of experience impact the pay level for this role, and many employers offer dental plans and medical insurance as part of their benefits package. The Bureau of Labor Statistics predicts that the growth rate for this sector is expected to increase by 15 percent through 2026.
Create your own professional resume in just minutes.
Try our resume builder today
Build Your Resume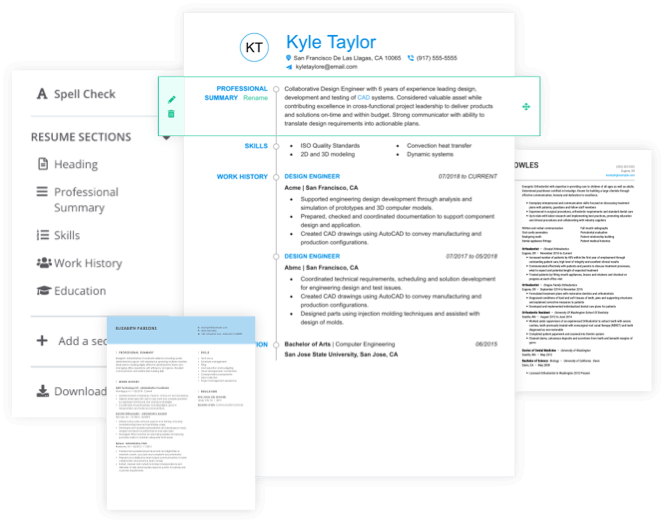 Helpful Resources
We've collected some of the best resources to help you develop a successful career as a senior web designer:
Senior Web Designer Resume Help
Explore these related job titles from our database of hundreds of thousands of expert-approved resume samples: