Featured in:
Environmental engineers are experts tasked with successfully minimizing and managing various sources of waste pollution to guard air, water, soil, and living things from harm. They accomplish their goals by working in areas such as waste or wastewater treatment, site remediation, or pollution control. They often write environmental investigation reports detailing findings, and they serve as liaisons between the companies they work for and federal, state, and local environmental agencies. Most environmental engineers work 40-hour weeks. When managing certain projects, the possibility of longer hours is not uncommon.
Need cover letter guidance? Add a cover letter to your resume using our cover letter formats how-to guide and add value to your resume.
Boost your resume with an extra click. Our cover letter templates match our resume templates' designs for a cohesive application. Use a template in our builder to help you quantify and expand upon the experience from your resume and impress employers.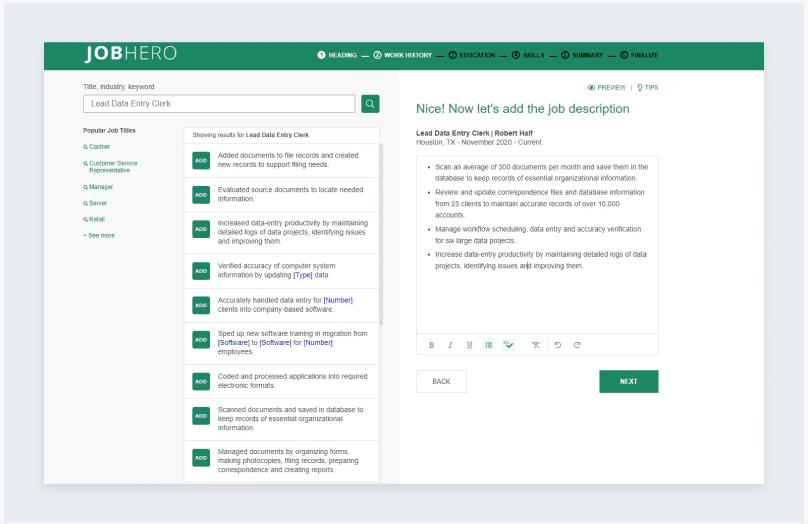 BUILD MY RESUME
Environmental Engineer Duties and Responsibilities
The duties and responsibilities of environmental engineers can vary according to their position. However, the core tasks in this profession don't change. Based on our review of job listings, these tasks include:
Applying Scientific Data
Often environmental scientists, not engineers, gather data from a natural environment, analyze it, and make a recommendation regarding how to implement a beneficial change. Environmental engineers rely on this type of data, utilizing it, along with their engineering and environmental science knowledge, to create a solution for a change that is needed.
Making Recommendations
Relying on data, environmental engineers make recommendations for actions, such as cleanup, reclamation, and waste management solutions that will help to solve current issues and prevent similar ones from happening again in the future.
Designing Projects
Depending on the issue at hand, environmental engineers might be tasked with designing projects, such as creating a new waste disposal project, a new air pollution monitoring system, or a new infrastructure to minimize human impact on a space.
Monitoring and Inspecting
Inspecting and monitoring sites to determine how they comply with environmental regulations is an important core task. Environmental engineers utilize mathematical calculations and computer modeling to assess and forecast environmental issues of the past, present, or future.
Environmental Engineer Skills and Qualifications
Environmental engineers are required to have at least a bachelor's degree. Employers also desire applicants with the following abilities:
Working knowledge of relevant processes and systems - environmental engineers are well versed in the processes and systems related to the field they work in, such as hydrology, fluid dynamics, geography, chemical engineering, or geology
Research and writing skills - to prepare reports about land use and policies or to create environmental documents detailing compliance with federal, state, and local regulations
Troubleshooting skills - when designing facilities and processes, environmental engineers strive to solve several issues at once, from workers' safety to environmental protection, anticipating problems to prevent losses for their employer, safeguard workers' health, and mitigate environmental damage
Interpersonal skills - environmental engineers work toward a common goal with other engineers, scientists, technicians, and mechanics
Imagination - the ability to foresee how proposed designs and systems will interact with system components already in place and the environment is also a critical skill
Tools of the Trade
Environmental engineers often use the following technology and tools:
Environmental engineering software (MATLAB, ArcMap/qGIS )
Air samplers or collectors
Air velocity and temperature monitors
Water samplers
Environmental Engineer Education and Training
While entry-level environmental engineering jobs require at least a bachelor's degree in civil engineering, environmental engineering, or chemical engineering, some employers may prefer candidates to have a master's degree in one of those fields. College courses include chemistry, biology, physics, and math. A degree program accredited by the Accreditation Board for Engineering and Technology, Inc. and a passing score on a PE exam is usually necessary for a person to become a licensed professional engineer.
Environmental Engineer Salary and Outlook
The Bureau of Labor Statistics (BLS) states the national median annual salary for an environmental engineer is $86,800 with a median hourly wage of $41.73. An environmental engineer in the 10th percentile earns approximately $52,160 a year (or $25.08 an hour), while the highest paid in the field make $134,060 a year ($64.45 hourly).
According to the BLS Occupational Outlook Handbook, over 53,800 environmental engineers are employed in the United States. Projected employment growth for this sector is 8 percent through 2026.
Create your own professional resume in just minutes.
Try our resume builder today
Build Your Resume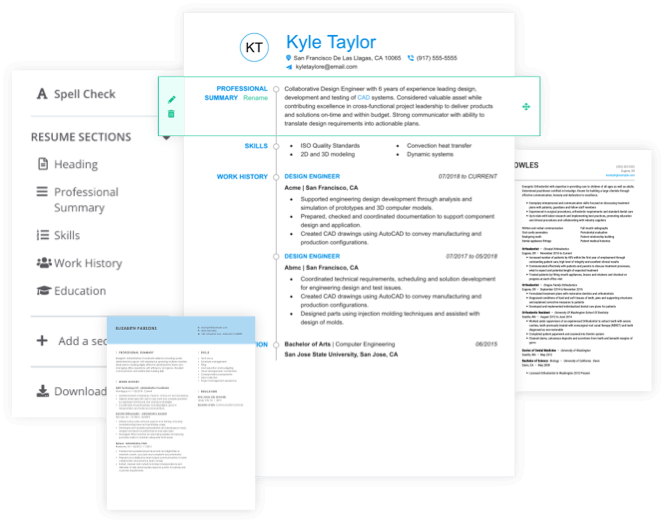 Environmental Engineer Helpful Resources
To discover whether this career is the right move for you, take a look at these top industry resources. Follow the links to gather the information you need:
Environmental Engineer Resume Help
Explore these related job titles from our database of hundreds of thousands of expert-approved resume samples: