Featured in:
Telecom engineers are experts in electronics who typically specialize in telephone networks or broadband telecommunications. Telecom engineers design or configure voice, video, and data communications systems. A person in this role is also expected to manage installation and post-installation service and maintenance.
A successful telecom engineer should be an analytical problem-solver with strong math skills and prior experience. Job candidates will need a bachelor's degree in computer science, electrical engineering, information technology, or a related field.
Our certified resume writers have created a library of resume samples to show you exactly what a strong resume looks like. Use them as-is or customize them to your needs.
Impress your future boss! According to a 2020 survey, most hiring managers read cover letters for candidates they're considering interviewing before making their final decision. Make a cover letter that seals the deal with our professionally designed cover letter templates.
Telecom Engineer Duties and Responsibilities
While the day-to-day duties of a telecom engineer are determined by their employer, there are many core tasks associated with the role. Based on our analysis of job listings, these may include:
Install Software and Hardware
Telecom engineers install, or coordinate the installation of, new or modified hardware, software, or programming modules of telecommunications systems.
Monitor and Test Systems
It is expected that these engineers test and evaluate hardware and software to determine efficiency, reliability, and compatibility with existing systems, networks, and data. Telecom engineers also monitor and analyze system performance, such as network traffic, security, and capacity, to proactively identify service-impacting issues.
Manage Projects
Telecom engineers manage large projects requiring telecommunication services, ensuring timely planning and implementation. Duties include changing priorities and tasks to most effectively match a varied grouping of skills to fit customer needs. Telecom engineers are also expected to resolve complex and escalated network and telecom service issues in a timely manner to support internal and external customer requests and needs.
Create and Maintain Documentation
To ensure proper protocols and processes are in place, telecom engineers produce, update, and generally improve technical documentation to support security requirements and operational support of systems.
Telecom Engineer Skills and Qualifications
Successful telecom engineers are analytical problem-solvers. They think proactively to stay ahead of issues that may arise. They are well organized and thrive in fast-paced, high-stress environments. Additionally, employers prefer candidates who possess the following abilities:
Communication skills – it is crucial that a person in this role has the ability to communicate network security issues to peers and management clearly and effectivel
Adaptability – telecom engineers typically work as a member of several teams, which requires flexibility and adaptability. Candidates interested in this role should be collaborative and comfortable working both individually and with larger groups
Problem-solving skills – it's the job of the telecom engineer to solve problems. Software, network, and data incidents can happen at any time and it's expected that these engineers will research, escalate, and resolve issues effectively
Analytical thinking – efficiently identifying and analyzing problems of existing telecommunications systems and determining the most effective ways of reducing and eliminating future problems for improved communication levels is crucial to the success of a telecom engineer
Telecom Engineer Education and Training
A bachelor's degree in a field such as electrical engineering, computer science, software engineering, systems engineering, or information systems is typically required to work in this career. Some positions require up to five to 10 years of experience as well. The Society for Cable Telecommunications Engineers recommends that telecommunications engineers pursue continuing education courses to advance their careers and keep current with industry trends. Hands-on training, especially for specific processes and the company's software, is typically offered by employers.
Telecom Engineer Salary and Outlook
The Bureau of Labor Statistics (BLS) categorizes telecom engineers under a broader category of electrical and electronics engineers. The median annual wage for electrical engineers is $95,060. The median annual wage for electronics engineers is $102,180.
Overall employment of electrical and electronics engineers is projected to grow 7 percent through 2026, about as fast as the average for all occupations. The change in employment is expected to be tempered by slow or declining growth in most manufacturing industries that employ electrical and electronics engineers.
Create your own professional resume in just minutes.
Try our resume builder today
Build Your Resume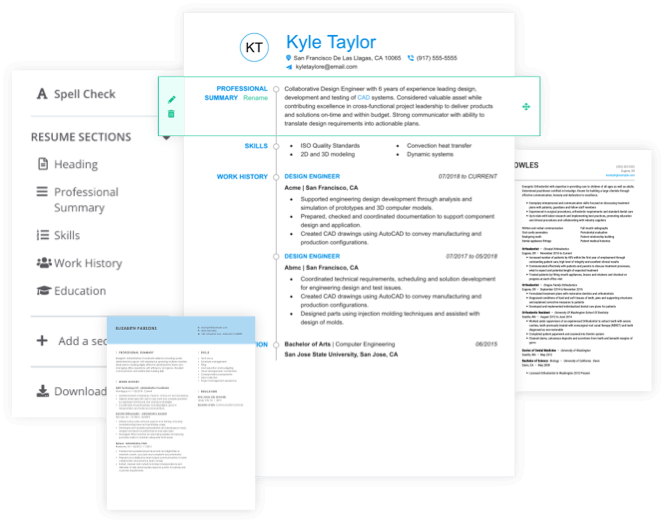 Helpful Resources
There are many helpful resources available for those interested in careers as telecom engineers. Please review the links below for valuable information and the latest industry news: