Featured in:
Senior Java developers work with the Java programming language to develop web applications and computer systems. This involves assigning tasks to other team members, designing and testing code, and communicating with clients to analyze their requirements. Typically, senior Java developers work in-house as part of a team, with other colleagues contributing to designing and developing successful software, although some developers work remotely. This is usually a full-time position, but additional hours are common when deadlines are approaching. Senior Java developers should be technically minded, creative, and excellent problem-solvers.
Need cover letter guidance? Add a cover letter to your resume using our cover letter formats how-to guide and add value to your resume.
Boost your resume with an extra click. Our cover letter templates match our resume templates' designs for a cohesive application. Use a template in our builder to help you quantify and expand upon the experience from your resume and impress employers.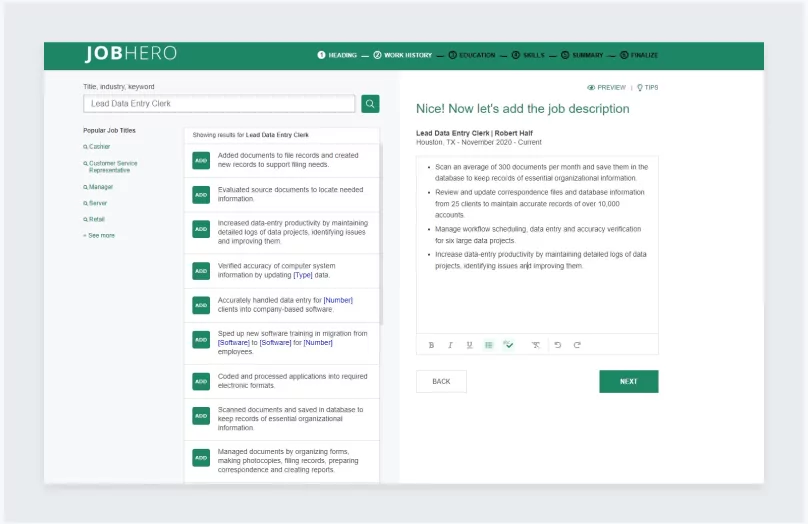 BUILD MY RESUME
Senior Java Developer Duties and Responsibilities
Senior Java developers carry out a variety of duties depending on the organization they work for. Based on job listings we analyzed, their responsibilities typically involve:
Analyze Client Needs
Senior Java developers work with users and clients to determine what their needs are and then develop the appropriate software to meet those requirements. As senior staff, they assign tasks to employees.
Design and Test Software
Once the development plan is in place, senior Java developers work with colleagues to design, test, and develop software to fulfill the project. They also recommend upgrades to existing programs as required.
Create Plan Diagrams
Designing a system requires a detailed plan of how each aspect of the application will work as one, so senior Java developers create plans and models, often as flowcharts, that show programmers how the code will work together for the software.
Write Documentation
Senior Java developers create documentation to detail how applications or systems work together to ensure they're maintained properly in the future and to help with any upgrades.
Collaborate to Create Software
Senior Java developers work with other computer specialists and collaborate with teams within the company to develop software. They write or amend code for either stand-alone applications or those that access servers to create optimum systems for the business.
Senior Java Developer Skills and Qualifications
Senior Java developers should have strong attention to detail and a creative approach to projects, and they must enjoy finding solutions to problems. Typically, employers will require a bachelor's degree in computer science or a similar subject, as well as a minimum of five years' experience and the following abilities:
Analytical skills - senior Java developers need to analyze and assess a user or client's needs to find the most suitable solution for them, so strong analytical skills are vital for this job
Problem-solving skills - as coding issues emerge, senior Java developers find the right resolution for the problem. Applicants for this role should enjoy problem-solving and fixing errors
Creativity - senior Java developers need a creative mindset to think outside the box and find alternative ways to develop computer systems
Attention to detail - senior Java developers work on various parts of a system or application, so they must be focused and detail oriented to spot any inaccuracies or errors within the code
Interpersonal skills - this job requires working closely with other team members as well as clients to ascertain what they need from an application or system. Senior Java developers need excellent interpersonal skills to do this efficiently
Senior Java Developer Education and Training
The minimum requirement to become a senior Java developer is a bachelor's degree in computer science or a similar subject, along with at least five years' experience working with the Java programming language. Many students studying computer science also take part in internships to gain practical experience. Applicants looking to gain a competitive edge may find a master's degree beneficial to their resume. Senior Java developers need to stay up to date with the latest programming tools and computer languages, as well as trends in the industry.
Senior Java Developer Salary and Outlook
The median annual salary for senior Java developer is nearly $102,000, according to the Bureau of Labor Statistics (BLS). Senior Java developers in the 10th percentile earn around $60,000 annually, while the highest paid earn close to $160,000 a year. This higher salary includes bonus packages that can reach up to $15,000 based on individual or group performance, and profit-sharing opportunities that can reach as much as $12,000.
The hiring company and prior experience impact the pay for this role, and many employers offer dental plans and medical insurance as part of their benefits package. The BLS predicts this sector will grow 24 percent through 2026.
Create your own professional resume in just minutes.
Try our resume builder today
Build Your Resume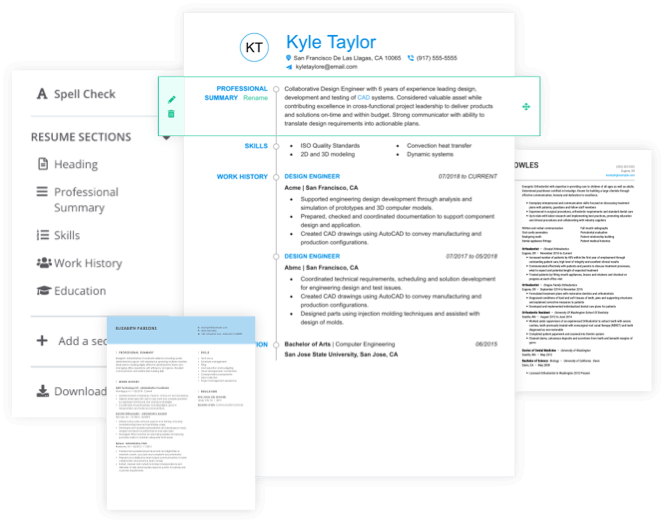 Helpful Resources
We've collected some of the best resources to help you learn more about working as a senior Java developer:
Senior Java Developer Resume Help
Explore these related job titles from our database of hundreds of thousands of expert-approved resume samples: