Featured in:
Civil technicians, also known as civil engineering technicians, contribute to infrastructure projects such as highway construction and bridge building by providing direct support to civil engineers. They balance technical and mathematical aptitude for designing and calculating dimensions and component specifications with providing direct site supervision and testing throughout the project lifecycle.
Civil technicians work on a wide variety of infrastructure projects, in addition to supporting land development activities for commercial, industrial, and residential construction projects. They tend to work as part of a team of civil technicians reporting to a civil engineer to coordinate project components.
Need cover letter guidance? Add a cover letter to your resume using our cover letter formats how-to guide and add value to your resume.
Want to boost your resume? Your Jobhero subscription comes with a complimentary cover letter builder. Once you choose a cover letter template, the builder will suggest job-specific skills and prewritten entries, allowing you to save multiple letters for various applications fast.
Civil Technician Duties and Responsibilities
Civil technicians' duties depend on the specific project or their areas of expertise, but based on postings we analyzed, they all share core responsibilities:
Conduct Site Surveys
Civil technicians prepare for civil engineering projects by leading surveys and compiling information about proposed project sites. They visit sites to take measurements and determine whether they are appropriate for proposed projects, gathering information related to elevation and current utilization. For projects related to roadways, civil technicians also monitor traffic levels and surrounding road conditions.
Prepare Blueprints and Specifications
Civil technicians support civil engineers by preparing blueprints and specification sheets for entire projects or components. This can include developing dimensional drawings for project elements using computer-aided drafting programs or preparing material specification documents for contractors. Civil technicians also review plans and blueprints prepared by other team members to ensure that they're technically sound and free of errors.
Estimate Material Needs and Costs
Civil technicians help maintain project budgets by estimating material needs and costs based on project blueprints and specifications. This can also involve reviewing bids and suppliers to determine the best costs for project materials and making recommendations to civil engineers and project leaders about vendors and suppliers.
Inspect Construction Sites
Throughout the project lifecycle, civil technicians conduct periodic inspections of sites and monitor contractor activities. These inspections involve making sure that contractors are following project specifications and blueprints while also adhering to local, state, or federal construction codes. While performing these inspections, civil technicians also provide advice or direction to contractors or work with civil engineers to determine whether project elements can deviate from the blueprints.
Perform Material Testing
Civil technicians test materials in a laboratory throughout the planning and construction process. This can involve taking soil samples and analyzing them, as well as conducting tests on construction materials and elements such as concrete. This ensures that projects are durable and safe for extended use and can affect decisions related to material and land use in the planning phase.
Prepare Project Reports
Throughout the project, civil technicians also prepare progress reports, presenting them to civil engineers and other personnel. They compare project timelines and costs to expectations and report on potential delays or issues that arise during construction. In many cases, civil technicians work on public works projects, such as highways and bridges, so these reports may also be used to share project information with the public and government officials.
Civil Technician Skills and Qualifications
Civil technicians share many duties with civil engineers throughout infrastructure projects. Typically, companies hire candidates with at least an associate degree in a related field, along with the following skills:
Project planning - civil technicians are vital in the planning process for large-scale infrastructure projects
Budget management - to make decisions regarding material amounts and costs
Math and physics - to make calculations and estimates related to project square footage and material strength
Problem-solving - to oversee the day-to-day work on a job site and to resolve contractor issues and other problems that may arise
Team coordination - civil technicians work on teams with other technicians and engineers who may be responsible for individual project elements
Material testing skills - to conduct material testing and analysis, particularly working with soil, concrete, and metal
Tools of the Trade
Because they split their time between office, construction site, and laboratory settings, civil technicians should be comfortable using a variety of equipment, including:
Surveying equipment
Drafting software (AutoCAD, SketchUp)
Laboratory tools and equipment
Civil Technician Lead Education and Training
While civil technicians don't always need a specific educational background, many organizations tend to hire candidates with at least an associate degree in civil engineering technology. Generally, focusing on mathematics, chemistry, physics, and geometry prepares a civil technician for this role, and some applicants who attend vocational or technical schools instead of completing an undergraduate degree are able to find work in this field.
Civil Technician Salary and Outlook
The Bureau of Labor Statistics (BLS) estimates that the median annual salary for civil technicians was $49,980 as of May 2016. The highest-paid 10 percent of workers in this position earned over $77,500, while the lowest-paid earned less than $31,300 per year.
The BLS estimates that civil technician employment will grow nine percent between 2016 and 2026, with many of these jobs opening up in renewable energy sectors and state and local infrastructure projects.
Create your own professional resume in just minutes.
Try our resume builder today
Build Your Resume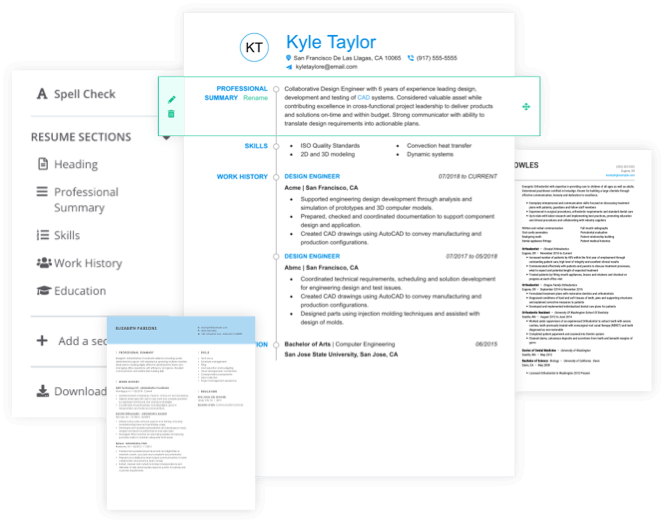 Helpful Resources
If you'd like to learn more about a career as a civil technician, there are many resources on the web for further reading:
Civil Technician Resume Help
Explore these related job titles from our database of hundreds of thousands of expert-approved resume samples: