If you like to work with your hands and want to earn a living off your mechanical and physical abilities, a career as a lineman could be a great fit. We'll show you how to become a lineman with a few educational or training suggestions to help you develop your practical knowledge.
Need cover letter guidance? Add a cover letter to your resume using our cover letter formats how-to guide and add value to your resume.
One extra step to impress a manager: A growing number of hiring professionals read cover letters to determine whether they'll interview a candidate or not. Use our cover letter templates to craft a complete application that lands you the interview.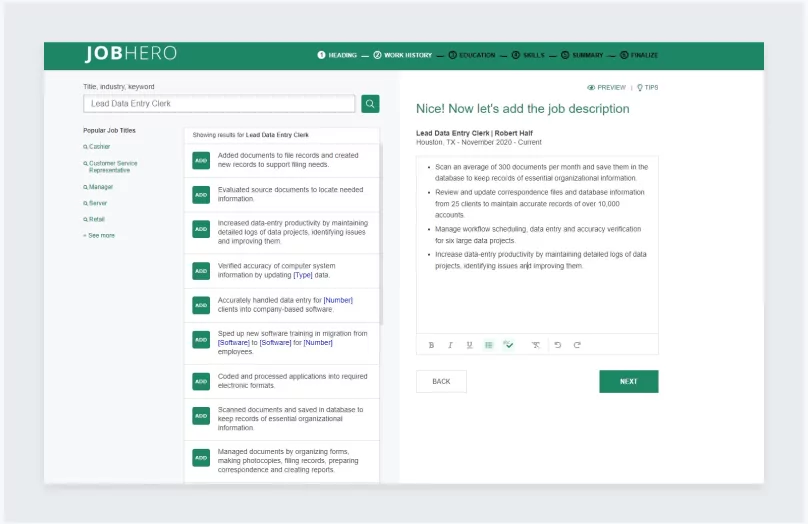 BUILD MY RESUME
What Does a Lineman Do?
A lineman is responsible for installing, repairing and maintaining high-power above- or below-ground electrical cables. You might work for utility companies, electrical contractors, telecommunications companies, or local or state government agencies.
Strong knowledge of electricity and electrical tools is crucial for a lineman. Common lineman duties and responsibilities include:
Installing fiber optic lines for telecommunications systems.

Technical tasks, such as installing switches and transformers.

Manual tasks include pulling and setting up power cables between poles or buildings.

Clerical duties, such as writing up necessary installation or repair reports.
How Do You Become a Lineman?
According to the Bureau of Labor Statistics, job growth for linemen is projected to increase by 11%from 2014-2024. With the continued growth of new housing communities and business developments and expanding cities and suburban areas, linemen will be needed to install and maintain power lines. The retirement of older linemen will also provide opportunities. Of course, any decrease in new construction would negatively impact this potential growth rate.
To become a lineman, you'll need to:
1
Earn your high school diploma or GED:
Most employers require a minimum of a high school diploma or GED certificate. If you can, demonstrate an interest or skill in algebra and trigonometry since that knowledge will come in helpful during on-site surveying and line installation.
2
Find a two-year program in tele communications, electronics or electricity:
Look for community colleges and trade schools that offer practical courses or one- or two-year programs. Most programs offer classes in telecommunications, electronics, electricity, fiber optics, microwave transmissions or hands-on fieldwork. A two-year degree in electronics or electrical contracting can be helpful but is not required.
3
Apply for an apprenticeship or practical program:
Apprenticeships combine hands-on training with instruction, usually conducted through the worker's union. These expert-led learning opportunities mean apprentices can work under the tutelage of a senior lineman for as long as three years.
Most programs will cover job safety, line assembly and installation, pole framing and construction, line maintenance, wire insulation, conductor usage and safety and hot stick work.
4
Strengthen your job prospects with specialized certifications:
There are no licensing or certification requirements to become a lineman. However, employers may ask that you possess a CDL license to operate large utility trucks. They may also ask for a physician's certificate to show that you're physically fit to perform manual tasks.
You can also boost your salary by acquiring additional certifications. Lineman unions and organizations like the Electrical Training Alliance and The Fiber Optic Association offer additional training and certifications in specialized fields.
5
Apply for your first full-time job:
Once you wrap up your education, apprenticeships and additional certifications, you can kick off your lineman career. Our library of lineman resume samples can help you determine how to describe your training and experience based on your fellow job seekers.
After completing your resume, search online for lineman job opportunities. Draw on your network of professionals you have met while gaining experience through an apprenticeship.
Lineman Skills
The essential skill sets for a lineman are technically based.
Key technical and hard skills:
1
Understanding of electrical and power equipment.
2
Knowledge of electrical currents and resistance.
3
Ability to work outdoors in all types of weather conditions.
4
Able to operate light equipment and drive utility vehicles.
Key soft skills for linemen:
1
Strong analytical and problem-solving skills, particularly when assessing power cables for repair or replacement or defective troubleshooting equipment.
2
Verbal and written communication skills help you interact with other contractors and management or write necessary company reports.
3
Task management to complete tasks with little or no supervision.
4
Ability to meet deadlines and be detail-oriented.
Insights from a Lineman
For a closer look at how to become a Lineman, we talked to Heidi Smith, an administrative assistant for the Joint Apprenticeship and Training Committee of the Northwest Line Construction Industry (NW Line JATC). NW Line JATC is a non-profit organization that trains union workers in the duties of a Lineman. Following is our question-and-answer session with Ms. Smith.
What is the common career path for a Lineman?
They will need to attend a state-registered apprenticeship which consists of 7,000 hours of on the job training.This apprenticeship takes about 3 1/2 to 4 years to complete and leads to journeyman lineman status.
There are a few ways to get started in the apprenticeship. The two most common would be attending a lineman school, also known as a pre-apprenticeship school, or signing the books as a groundman and gaining work experience.
A lineman school gives people the knowledge and understanding of what a Lineman does before applying to an apprenticeship. They will learn how to climb poles, how to use the tools of the trade and learn day to day tasks of a Lineman.They are short term, ranging anywhere from 10-15 weeks.There are several lineman schools out there and they are not a requirement to apply to the apprenticeship but they are a good start.
Signing the books as a groundman is working under a journeyman Lineman and working on a line crew and being exposed to what Lineman do. You do not climb, you basically are handing tools and doing manual work but being around a Lineman helps understand what they do.
What should someone consider before becoming a Lineman?
They should consider the travel that is involved as an apprentice. During their apprenticeship they are required to obtain so many hours in certain categories and to get those hours you will be required to travel within your jurisdiction. For our apprenticeship we cover all of Washington, Oregon, Northern Idaho and Northern California. So, an apprentice should expect to work in any part of that region to get the hours required. They should consider that they will be working at high heights and around power lines as well.
What type of person excels at this job?
Someone that is hard working, pays attention to detail and understands the importance of following safety rules and procedures.
How Much Do Linemen Get Paid?
In the United States, Linemen earn a median hourly wage of $31.95. Those at the lower end of the pay range earn $17.31 per hour, while top Linemen are paid $46.15.
Top 10 States for Lineman Salary
Linemen in the following states make the highest median hourly wage in the U.S.
Lineman Resources
Use the following resources we've put together to help you find more information about a career as a Lineman.
On the Web
Bevins Blog
Hosted by a manufacturer of electrical utility products, this blog provides various stories focusing on the job of a Lineman, safety news and more.
Powerlineman Magazine
Touted as the "only magazine built by linemen, for linemen", this online publication provides articles as well as networking opportunities for those in this trade.
Industry Groups
Lineman Books
The Field Guide for Powerline Workers 1st edition
Covering best practices in the field, this book addresses the installation and maintenance of electrical power lines in addition to providing information about OSHA safety guidelines and tips to control job hazards.
Sources for this article include the Bureau of Labor Statistics, online job postings and other online sources.