Featured in:
More Talent Acquisition Specialist Resumes
Use these Talent Acquisition Specialist samples as a guideline or visit our extensive library of customizable resume templates.
Additional Human Resources Resume Samples
How to Format a Talent Acquisition Specialist Resume
You can format your talent acquisition resume in one of three ways. We recommend a work history format like a chronological or hybrid resume if you have steady employment over three years. These two resumes use job-specific entries to highlight your gradual career growth and skills development. Candidate A uses a hybrid resume to showcase how they partnered with universities and career services to identify and recruit valid job candidates.
However, Candidate B is a recent graduate with just a year of formal employment. They use the functional resume to downplay their relative lack of experience and demonstrate job-relevant accomplishments under various skills sections like recruiting and human resources. Use this format if you have less than three years of experience or recently switched careers.
Hybrid Resume
7

years of experience

2

years at this job

AS

Human Resources
Work History
Talent Acquisition Specialist, Good Life LLC
September 2020 - present Atlanta, GA
Provide local recruiting support related to scheduling staff recruiting events, developing interview schedules, managing candidate information and applicant tracking metrics.
Develop and maintain professional relationships with local core universities and manage the Associate internship program
Manage the day-to-day recruiting process, including candidate relationships and communications, candidate decisions, compensation and all other aspects of the candidate experience.
Functional Resume
1

year of experience

1

year at this job

BS

Human Resources
Professional Skills
Recruiting
Manage the day-to-day recruiting process related to candidate communications, relationships, decisions, compensations and other aspects of the candidate experience.
Identify and prepare for regional job fairs, college campus events and industry conventions.
Arrange the manager interview process related to resume review, remote interviews and onsite interviews.
Human Resources
Participate in offer decision meetings.
Oversee offer letter production and negotiations.
Coordinate onboarding orientation.
Talent Acquisition Specialist Resume Samples
No results found
0-5

years of experience

Promoted from Talent Acquisition Support Specialist to Talent Acquisition Specialist in October 2011.
Responsible for full life-cycle recruiting and hiring for sales, IT, and creative services positions.
Developed and implemented a four (4) week Lunch & Learn program focusing on Dealer Tire's core values and guiding business principles which is delivered regularly to interns.
Facilitated Behavioral Based Interviewing workshops for Dear Tire associates.
Managed vender contracts and relationships relating to recruitment process.
Negotiated vendor contracts and achieved a 10k cost savings on CareerBuilder's 2012 recruiting licenses.
Developed and maintain recruiting networks and relationships with various colleges, career centers and talent pipelines.
Frequently commended in employee satisfaction surveys for being responsive, positive and collaborative in the interviewing and hiring process.
0-5

years of experience

Executed on-site brand specific promotions, to introduce new products directly to market.
Seamlessly incorporated Savvy's staff with company's existing staff to increase product awareness and sales.
Adapted flawlessly to constantly changing on-site locations.
Hired and trained over 20 promotion specialists.
Facilitated communications from client directly to distributors, which significantly reduced unnecessary overhead expenses for both parties.
0-5

years of experience

Supported all life cycle recruitment for the health system's corporate, pharmacy and Allegheny-Singer Research Institute requisitions.
Conducted behavioral based interviewing, consultation with managers over candidate's skills sets, and selection recommendations.
Compiled all salary analysis and recommendations to hiring managers.
Performed all offers and handled all background checks/pre-employment physicals prior to hire.
Developed weekly recruitment activity reports for management, participated in weekly/monthly recruitment calls with hiring managers, and provided support to five Human Resource Directors.
Sourced candidates via job fairs, social media, e-mail campaigns, etc.
Reported to the Director, Talent Acquisition.
0-5

years of experience

Conducted interviews, phone screens and set up interviews for hiring managers, face to face and remotely.
Interviewed prospective candidates on Linkedin, Tradeshows, Job Boards, Internal Database, Social media and Referrals.
Administered offer letters, negotiated salaries and prepped candidates for background requirements and on-boarding paperwork.
Post all internal jobs for all hiring managers.
0-5

years of experience

Full life-cycle recruiting: sourcing, screening and interviewing utilizing behavioral interviewing techniques
Recruited for HR professionals across various industries and company sizes for contract positions
Demonstrated rapid adaptation to recruiting for contract positions across multiple geographies while mainaining excellent client relationships
Utilized traditional and creative sourcing techniques, including social media, to identify candidates
Made first hire within 3 weeks of joining company
0-5

years of experience

Conducted full life cycle recruitment for entry level through Executive level Positions
Managed the process of selection and placement of qualified candidates
Utilized applicant tracking system to maintain and track relationships with high potential candidates for future opportunities
Implemented and utilized cost-effective recruitment strategies to attract highly qualified and diverse candidates
Coached Managers on recruitment tools
Assessed recruitment trends and identified key issues to present to Business Unit Leaders and HR Business Partners
Identified traditional and non-traditional recruitment sources
Extended offers and negotiated with applicants
Ensured ADA and EEO compliance
0-5

years of experience
Developed and implemented training for new (ATS) Applicant Tracking System Hodes IQ.
Collaborated with hiring managers to understand technical job duties, responsibilities, staffing needs and business requirements.
Tracked candidates through all phases of the recruitment process.
Coordinated relocation efforts for new hires, temp housing, moving and travel arrangements.
Developed job descriptions and utilized multiple sources to attract quality candidates.
Developed and maintained a network of contacts to help identify and source qualified candidates.
Provided support to the Human Resources department and completed other projects and duties as assigned
0-5

years of experience

Full cycle recruiting/ full time employees for global semiconductor company
Averaged 4 to 5 full time hires per month
Managed 20+ hiring managers and 25-30 open requisitions
Developed recruiting strategies with hiring managers
Managed job postings
Sourced passive candidates through onboarding of employees.
Recruited for management and engineering titles in microcontroller, NFC technology, smart card, quality assurance, sales, product marketing, marketing communications, application engineers and financial services roles
Coordinated all interviews for candidates
Negotiated all job offers, wrote and delivered all offer letters
Managed all relocation and immigration requests
0-5

years of experience

Hired to finalize the Air Force Staffing Project during the acquisition of 6 new Military Housing Installations in addition to reducing the backlog of recruitment for 7 existing Army Installations
Primary Focus then shifted to the Centralization of Recruitment for all Property Management Positions including Maintenance and Leasing roles for 7 Privatized Military Housing Complexes including Eglin & Hulbert Air Force Bases in Florida, Seymour Johnson Air Force Base and Fort Bragg in North Carolina, Fort Rucker in Alabama, and Aberdeen Proving Grounds and For Meade in Maryland.
Solely staffed the new business line Corvias Solutions- focusing on candidates with high Government and Economic Development ties as well as those with P3 experience.
Hired 3 VP, Program Development for 2 new business models including Corvias Solutions and Corvias Campus Living within 1 month using Linkedin and personal network.
Strategy Focused - TA representative for an all HR process mapping (Kaizen) exercise.
Total Hires within 4 months: 45
0-5

years of experience

Full life cycle recruiter: Newborn Photographer Sales Representatives, District Sales Managers, [company name], IT Specialist, In house call center and more
Worked daily with 50+ candidates on 20+ openings nationwide
100+ calls daily driving company goals and business initiatives
Utilized Monster, CareerBuilder, LinkedIn, craigslist, zip recruiter and more to fill company openings nationwide
Helped create a Communication plan for the District Managers
Helped create Job descriptions for open jobs nationwide and in house
Team Player: constantly called upon to help other departments and coworkers
Helped define the recruiting life cycle to help train talent acquisition specialist
#1 in office out of 5: won every weekly and monthly contest based on hires and productivity
0-5

years of experience

Implement recruiting strategy to fill nursing, allied health and clinical management positions for 49 home health, 9 hospice and 16 private duty offices in Georgia, Ohio, Tennessee, California, and Texas with a requisition load varying from 50-140 full/part time/prn positions.
Sourced and screened candidates, scheduled face to face interviews, follow up with hiring managers and candidates regarding next steps.
Maintain active contact with passive candidates. Keep up to date with direct and non-direct competition, staffing trends and available candidates within the markets we serve.
Utilize ATS (OpenHire), social media, direct mail, cold calling, internet search, newspaper and online ads to source candidates
Complete weekly reports regarding key positions and opportunities/challenges within my markets.
0-5

years of experience

Provide expertise and counseling to hiring managers to help select top candidates and ensure compliance with company policies and employment laws
Manage the selection process including sourcing candidates, phone and in-person interviewing, reviewing resumes, assess candidates, recommending finalists, making offers, and filling staffing needs in a timely manner
Collect and analyze data on demographics and hiring activity for use in measuring recruitment plans and presents other metric information as requested to Staffing Director
Promote [company name] at job fairs, university and college career days, and career events targeted for special populations
Manage contingent staffing for all corporate departments
Contract negotiation and contingent vendor management to ensure company compliance
Manage pre-employment screening process and onboarding for candidates
Responsible for development of college recruitment strategy
0-5

years of experience

Reviewed Resumes
Screening and Interviewing Prospects
Maintained Records in ATS
Listing jobs on the Company Website
Developed Social Media Campaigns
Created Training materials via PowerPoint
0-5

years of experience

Successfully execute searches in a systematic and comprehensive manner, recruit/attract qualified candidates for employment from initial sourcing and contact, through the full-cycle interview process.
Develop strong relationships with internal customers and work collaboratively with the HR team to ensure recruiting objectives are achieved
Develop and implement innovative search techniques to meet and exceed the requirements of the business in conjunction with other members of the recruiting team
Proactively identify programs that can support future candidate streams, support candidate diversity and reduce time-to-fill by improving areas such as sourcing channels, screening techniques, evaluation tools and referral programs
Ensure organizational compliance with laws and regulations
Create job descriptions, position advertisements and postings, screen all resumes for qualifications and position requirements and manage all recruiting related information through our internal database.
Conduct effective pre-screening phone and in-person interviews for qualified candidates.
Review applicant information including employment application and references to ensure qualifications meet specifications.
Manage preparation of weekly and monthly recruiting reports.
Maintain all pertinent applicant and interview data.
Conduct reference and background checks for candidates.
0-5

years of experience

Recruited for all Corporate Openings (average14-25 requisitions)
Utilized many sourcing tools to identify IT, Accounting/Finance, Engineering, Human Resources and Executives
Provided weekly and monthly recruiting metrics reports to Sr. Management
Created and modified job descriptions prior to posting
Used the current ATS, as a central tool for managing all requisitions and job postings
Met with Hiring Managers on a daily basis to discuss current recruiting needs
Interviewed candidate prior to submitting to Hiring Managers.
Managed all offer letters a approvals
Sourced candidates through Linkedin, Facebook, Twitter and other social media outlets
Attended Career Fairs and College Recruiting Events
0-5

years of experience

Recruit for qualified applicants by developing and cultivating local sources for applicants
Assist in the preparation and planning of interviews and selection of Mid-west region job openings
Track and maintain an active pipeline of candidates
Worked collectively with team members to reach weekly and individual goals
0-5

years of experience

Recruit for qualified applicants by developing and cultivating local sources for applicants
Assist in the preparation and planning of interviews and selection of Mid-west region job openings
Track and maintain an active pipeline of candidates
Worked collectively with team members to reach weekly and individual goals
6-10

years of experience

Meet and discuss business services offered by the Workforce Development Board
Provide labor market information
Process documentation for employment (On The Job Training) and employer agreements
Supervise and train staff as well as make recommendations for the assessment unit.
Prepare written reports of client participation and evaluation of activities, test results, and related behavioral aspects.
Research and recommend testing instruments to improve assessment services.
Administer and proctor Workkeys assessments and provide business services
0-5

years of experience
Coordinates and implements all active and passive recruiting systems as developed by the company.
Conducts prescreen and behavioral interviews
Recommend any recruiting, interviewing, testing and selection procedures changes to the Recruiting Manager.
Post open positions through various employment channels
Assist in the set up of first and second round interviews with hiring managers
Provide writing and technical tests to candidates
Work with Departmental Leadership to develop creative local sourcing channels that produce a diverse pool of qualified candidates.
0-5

years of experience

Created a marketing strategy to begin "branding" the organization.
Worked closely with local universities to source candidates.
Built relationships with department heads to accurately assess recruiting needs.
Handled Exempt and Non-Exempt openings along with New Hire classes monthly.
Participated in coordinating and orchestrating special events and functions.
0-5

years of experience
Worked with Human Resources to establish an internal recruiting department
Daily interaction with Hiring Managers and Human Resource Client Managers
Posted and managed job openings
Managed approximately 25 Reqs (job openings) at a given time
Sourcing of qualified candidates via Monster, Career Builder, Indeed, LinkedIn, etc.
Conducted phone screenings and participated in the face-to-face interviewing process
Booked travel arrangements for potential candidates
Extended and finalized job offers
Salary Negotiation
Utilized Hodis as primary Applicant Tracking System
0-5

years of experience

Recruited for direct, FTE, and contractual placements.
Interfaced with management, account executives, and clients during recruiting process.
Responsible for sourcing, recruiting, negotiating rates/salary and assisting in onboarding process of employees.
Clients Supported: Medco/ESI, CVS, CSX, BCBS, Johnson & Johnson, EBAY/GSI, Jones New York, Coach, NBA, Pitney Bowes, Quicken Loans and University of Phoenix
0-5

years of experience
Supported the Talent Acquisition Team in the recruitment activities and hiring process. Responsibilities included job posting, employee referral program management, heavy scheduling, creating offer letters, conducting reference checks, preparing new hire packages, collecting new hires paperwork and updating the candidate selection workflow in Taleo to initiate background checks and fingerprinting process.
Liaison between Human Resources Manager and Sterling Accountants to coordinate background check and fingerprint clearance projects. Specific responsibilities included: managing out of state school districts background check and fingerprinting policy for sales employees, collecting consent forms and uploading and tracking information in Sterling Direct.
Trained hiring managers and staff to utilize various components of Taleo, which included creating requisitions and routing them to the approval path, editing job descriptions and creating offer letters.
Coordinated key aspects of the summer internship program. Responsibilities included posting job descriptions, sourcing for candidates in Taleo, participating in the Intern development sessions and creating and maintaining the summer internship program database.
Conducted a special project with the Human Resources Manager that involved researching confidential employee information in Workday to make sure that employee wages were appropriate for the positions they held.
Supported the HR Analyst with Taleo applicant tracking system: transferred data from ADP Virtual Edge to Taleo, closed out requisitions, re-created requisitions and adjusted status.
Responsible for I-9 eVerify and payment of talent acquisition bills through Catalyst accounts payable system.
Provided administrative support, including: creating spreadsheets in Excel to keep track of various program databases, scanning, faxing and copying documents, mailing and follow-up correspondences.
Assisted with coordinating travel arrangements for potential candidates and reserving conference rooms for interviews.
Load More
Talent Acquisition Specialist Duties and Responsibilities
In order to identify and recruit successful employees, a Talent Acquisition Specialist performs many different tasks. We analyzed job listings for Talent Acquisition Specialists in order to identify these core duties and responsibilities.
Work with Hiring Managers Talent Acquisition Specialists must work very closely with hiring managers to ensure that they adequately understand the needs of the manager and the requirements and expectations of the job. Once they have a good understanding of the position, they can effectively assess applicants in regard to whether or not they would be able to perform well in the position. It's critical that they develop and keep strong relationships with the hiring managers.
Source Candidates The Talent Acquisition Specialist must source and recruit candidates using a variety of outlets, such as job postings and social media, while effectively targeting the right kinds of candidates for the job. Throughout this process, they develop relationships with prospective talent. Talent Acquisition Specialists also seek out and recommend creative new ways of sourcing talent.
Screen, Interview, and Assess Candidates Typically, Talent Acquisition Specialists schedule all interviews and then prepare and advise their candidates beforehand. They review resumes, cover letters, and assess interview performance. Talent Acquisition Specialists must also complete all pre-screening and screening activities for prospective employees, which may include calling previous employers and completing background screens and drug tests.
Assist with Hiring Process In order to facilitate a smooth on-boarding process for new employees, the Talent Acquisition Specialist will administer and submit all hiring paperwork for new employees as well as assist with the orientation process. They work closely with the Human Resources department during this phase.
Stay Up-to-Date with Industry Trends Talent Acquisition Specialists must have in-depth knowledge of the industry in which they recruit. This may include having previously worked in that industry or attending educational seminars, networking, and industry events in order to gather such knowledge, as well as learning from hiring managers. It's important to understand the industry in order to understand the needs of the hiring manager and the qualifications of prospective employees.
Talent Acquisition Specialist Skills
In a way, the Talent Acquisition Specialist provides customer service for prospective employees throughout the recruiting process. In order to facilitate a pleasant experience for job candidates, they must have excellent interpersonal and communication skills and be able to build relationships. Motivated and ambitious, Talent Acquisition Specialists are also results-driven go-getters. They are well-organized and always professional.
Core skills
: Based on job listings we looked at, employers want Talent Acquisition Specialists with these core skills. If you want to work as a Talent Acquisition Specialist, focus on the following.
Obtaining human resources experience
Having recruiting or related experience
Possessing industry-specific knowledge
Proving success in previous positions
Demonstrating proficiency in Microsoft Office applications
Advanced skills
: While most employers did not require the following skills, multiple job listings included them as preferred. Add these to your Talent Acquisition Specialist toolbox and broaden your career options.
Professional in Human Resources (PHR) certification
Sector-specific experience
Experience recruiting through full lifecycle
Prior experience working with Applicant Tracking System (ATS)
Human Resources Cover Letter Examples
Create your own professional resume in just minutes.
Try our resume builder today
Build Your Resume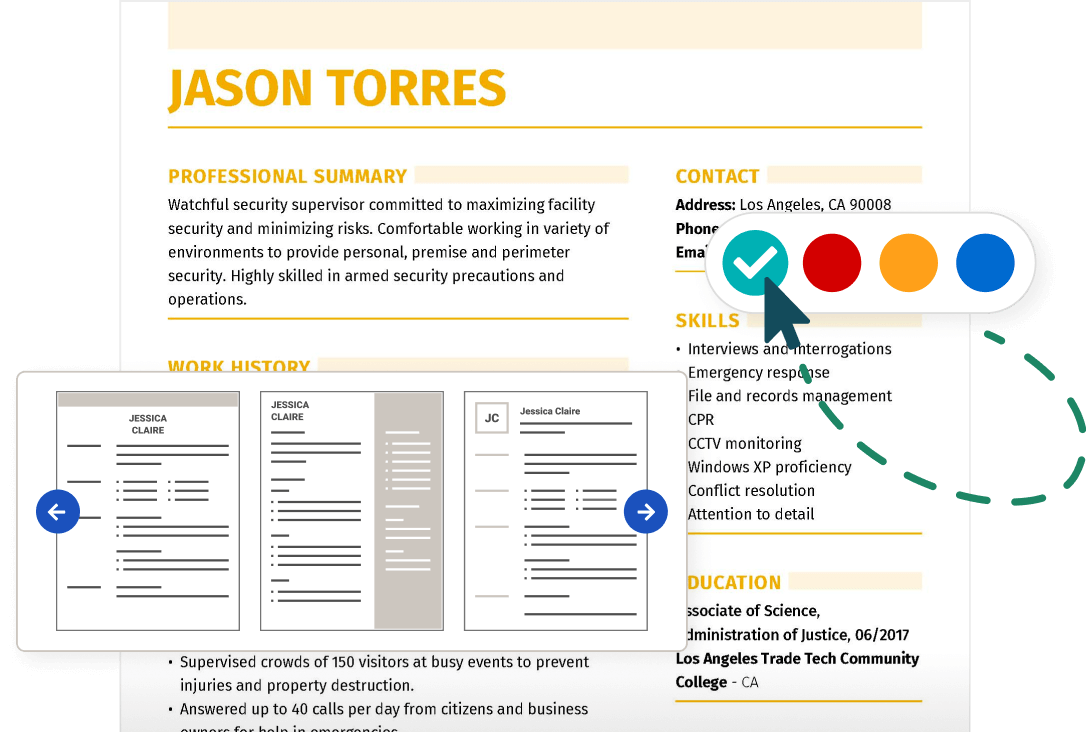 Talent Acquisition Specialist Resume FAQ
How do you describe talent acquisition on a resume?
You can describe your talent acquisition experience under three strategic resume sections — the resume objective/summary statement, work history and skills section. Visit our detailed resume writing guide to learn more about tailoring each resume section to a specific role, and follow these general guidelines:
Resume objective or summary statement: This introduction sits at the top of your resume. A successful statement uses strategic acquisition skills or accomplishments to get hiring managers' attention to read the rest of your resume. Include information such as the percentage of successfully recruited applicants of specialized networks related to engineering, construction or marketing.
Work history: This detailed timeline is an informative foundation for your application. The work history section is your opportunity to describe your years of experience and job-specific responsibilities, such as researching potential candidates, managing the recruitment process from start to finish, or implementing recruiting management software such as Greenhouse or Workday.
Skills: This brief section uses a simple bullet list of six to eight skills, such as persuasive communication, file organization or scheduling.
How do you write a resume for a talent acquisition specialist opening?
You have to tailor your resume to the needs of each job. For example, one employer may have multiple accountant, finance and legal openings and need a specialist within these networking circles, while another is interested in software engineering.
Your talent acquisition resume needs to include and prioritize the information the hiring manager seeks. Follow these simple resume-writing rules:
Review the job description. Pay close attention to repeated skills or responsibilities; if this information appears multiple times, a hiring manager is most interested in those skills.
Open your resume with a resume summary or objective. After your contact information, this is your first opportunity to appeal to a hiring manager. You can identify one core need from the job posting and use real examples of your relevant experience. Include information like number of candidates you successfully recruited, higher-than-average retention rates or positive staff feedback.
Pad your work history with acquisition skills or accomplishments, such as hiring the highest percentage of employees or sourcing potential candidates at conventions and fob fairs.
List your remaining skills. Try to feature unique skills you still need to mention in your introduction or work history.
Finish your resume with your education, such as a human resources degree or specialized certifications in management software.