Featured in:
A Receiving Associate is responsible for providing invoicing, billing, and transactional support to a company. This includes processing customer payments, maintaining receivables records, and processing daily transactions. Individuals in this role should be natural problem solvers and encompass excellent customer service skills with a focus on prompt, efficient, and courteous service. Hours will vary based on the employer but many times, this role is in a "nine to five" type of schedule. On the job training on process, vendor management, and applicable software is typically offered by employers.
Our certified resume writers have created a library of resume samples to show you exactly what a strong resume looks like. Use them as-is or customize them to your needs.
One extra step to impress a manager: A growing number of hiring professionals read cover letters to determine whether they'll interview a candidate or not. Use our cover letter templates to craft a complete application that lands you the interview.
Receiving Associate Duties and Responsibilities
While the day-to-day duties of receiving associates is determined by their employer, there are many core tasks associated with the role. Based on our analysis of job listings, these may include:
Invoice Processing
On a daily basis, receiving associates process customer payments, manage receipts, and keep record of invoices (many times in a specific document management software). This is done through follow-up calls and emails. It is also expected that this role maintains support documentation for all billed invoices.
Vendor Interaction
This role requires researching, escalating, and resolving any billing discrepancies. Many times, this includes discrepancies with vendors. This job may also require vendor portal management, including onboarding and off boarding vendors, as needed.
Payroll Processing
This role may require performance of administrative functions, including producing payroll on a weekly, bi-weekly, or monthly basis for company employees. This would entail notifying the appropriate parties of processing errors on time sheets, communicating time sheet updates, and assisting employees with the correction of errors.
Utilize Document Management Software
Receiving associates are required to use document management software to support billing activities and to process daily transactions. This software may also be used to prepare aging analysis, collections, and reconciliations of accounts receivable as applicable.
Receiving Associate Skills and Qualifications
Receiving associates should have a passion for customer service and organization. The ideal candidate for this role works well with different personality types, enjoys helping others, and upholds the ability to multi-task while paying close attention o details. Employers prefer candidates who possess the following abilities:
Strong Communication Skills: Receiving associates interact with many people, such as customers, supervisors, employees, and vendors. It is important to be a strong, detailed communicator in a fast-paced environment in order for things to run smoothly. This can include training new staff, informing the appropriate party of when invoices are overdue, working with people to resolve billing issues, and assisting with any questions related to customer payments, receipts, and discrepancies. This role also may be expected to train co-workers on different policies and/or procedures as needed.
Detail Oriented: Most receiving associates work in fast paced environments. It is important to be a strong performer under pressure and have the ability to multi task while paying close attention to details around customer service, maintaining records, keeping track of invoices, and follow up on any discrepancies. It is also important to communicate details related to the above-mentioned tasks in a timely manner.
Problem Solving: Receiving associates are natural problem solvers. There will be many occasions where dealing with transaction discrepancies will result in the need to research, escalate and resolve issues effectively. Receiving associates will also need to work with vendors and customers regularly on problems that may arise and lead solutions.
Tools of the Trade
Receiving associates often use the following skills in their work:
Experience handling transaction software.
General understanding of accounting principles.
Experience with Microsoft Office programs; particularly strong in Microsoft Excel.
Skilled in negotiation and customer service.
Proficiency in English; multilingual is a plus.
Receiving Associate Education and Training
It is preferred that receiving associates have a Bachelor's degree in Accounting or Finance, but this is not always required. Previous experience working as a receiving associate is also preferred by most employers. Hands on training, especially for specific software that one will use and company protocols, is typically offered by employers.
Receiving Associate Salary and Outlook
The U.S. Bureau of Labor Statistics (BLS) lists the median annual wage for receiving associates as $18.46 per hour, or $38,390 per year. This can vary based on what industry, state, or country one works in. Employment of receiving associates and similar positions is projected to show little or no change from 2016 to 2026. Technological change and automation are expected to reduce demand for these types of job roles.
Create your own professional resume in just minutes.
Try our resume builder today
Build Your Resume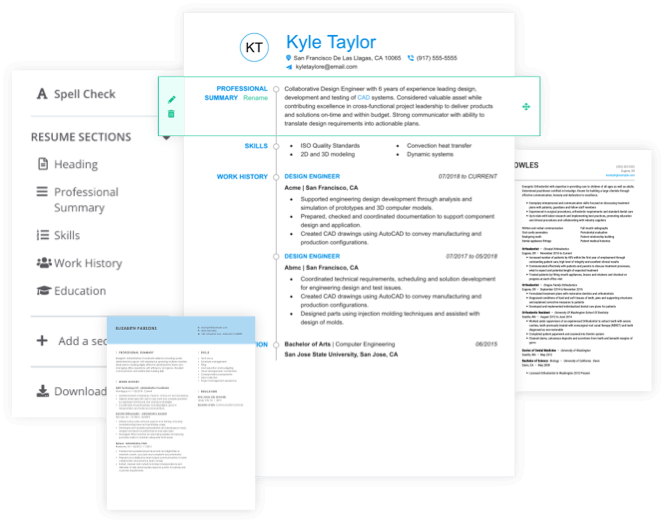 Helpful Resources
There are many helpful resources available for those interested in careers as receiving associates. Please review the links below for valuable information and the latest industry news.