Featured in:
Shipping Clerks process a company's outgoing deliveries. They are tasked with seeing packages through from start to finish and monitoring their progress throughout the journey. Knowledgeable about proper packing techniques and best practices for shipping, they aim to send customers their items as carefully and quickly as possible. Shipping Clerks keep records for their employers and track what they send out in order to keep inventory figures up-to-date.
Shipping Clerks work in warehouses and offices and are valuable in a variety of industries. For instance, grocery wholesalers may depend on them to ship food to stores. Mail order companies need Shipping Clerks to send out what consumers buy. Because shipments go through various stages – including items being pulled, packaged and moved to a pick-up area – Shipping Clerks are on their feet much of the day. Being able to lift, move around easily and maintain stamina is crucial to maximum performance. Tasks can be rather repetitive, so workers who thrive on consistency and structure may enjoy being Shipping Clerks.
Need cover letter guidance? Add a cover letter to your resume using our cover letter formats how-to guide and add value to your resume.
Boost your resume with an extra click. Our cover letter templates match our resume templates' designs for a cohesive application. Use a template in our builder to help you quantify and expand upon the experience from your resume and impress employers.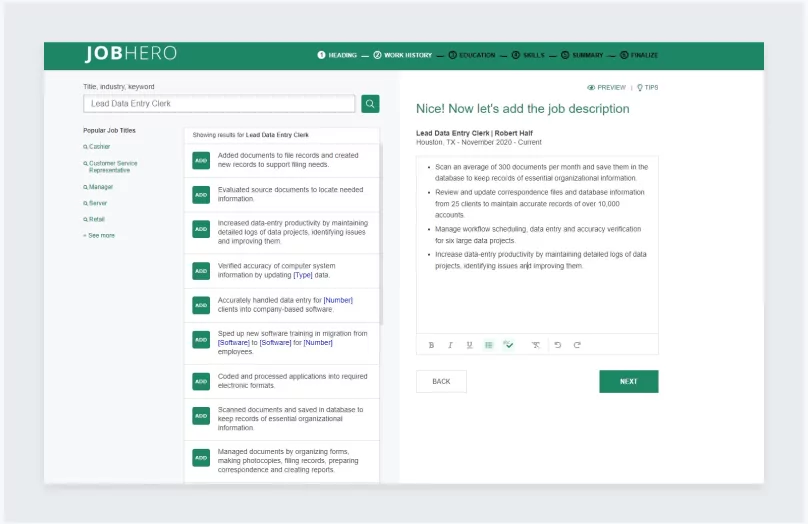 BUILD MY RESUME
Shipping Clerk Duties and Responsibilities
To accomplish their goal of getting packages from their company's facility to the final destination, Shipping Clerks perform a variety of tasks. Some of their core responsibilities, as garnered from reviewing job listings, include the following:
Recording
Accurate shipment information is vital. Shipping Clerks note such information in computer systems in order for the company to maintain up-to-date records of what went out to which customer and the day and time it was sent and received.
Handling Paperwork
Proper labels with correct postage are a must in order for shipments to be delivered correctly. Shipping Clerks make sure packages contain the right address. They also note any special delivery instructions, including mention of fragile or hazardous contents.
Pulling Inventory
Shipping Clerks may be responsible for physically taking items from the company's stock to fill orders.
Packaging
Shipping Clerks may put purchased merchandise in boxes or other shipping containers. They decide on the best placement and cushioning so that items stay safe during their journey to the customer. Shipping Clerks keep an eye on packaging supplies and order more as needed.
Arranging Pick-Up
If packages are to be picked up by a third-party service - such as UPS, FedEx or a contract hauler -- Shipping Clerks schedule and monitor the exchange.
Customer Service
When customers have questions regarding the movement or content of their orders, Shipping Clerks work to provide answers and ensure satisfaction. If items arrive damaged, Shipping Clerks check into what went wrong and send replacements.
Shipping Clerk Skills
Companies depend on Shipping Clerks to see packages through from order through delivery. Successful Shipping Clerks are responsible, organized workers who take pride in quickly and accurately serving clients and enhancing the reputation of their employer. Skills that help candidates land jobs when applying to Shipping Clerk positions include:
Communicating clearly and politely with customers to ensure understanding and resolve any problems
Multitasking to handle various orders at the same time
Paying attention to detail so that nothing slips through the cracks and causes problems or shipping delays
Handling numbers with ease, especially in terms of weight and money
Increasing company productivity through hard work and time management
Tools of the trade
Shipping Clerks depend on a variety of tools in order to get the right items to the right place. Be prepared to use the following if you pursue a career as a Shipping Clerk:
Orders – Pertinent information containing specifics about products, quantity, timeframe and delivery location
Invoices – The amount an order costs
Packing Slips – Lists of what is contained in a shipment
Inventory – Stock available to be shipped
Scanners – Tech equipment that reads coded labels containing information about the material in a shipment
Scales – Devices that measure the weight of a shipment to determine correct postage
Forklifts –Transportation machinery used by some Shipping Clerks to move inventory or boxes from one area to another
Dollies – Platforms with wheels that can be useful in transporting heavy items or multiple boxes
Computers – To perform tasks that may include entering data, printing postage, using shipping software, tracking delivery status, monitoring inventory and responding to customer concerns
Shipping Clerk Education and Training
About 87 percent of Shipping Clerks graduated from high school. Roughly 40 percent of Shipping Clerks have at least some college experience, with 15 percent holding an associate's degree or higher. Shipping Clerks usually are entry-level positions for which employers are willing to train motivated applicants. Seasoned Shipping Clerks are often responsible for getting new hires up to speed.
Shipping Clerk Salary
The median annual salary for Shipping Clerks, categorized by the BLS as "Shipping, Receiving and Traffic Clerks," is $31,180. Shipping Clerks in the 10th percentile earn about $21,000 a year, and the highest paid make in excess of $48,700 a year. Shipping Clerks in the District of Columbia, Alaska and Washington make the highest median salaries in the U.S. – $45,670, $37,730 and $36,100, respectively.
Create your own professional resume in just minutes.
Try our resume builder today
Build Your Resume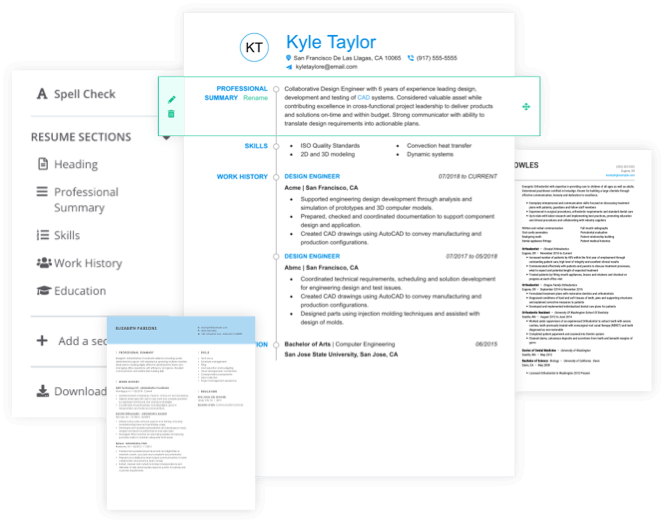 Shipping Clerk Resources
Interested in learning more about becoming a Shipping Clerk? This organization may be able to provide information and answer questions:
Known as "the only professional organization focused on logistics management and its role in the supply chain," WERC says it assists "those new to the industry master best practices and establish valuable professional relationships." Its online career center helps match talent with opportunities, and its resources for job seekers includes advice on resumes, interviews, digital presence and advancement.
Shipping Clerk Resume Help
Explore these related job titles from our database of hundreds of thousands of expert-approved resume samples: