Featured in:
More Packer Resumes
Use these Packer samples as a guideline or visit our extensive library of customizable resume templates.
Additional Shipping Resume Samples
How to Format a Packer Resume
How you format your packer resume depends on your career level. If you have a few years of experience as a packer, you can opt for the chronological or hybrid resume. These two formats feature detailed work history sections that include past employers and dates of employment.
Some companies and warehouses rely on questionnaire-style applications that capture your relevant experience and work history but allow you to supplement your application with optional documents like a resume and cover letter. If you come across this, you can try a functional format for your packer resume. The questionnaire captures most of your qualifications, so this skills-based document allows you to supplement your application with additional transferable skills.
Hybrid Resume
8

years of experience

2

years at this job

HS

High School Diploma
Work History
Packer, WalshopJanuary 2020 - now, New Orleans, LA
Sort, scan and stack products in separate bins to prepare customer orders for delivery.
Quickly construct shipping packages and pack an average of 21 packages an hour.
Use carts, dollies, hand trucks and other gear to move items around.
Functional Resume
2

years of experience

1

year at this job

HS

High School Diploma
Professional Skills
Packing
Sort, scan and stack packages and products based on placement within the warehouse floor and departments.
Easily lift and carry 49 pounds.
Use handheld scanners and department databases to sort and catalog products accurately.
Time Management
Gauge incoming and outgoing shipments and allocate time to manage daily tasks.
Sort and gather products according to warehouse location to minimize travel and storage time.
Packer Resume Samples
No results found
0-5

years of experience

Profound ability to stock, move count and rotate items in line with operating instructions
Excellent knowledge of general warehouse arrangement, item recognition codes
Ability to read and understand documents for instance job orders, operating instructions and events manuals, time sheets, waste worksheets, every day production reports and the like.
Over five years of experience of working on the assembly line in different capacities
Proven record of performing a variety of assembly operations
In depth knowledge of setting machineries in accordance to specifications
Inspected parts to ensure that they meet specific engineering instructions
Produced and assembled parts for the assembly line
0-5

years of experience

Packer
Prepared product for shipment by packing items according to order sheet.
Consistently met production standards by accurately completing product orders.
Maintained quality control policies and federal regulations according to factory specifications.
0-5

years of experience

Packer
Achieve company goals by supporting production workers
Maintained proper stock levels on a line
Inspected finished products for quality and adherence to customer's specifications.
Maintain a clean, neat and orderly work area
0-5

years of experience

Marked and labled containers
Measured, weighed and counted products and materials.
Examined and inspected materials and products in order to ensure that packing
Adhere to all policies and procedures
0-5

years of experience

Picker/Packer
Sorted and placed materials or items on racks, shelves, and bins in keeping with predetermined sequence
Filled work orders and requests for materials, tools, or other stock items
Helped in loading and unloading trucks, checking in merchandise by means of receiving documents
Documented information relating to receipt, storage or distribution of materials for processing
Matched and reviewed purchase orders to packing lists to make sure all required items are included
6-10

years of experience

Verified counted and inspected hospital supplies for shipments.
Unitized pallets using stretch film and steel/plastic banding.
Loaded industrial parts in gaylord's and placed labels on packages
Always exceed production goals by 20% or more.
Affixed labels, recorded inventory placing items on conveyor belts.
0-5

years of experience

Assembled electrical breakers, following computer layout
Use of multiple electrical and hand driven tools
Performed troubleshooting on machinery
Inspected, labeled and packed product for shipment
Worked in fabrication on manual assembly of parts for breakers
0-5

years of experience

Packer
Pack customers orders
Examine and inspect products to ensure packing specifications are met and ensure all components are together.
Verify that labels, boxes and country of origins are correct.
Pack parts in individual boxes, and place individual boxes into a master carton.
Remove any defective goods and replace them.
Record product and order information on specified forms and records.
Move completed orders to shipping.
0-5

years of experience

Read packing assembly and quality sheets at assigned machine
Retrieve part produced by injection molding machine
Inspect for quality
Trim excess plastic, wipe oil or grase as necessary
Label parts as directed by set-up sheet
Make boxes as directed by set-up sheet
Help floorperson seal boxes and place on pallets for delivery to drop zone(staging arrea)only when time allows
0-5

years of experience

Working in the Factory labeling and packing products while following safety regulations on the line
Communicating line progress to the line lead on a regular basis
Adjust line work progress to meet production schedules
Recommends measures to improve productivity and efficiency
Coordinates activities on assigned production line
Maintaining neat work station
Assembly line and push table operations
Inspect items produced to determine if client specifications are met
0-5

years of experience

Pack customers orders according to traveler
Test atm platforms for operational usage and defects
Assist associates on Quality Improvement, DR Process and Process Improvement
Communicating/tracking audit findings
Evaluate parts and assemblies against engineering drawings
Computer literate with Microsoft Office, Word, Outlook and PDM Web
0-5

years of experience

Packer
Load materials and products into package processing equipment.
Clean containers, materials, supplies, or work areas, using cleaning solutions and hand tools. See more occupations related to this task.
Record product, packaging, and order information on specified forms and records. See more occupations related to this task.
Examine and inspect containers, materials, and products to ensure that packing specifications are met. See more occupations related to this task.
0-5

years of experience

Accounted for the equipment needed for the move and put on truck.
Packed boxes if needed upon request from customer.
Used protective equipment such as moving pads and plastic wrap to prevent from damaging the customers furniture.
Assisted with loading up the truck in a professional timely manner.
Assisted unload the truck and placed furniture where the customer requested it to be placed.
0-5

years of experience

Pick food products and pack in boats, totes and boxes.
Scan labels on packages, load packaging machines with boats, and label packages with printed labels.
Spot check packages emerging from machinery for correct labeling.
Apply knowledge of processes involved, production methods, and products to the nuances of everyday operation.
Assist in shut down procedures.
Responsible for picking and packing of product for customer orders.
0-5

years of experience

Observing equipment operations so that malfunctions can be detected; notifying supervisors or operators of any malfunctions or safety concerns.
Examining products to verify conformance to quality standards.
Immediately notifying supervisor of any process deviations from specification or any contamination of product.
Maintaining a safe, organized and clean work area at all times.
Packing finished packaging into production totes.
Inspecting and removing defective products and packaging material.
Attaching identification labels to finish packaged items.
Participating in and completing all required training.
Willing and able to work overtime as required.
Adhering to all Company food safety protocols and requirements; performing tasks in a manner that protects and promotes food safety.
Cooperating with supervisors and managers and ensuring compliance with all Company policies
0-5

years of experience

Packer
Stack and pile goods into containers
Move completed packages for loading with fork-lift
Fill out forms to record measurement, weight, and product count
0-5

years of experience
Weighed four different kinds of dog bones 50 pounds and sometimes more.
Packaged dog bones and little dog treats in boxes where we then had to load and weigh the box onto a pallet.
Responsible for Lockout-Tag out at the end of the week we had to break down the machines and wash and clean them then we had to put them back together.
0-5

years of experience
Record each stack of candy that is used by logging stack number, time, and quality test pass/fail.
Pour up trays of gummi candy onto the conveyer belts.
Spread out candy in order to inspect for defects, inconsistencies, and foreign objects.
Inspect packages of candy for over packing, under packing, seal leaks, and code dates.
Place packages from conveyer belts into boxes while being aware of the standard box count.
Send boxes through a tape machine to be placed on a palate for shipping.
Keeping the area tidy, and free of tripping hazards, candy, and stacks of candy.
0-5

years of experience

Received pick tickets from Warehouse manager.
Read order to determine catalog number, size, color, and amount of goods
Ensured that the accurate number and type of product was loaded and shipped
Sorted and placed materials or items on racks, shelves, and bins in keeping with predetermined sequence.
Carried and transported orders to shipping locations.
Ensured orders are staged in array of delivery.
Helped in loading and unloading trucks, checking in merchandise by means of receiving documents.
Operated forklift and manual pallet jack for moving and storing material
0-5

years of experience

Manually weighed packages to ship them out.
Picked products from bins to complete customer orders.
Placed items in correct containers to be shipped to their destination.
5s stations after the shift was complete.
0-5

years of experience

Sealing containers using glue staples or shrink-wrap
Cleaning work areas
Weighing and labeling package goods ready for dispatch
Packing and shipping
Putting manufactured good and product into containers
6-10

years of experience

Picker / Packer
Operate ADSI shipping system efficiently and accurately
Work at rapid pace
Pick/Pack orders and verify part numbers and quantities
Secure orders in appropriate containers for shipping
0-5

years of experience

Order selector/Packer
Operating Forklift, and moving pallets
Responsible for operating machinery as well
Scanning items, and preparing for shipment
Responsible for making sure that all work is complete by end of shift
Loading and unloading
Performing maintenance, and clean up
0-5

years of experience

Work safely
Thoroughly inspect an pack quality cartons at the determined speed
Keep work area clean during work and for the next shift
Label cases when machine is on make-ready
Check for quality problems based on the quality handbook
Monitor case count closely
Must stamp every case with personalized stamp
Carry out any responsibilities the supervisor or manager must have
10+

years of experience

Logistics
Completed Sale orders, by packing and shipping to customers
Followed and completed job packet directions
Building medical foot switches
0-5

years of experience

Verify and pack merchandise from master cartons to store cartons
Pack store cartons with appropriate quantities
Quickly and accurately scan labels
Move merchandise using proper equipment and techniques
Place individual master cartons on packing station table
Break down store cartons
Place carton onto conveyor line for deliveries
Lift and carry merchandise weighing up to 30 lbs. throughout a shift
Use excellent communication skills
0-5

years of experience
Remove material from assembly line
Packed products in preassembled containers for warehouse storage
Utilized quality control techniques inspecting parts for sporadic spray patterns
Load More
Food Packer Duties and Responsibilities
A food packer's specific role may vary depending on the type of food or drink they package, but most food packers perform a few core tasks regardless of their employer or product:
Assemble Containers and Packaging Food packers are responsible for assembling food product containers and packaging in the correct manner before sending them down the production line.
Place Product in Containers Food packers place the food or drink product into the appropriate containers in an efficient and timely manner. They appropriately package the food to minimize breakage and movement during shipping.
Inspect Containers Containers and other types of packaging may be damaged or unclean. It is the food packer's responsibility to ensure the integrity and cleanliness of the containers before they are shipped out to retailers.
Seal and Label Containers Once the food or drink product has been packaged, food packers seal and label containers with the appropriate materials. They seal the containers in way that prevents unpackaging during shipping. Food packers label the containers with product information and weight.
Stack and Arrange Containers After everything has been packed, sealed, and labeled, food packers stack and arrange the containers in an efficient and safe manner. Food packers stack containers in a way that allows the shippers to load them quickly into the trucks.
Food Packer Skills and Qualifications
Food packers must be able to stand on their feet throughout their entire shifts. Food packers typically don't need any formal education past their high school diploma or GED, but employers often search for candidates who have previous production line experience. Successful food packer candidates also demonstrate the following skills:
Hand-Eye Coordination - Production lines run on a strict schedule, and food packers need to use hand-eye coordination to perform their jobs and not slow down production
Experience with Repetitive Tasks - Successful food packers have experience with performing repetitive tasks with efficiency and ease. They can do the same thing over and over throughout the day without losing focus
Physical Fitness - They can lift and move heavy containers full of food with ease. They should be able to perform this without hesitation
Active Listening - Food packers use active listening skills to understand which food and drink products need to be packed for the day. They are quick to follow the directions of the shift supervisor to ensure their safety and that of the other line workers
Detail Oriented - Food packers are detail oriented and notice even the smallest of issues that may become bigger problems in the future
Food Packer Education and Training
Food packers don't need any formal education other than a high school diploma or GED to get a job. However, most food packers will attend job-specific training once they are hired so that they can learn the ins and outs of the packaging machinery and line rules. Employers may also require candidates to have forklift operator certifications.
Food Packer Salary and Outlook
Food packers are typically paid by the hour and make a median wage of $10.64 per hour, according to the Bureau of Labor Statistics (BLS). Food packers in the top 10 percent can make upwards of $17.02 per hour, while food packers in the bottom 10 percent make as little as $8.56 per hour. Full-time food packers usually get benefits from their employer, including health, vision, and dental insurance, along with vacation and sick time. Depending on overall company performance, food packers may also receive seasonal bonuses. The BLS reports that food packers can expect an average growth of 7 percent over the next 10 years. This is a standard growth projection as compared to other industries.
Helpful Resources
Check out these resources to learn more about the food packer role:
Food Packaging Professionals LinkedIn Group - This LinkedIn group has over 8,000 members and provides a safe space for experienced and newbie food packers alike to ask questions and network. Join this group if you want to meet others who hold similar jobs or if you want to learn how to do better at your own job.
Institute of Packaging Professionals - This organization is dedicated to providing network opportunities, training, and industry news to food packaging professionals from all over the world. In this website, you can even get training for certifications such as the Certified Packaging Professionals (CPP) certification.
Forklift Training: Equipping You for Success - This useful training guide helps you prepare for and pass your
forklift operator certification exam. Designed by the Carolina Trucking Academy, this training manual is clear and concise, and it offers good training materials for employers and potential employees as well.
Food Packaging: Principles and Practice - This comprehensive book by Gordon L. Robertson outlines the entire process and theory behind packing food. If you want to really dig deep and learn more about the science and design aspects behind the packaging you use every day, this book is a good place to start.
Shipping Cover Letter Examples
Create your own professional resume in just minutes.
Try our resume builder today
Build Your Resume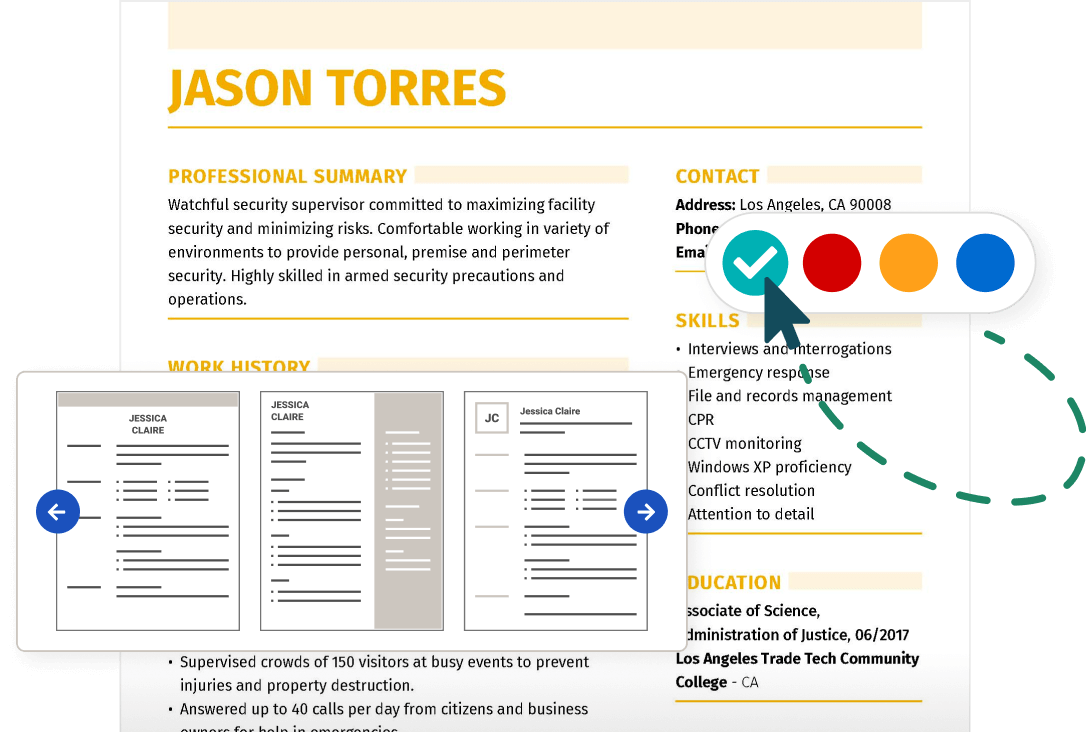 Packer Resume FAQ
What is a picker packer job description?
A picker packer is responsible for the following store or warehouse duties:
Finds and packs products for daily orders.
Keeps orders separate and organized based on independent purchases.
Monitors product packaging.
Maintains speed and productivity.
Keeps software updated.
What skills do you need to be a packer?
Physical speed and coordination
Ability to carry up to 50 pounds
Time management
Calm under pressure
Ability to stay on feet for several hours
Attention to detail
Careful packaging
Technical knowledge of hand-held order devices
How do you pick and pack faster?
The fastest pickers get better hours. You can improve your pick time with some of the following suggestions:
Familiarize yourself with the warehouse layout.
Wear properly fitted and supportive walking shoes.
Memorize your packing supply sizes and dimensions.