Featured in:
Phone technicians diagnose and repair broken landlines and cell phones. They are outgoing and can easily maintain a pleasant demeanor even when assisting upset customers. Being empathetic, well-organized, and having strong attention to detail comes easily to phone technicians. They usually work full-time, with some evening, weekend, and holiday shifts. Phone technicians may also be on call or need to travel to remotely repair devices.
Need cover letter guidance? Add a cover letter to your resume using our cover letter formats how-to guide and add value to your resume.
One extra step to impress a manager: A growing number of hiring professionals read cover letters to determine whether they'll interview a candidate or not. Use our cover letter templates to craft a complete application that lands you the interview.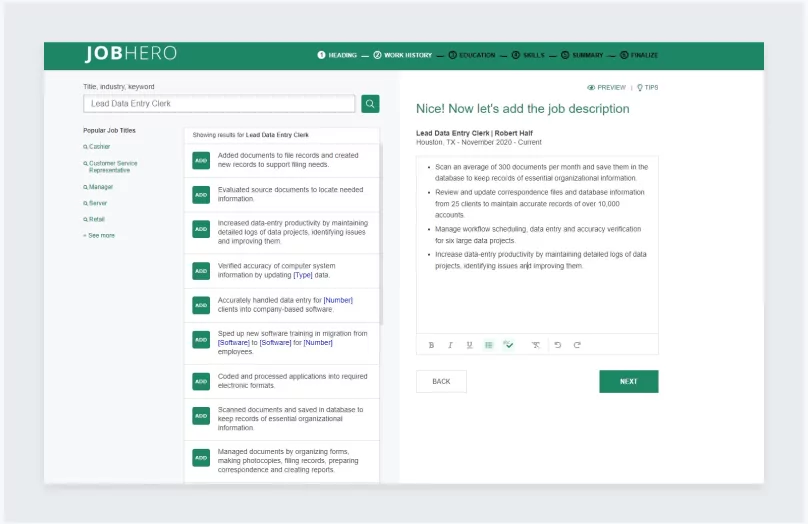 BUILD MY RESUME
Phone Technician Duties and Responsibilities
Whether they are affiliated with a phone carrier like AT&T or with an independent repair company, all phone technicians share the same core responsibilities. Based on a survey of real resumes and job listings, these responsibilities are:
Welcome Customers
Customers arriving with broken phones may already be frustrated or short-tempered, so it's important that phone technicians set the tone for a pleasant experience. Phone technicians make light conversation and ask customers about the specifics of their problem, all while keeping a patient and amiable demeanor.
Diagnose Problems
No repairs can be made unless the phone technician is able to hone in on the problem. In some instances, such as a broken screen on a cell phone, the problem may be obvious. In other cases, the phone technician runs tests in order to determine the source of the issue. They then recommend any parts that are needed and give the customer a quote for the repair.
Make Repairs
After ordering parts or pulling them from the store's inventory, phone technicians repair the customer's phone. They work quickly and diligently to get the phone back to the customer during their visit or schedule a time for them to return later and pick up the repaired phone.
Report Repairs to Warranty Providers
Facilitating communication between the customer and the warranty provider is a crucial part of excellent customer service. Phone technicians help customers navigate all of the paperwork by giving them tips and instructions on how to complete it, then sometimes submit the forms themselves.
Keep Records and Manage Inventory
Monitoring the inventory of the store and parts available on-site is an important function of a phone technician. This ensures that all inventory is accounted for and that common parts are always on hand for quick repairs. Technicians also keep detailed work logs tracking each repair in case of future damage or customer complaints.
Phone Technician Skills and Qualifications
Phone technicians have a solid understanding of phone technology and are adept at repairing them. They are sociable, polite, and have excellent attention to detail, which allows them to make several repairs a day while keeping inventory well-organized. Employers prefer that candidates have a high school diploma, as well as the following skills:
Electronics expertise – solid knowledge about the most popular phones and technology is one of the most important skills a phone technician can have
Computer competency – in addition to working with operating systems on cell phones, phone technicians record repairs, manage customer relationships, track inventory, and submit warranty reports via computer
Customer service – phone technicians will often find themselves in tense situations with upset customers, so it's up to them to provide as pleasant an experience as possible
Problem-solving ability – in order to successfully make a repair, phone technicians need to locate the exact source of a problem and then implement a working solution
Organizational skills – phone technicians are detailed record keepers, can maintain a tidy inventory with all parts accounted for, and know how to manage their time wisely so that all repairs are finished on time
Tools of the Trade
Phone technicians use the following tools on a daily basis:
Small device repair tools (including precision magnetic screwdrivers, LCD suction cup, precision tweezers, utility knife)
Cell phone operating systems (such as iOS, Android, or Windows)
Office suite software (Microsoft Office, Excel, Outlook)
Phone Technician Education and Training
While many employers are satisfied with candidates who only have a high school diploma, a solid understanding of the latest phone technology is an absolute must for a prospective phone technician. For those who don't have experience with phone maintenance and repair but would like to transition into the field, a certification or associate's degree in telecommunications technology is a good place to start.
Coursework and topics that will be particularly useful to potential phone technicians include but are not limited to telecommunications electronics, installation, and repair, as well as direct current circuit theory and wireless systems.
Phone Technician Salary and Outlook
According to the Bureau of Labor Statistics (BLS), phone technicians are one form of telecommunications equipment installers and repairers. Workers in this category earned a median annual wage of $53,380 in May 2017. The lowest 10 percent earn less than $31,100, while the highest 10 percent earn more than $80,530. However, an analysis of job listings indicates that phone technicians should expect to earn closer to the lowest 10 percent, especially when they're first beginning their careers.
Due to market shifts away from wired telecommunications carriers, the BLS projects that job growth of the entire field of telecommunications equipment installers and repairers will decline by eight percent from 2016 to 2026. This is drastically slower than the projected seven percent average increase for all occupations. Phone technicians can protect their careers by continuing to focus on wireless technologies and handheld devices.
Create your own professional resume in just minutes.
Try our resume builder today
Build Your Resume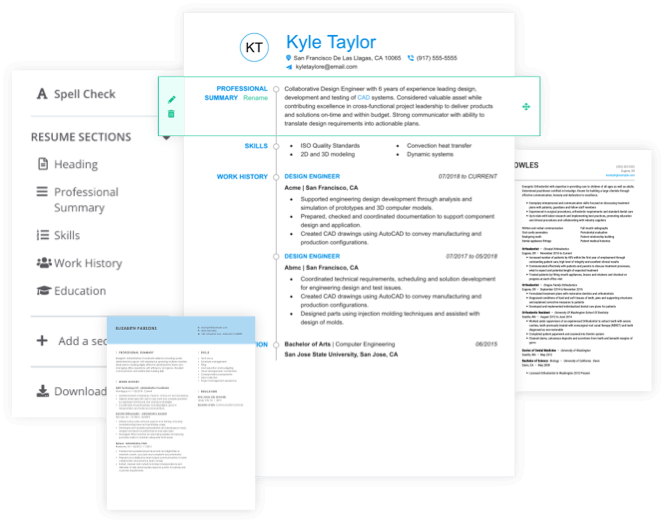 Helpful Resources
Ready to begin a career as a phone technician? These curated resources will help you get started: