Featured in:
Expeditors coordinate the movement of materials through the various departments in an organization. They do this by maintaining schedules regarding production, workers, progress and deadlines. Keeping track of inventory, placing orders as needed and inspecting quality is a large part of their job.
Though Expeditors tend to hold regular full-time schedules, they may be called upon to work weekends, evenings or holidays during busy times or to handle exceptional orders. The Bureau of Labor Statistics categorizes Expeditors under "Production, Planning and Expediting Clerks." Stats shows that about 36 percent of this group work in manufacturing, and about 9 percent work in professional, scientific and technical services. While more than 300,000 workers are in this field currently, employment demand is expected to increase only 2 percent through 2024.
Need cover letter guidance? Add a cover letter to your resume using our cover letter formats how-to guide and add value to your resume.
One extra step to impress a manager: A growing number of hiring professionals read cover letters to determine whether they'll interview a candidate or not. Use our cover letter templates to craft a complete application that lands you the interview.
Expeditor Duties and Responsibilities
If you look up the word "expedite," one of its meanings is "to accomplish promptly." Expeditors do just that. Their primary responsibility is maintaining work flow. To accomplish this objective, they perform a variety of core tasks. From our analysis of job postings, these duties often include:
Setting Schedules
Expeditors are sometimes referred to as master schedulers - and for good reason. Their ability to see production through its various stages and ensure everyone has what they need is vital to a company's success. For instance, a company needs a sufficient number of workers to handle matters but not so many as to increase costs without benefit. Expeditors judge who will be needed when and adjust human capital accordingly. Likewise, they may schedule incoming shipments in ways that keep costs down but still allow adequate time for arrival.
Recordkeeping
Keeping track of shipments, movement of material, the needs of each sector and deadlines involves maintaining accurate, up-to-the-minute records.
Contacting Vendors
Without the proper materials, employees cannot do their jobs. Expeditors stay in touch with third parties to ensure supplies and equipment are correct and available on time. If new or special needs arise, Expeditors work to get what is needed so production can continue.
Coordinating Efforts
What one department in an organization does often affects another. Expeditors look at how a project is supposed to flow and see to it that each sector has what it needs to complete its work on time in order to stay on schedule and meet deadlines.
Reporting Status
Expeditors frequently talk with department supervisors in order to know where things stand in all directions. This information enables Expeditors to update leaders as necessary and alert them to potential problems. Expeditors also estimate and keep tabs on costs. They may summarize all such information regarding work flow in regular written updates.
Expeditor Skills
Expeditors are organized troubleshooters committed to keeping everything on track. Candidates proficient at the following are likely to turn a hiring manager's head:
Paying attention to detail to ensure nothing slips through the cracks
Communicating with various people both within the company and outside of it in a clear, positive manner
Remaining calm in the face of problems in order to evaluate the situation and make adjustments
Calculating and reasoning skills to deal with weights, measurements, costs, time and other things involving numbers
Tools of the trade
Expeditors employ a variety of tools in their jobs. Expect to encounter the following if you take on this career:
Computers – To enter data, track orders, maintain records and perform other essential tasks
Spreadsheets – Lists (often compiled in Microsoft Excel) of data in rows and columns that are useful for making calculations and comparisons
Orders – Pertinent information containing specifics about products, quantity, timeframe and delivery location
Status Reports – Written summaries of where production stands
Expeditor Education and Training
Virtually all Expeditors graduated from high school. About three-fourths of Expeditors have at least some college experience, with roughly a quarter holding a bachelor's degree. Experience with computers and spreadsheet software can help a candidate get hired. Supervisors and seasoned employees typically provide on-the-job training for Expeditors new to the company. Successful Expeditors sometimes seek additional education in order to become purchasing agents.
Expeditor Salary
The median annual salary for Expeditors, categorized by the BLS as "Production, Planning and Expediting Clerks," is about $46,700. Workers in the 10th percentile earn about $28,100 a year, and the highest paid make in excess of $74,300 a year. States with the highest paid expeditors are Maine and Wyoming (both with a median salary of $57,990) and the District of Columbia and New Mexico (both with a median salary of $57,970).
Create your own professional resume in just minutes.
Try our resume builder today
Build Your Resume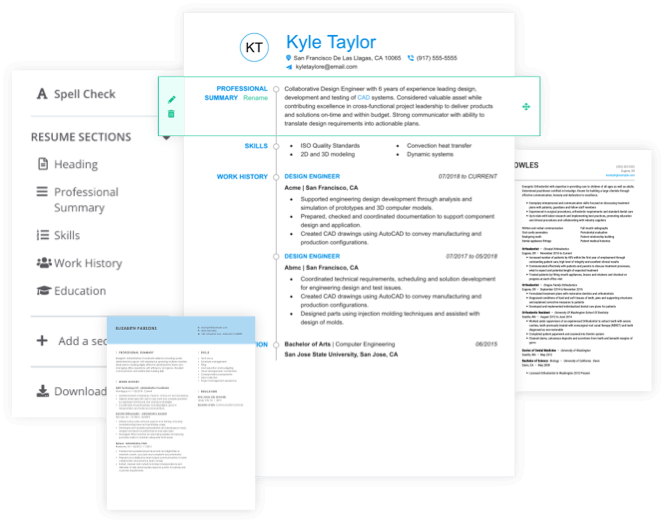 Expeditor Resources
Looking for more information on becoming an Expeditor? This website may help:
The Expediting Management Association, Inc.
This group states its mission as "providing the membership opportunities to expand their knowledge and acquire skills in professional expediting." The site offers a variety of information, including specifics on seminars, certification, networking and other professional development opportunities.
Expeditor Worker Resume Help
Explore these related job titles from our database of hundreds of thousands of expert-approved resume samples: