Featured in:
More Proofreader Resumes
Use these Proofreader samples as a guideline or visit our extensive library of customizable resume templates.
Additional Copywriting Resume Samples
How to Format a Proofreader Resume
Format your proofreader resume with either a work-focused approach or a skills-forward approach. Choose a chronological format (10+ years of experience) or a hybrid resume (3 to 10 years of experience). These two formats use a detailed timeline with job titles, employer names, dates of employment and corresponding job responsibilities to create a snapshot of your previous accomplishments and duties.
Candidate A has three years of experience, so they use a hybrid resume to detail their work history and demonstrate the number of projects and types of editing they provided at their last job.
Suppose you have less than three years of experience proofreading. In that case, consider a functional resume like Candidate B. While thiscandidate has little formal editing experience, this skills-focused resumeformat allows them to bring skills in communications and journalism to the forefront. Notice how this candidate can edit according to multiple style guides.
Hybrid Resume
3

years of experience

1

year at this job

BA

Media Studies
Work History
Proofreader, SparkBook Content LLC
May 2021 - present Salt Lake City, UT
Proofread and approve a weekly average of 15 landing pages, 10 blog articles and 2 newsletters.
Collaborate with online editorial and in-store marketing teams to ensure consistent brand messaging across physical and digital storefronts.
Improve SEO engagement and effectiveness by editing landing pages, blog posts, third-party articles and weekly email newsletters.
Functional Resume
2

years of experience

1

year at this job

BA

Communications
Professional Skills
Editing
Familiar with both the Associated Press Stylebook and the Chicago Manual of Style.
Responsible for final editing and content sign-off on 12 weekly projects and 10 editorials.
Proofread high-profile webpage designs, social media graphics and infographics, copywriting projects, and marketing materials.
Content Marketing
Improve SEO engagement and effectiveness by editing landing pages, blog posts, third-party articles and weekly email newsletters.
Collaborate with marketing to implement editorial standards and guidelines for internal and external-use documents.
Collaborate with third-party clients to ensure proper use of marketing phrases in promotional materials.
Proofreader Resume Samples
No results found
0-5

years of experience
Acted as the sole editorial resource for a team of 150 producing annual reports for hedge funds and funds of hedge funds.
Managed content for one client, one of the world's largest independent alternative asset managers, to ensure consistency in language and design.
Collaborated with a third-party vendor to ensure all design specifications were met.
Coordinated with accounting and word processing teams to ensure client updates and changes were applied to fund documents uniformly and correctly.
Standardized existing fund document language.
Implemented editorial standards and guidelines for use in fund reporting, including the use of style guides.
0-5

years of experience

Proofread translated documents and trained new proofreaders for the company successfully; delivered multiple jobs on time and under budget
Improved SEO effectiveness and content quality of articles for company website through writing and editing blog posts, articles and newsletters
Managed marketing efforts towards university and international students; invented creative ways to market our translation services to diverse populations
Increased social media following and brand awareness through online engagement
0-5

years of experience

Proofed variety of pieces including: direct mail fliers, employer brochures, Welcome kits, Evidence of Coverage booklets, collateral, ads, PowerPoint presentations, sales kits, and broker materials.
Guaranteed editorial consistency in Plain Language, grammar, brand voice, regulatory compliance and design standards, by proofreading high-profile design, copywriting projects and marketing communication materials.
Conducted final editing and provided final sign-off on projects before released for publishing.
Partnered with the Medicare team to assist during busy season, ensuring all deadlines met.
Collaborated with team members to update Marketing Communications Intranet website.
0-5

years of experience

Edited content on packaging components for specialty and generic dermatology products
Established and managed tracking schedule of approvals for more than 800 products
Managed and submitted FDA-approved proofs to print vendors
Created content for corporate communications publications
0-5

years of experience

Assistant Account Manager/Journal Production Editor/Proofreader
Compiled and processed all components for more than 30 scientific, technical, and medical (STM) titles from receipt to release for printing.
Acted as liaison between authors, editorial office, composition team, customers, and print site staff for both domestic and offshore accounts.
Performed administrative duties of the Account Manager in that person's absence.
Edited articles and created tabular matter for the journal Pediatrics.
Completed final proofreading quality check of journals before release to print.
Proofread single articles, front and back matter, and revised page proofs from authors.
0-5

years of experience
Increased quality assurance scores from 85 percent to 98 percent in six months by improving information flow, developing training procedures and participating in weekly calls with our client, YP.
Conducted consultations with business owners regarding website design and development. Consistently scored 99 to 100 percent on our internal call monitoring system.
Proficient with AP style, standard grammar and website quality assurance.
10+

years of experience

Handled extensive work that required proofreading author manuscript against typeset proofs for grammatical, design, and punctuation errors
When necessary, faxed corrected page proofs to editors and/or authors
Operated copier, scanner, did filing of job folders, and mailing either by FedEx, or UPS
When each job was done, the proof room folder would be prepared and given to the project manager
Performed other job appropriate duties in a competent, courteous and professional manner
0-5

years of experience
Read proof against copy using standardized code to mark grammatical or typographical errors that appear in proof
Measured spacing and positioning of page elements to verify adherence to branding and required style guidelines
Marked errors using standardized proofreading marks, returned marked proof for correction, and then checked corrected proof against original copy
Created PDF documents of approved work and forwarded to client for review. Client then submitted documents to the SEC for filing
0-5

years of experience
Edited more than 1,000 biographical profiles for annual publication; lead the department in number of profiles processed per day.
Wrote and implemented company style guide.
Honored as "employee of the month" in March 2007 for exemplary work.
6-10

years of experience

Quality control prior to production as well as setting up proofs to clients and proofreading
Continually called upon to problem solve successful initiatives to 99 % accuracy throughout my 9 yrs. 8
Communicated project goals to all levels of management and associates
Mentored less seasoned associates on what was expected from them
Job Inventory Management using the Quantum system
Special projects lead with high profile clients
0-5

years of experience
Corrected errors and inconsistencies in grammar, layout, and spelling in both print and digital media
Completed data entry, fixing errors and creating new assessments
Improved accessibility and clarity of assessments and digital art
0-5

years of experience
Created corporate collateral pieces of varying complexity and value using QuarkXPress, Photoshop, and Illustrator on Macintosh using OS 9.
Responsible for taking jobs from initial client contact through proof revisions to print.
Directed design group production artists in implementing corporate branding standards.
Recognized by Design Group management with the Above and Beyond the Call of Duty Award, September 2001.
6-10

years of experience

Work included supporting a multichannel (web, retail & catalog) creative department. Included the proofreading of all creative materials - for both external and internal distribution.
Worked with Account Executives and Art Department in the preparation and perfection of catalogs (cover-to-cover reading of catalogs), web advertisements (banner ads, home pages & sale pages), and retail signage (sale signs, grand opening postcards - all collateral).
Maintained and preserved all in-house stylistic details for all outgoing creative.
Reviewed and verified price changes ensuring consistent price point for merchandise.
Created and maintained a stylistic guideline to document and record style updates.
0-5

years of experience
Consistently generated 40 MRI transcription reports daily, specializing in body scanning.
Knowledgeable in transcribing accurate reports regarding body scans varying from routine to complex.
Selected by management to take on additional responsibilities proofreading for Integrated Document Systems (IDS).
Proofread 40 MRI reports daily with attention to maintaining medical consistencies and correcting grammatical errors.
Expedited completion and accuracy of reports by communicating between various levels of ancillary staff and doctors.
Produced transcription reports for daily visits of 30-35 patients, specializing in orthopedics and physical therapy notes. Additionally specialized in narrative reports for law firms, and percentage of loss exams for Workers' Compensation cases.
Launched the overhaul of an inefficient transcription system into an improved record keeping system. Catalogued, renamed and detailed each case making it easier for billers to submit accurate dictation based on the injury.
Organizing the system minimized kickbacks from insurance companies leading to maximized reimbursement to the practice for private insurance, No-Fault and Workers' Compensation cases.
0-5

years of experience
Proofread Dick's Sporting Goods' weekly advertisements.
Corrected errors related to style, grammar, spelling and general information.
Worked on tight deadlines while managing multiple projects to meet each advertisement's
Created two style guides for the proofreading and design teams to ensure consistency across all projects.
Regularly researched product and industry information to ensure accuracy.
6-10

years of experience

Acted as liaison between attorneys, clients, contractors, and building Department deputies.
Drafted legal memoranda, motions, pleadings, and conducted legal research.
Part-time assistance to legal aid, and attorneys in their representation of indigent clients in matters such as divorce, landlord/tenant disputes.
Performed legal, and investigative research in the areas of construction, product liability and negligence.
Trial preparation in personal injury cases.
0-5

years of experience
Reviewed and processed orders for international export according to company export order policy.
Worked with management to improve and facilitate procedures for the handling of export orders.
Assisted in maintaining company list of ECCN numbers.
Assisted with other projects on an as-needed basis.
0-5

years of experience
Edited different types of marketing materials (emails, webcasts, catalogs) for spelling and grammatical errors.
Created word documented customer service calendars, table of contents, root lists for further proofing.
Trained newly hired proofreaders on the company's editing processes.
Assisted Marketing Manager in day-to-day operations, i.e. archive catalogs, make copies, monitor expired webcasts, etc.
0-5

years of experience
Proofread and edited copy for catalogs, emails, and special projects, as well as circular ad pages as needed
Trained new hires on proofreading styles and processes
Chose, trained and managed freelance proofreading staff for the 1,200-plus-page Maxi catalog
Rewrote catalog copy to maintain style, consistency, and factual accuracy
Wrote documents and compiled information for the proofreader guide to explain and clarify Maxi style and processes
Helped plan and attended weekly freelance meetings to address issues from the previous week and determine solutions
Collaborated with copywriters, designers, and supervisors to maintain quality, style, and consistency of catalog copy
Worked closely with supervisor on special projects and other duties delegated to me as needed
Contributed to a 40% decrease in page reprints due to errors through more comprehensive training and managing of freelance staff
0-5

years of experience
Proofread and copy edited English & Spanish advertising/marketing materials to ensure accuracy of spelling, grammar, punctuation, and syntax and to improve clarity of text
Ensured that all materials complied with copyright/trademark standards and client/house brand & style guidelines
Reviewed all types of text and files, including hard copy, web pages, PowerPoint presentations, PDFs, graphics, charts, animated GIFs, and videos/commercials
Interacted with account executives, project managers, and art directors to propose revisions, resolve issues/address queries, and verify information
Ensured that all client revisions and requests were implemented and that all deadlines were met
0-5

years of experience

Develop and maintain style libraries for advertising clients including: Chase, Microsoft, Angie's List among others.
Ensure that projects delivered a consistent look and feel for each brand.
Transcribe audio recordings of commercial spots to be used for closed-captioning and for client approval.
Maintain mailing lists for direct marketing pieces produced by [company name].
0-5

years of experience
Created invitations for various seminars provided by the company
Compiled and edited personal bio for each client
Worked with Photoshop and PageMaker to transfer photo's into the invitations
Ran copies, created booklets for proofs, created covers for booklets
Managed accounts of multiple clients to ensure their products were received in a timely manner
Assisted document manager with copy editing and proofreading of numerous in-house and outgoing documents, and emails for mass marketing
Assisted production assistant with printing, stuffing, sorting and mailing of both full page and postcard invitations.
6-10

years of experience

Participated in all departmental proofreading operations for assigned first print and reprint programs.
Provided support to compositors by proofreading a wide variety of text and graphics, in order to ensure accuracy and consistency
Reviewed all assigned materials for mechanical, grammatical, spelling, and formatting errors
Ensured that all previous corrections had been input correctly without the introduction of new errors
Utilized Adobe InCopy, InDesign, and Acrobat programs, as well as the file share services K4 and Documentum, in applying corrections
Supervised temporary proofreaders
0-5

years of experience

Edited company website, company Intranet, and a variety of marketing products in multiple formats
Wrote a marketing writing training course for employees
Taught a grammar/style class to account managers
Developed a [company name] style guide to maintain a clear and consistent company voice
0-5

years of experience

Wrote, edited, and proofread direct mail advertisements for North America's largest local search, media, and advertising company.
Performed quality checks on completed workflows.
Co-authored writer/proofer style guide for YP's digital marketing product.
Lead proofreader on YP's vertical market template project.
6-10

years of experience
Proofread documents for errors in spelling, grammar, punctuation, and syntax.
Act as a resource for all verbal and written questions pertaining to corrections.
Maintain knowledge of current formats found in The Handbook of Current English (8th Edition).
Perform quality assurance of documents in a timely manner to meet author's deadlines.
Contributed editing and proofreading skills to 3 published works.
Load More
Proofreader Duties and Responsibilities
Proofreaders shoulder the initial editing burden by reviewing creative content across a variety of media and industries. Responsibilities depend on the employer's needs and sometimes may expand into producing copy and improving processes. Current job opportunities frequently list the following duties for proofreaders:
Proofread Written And Digital Work Product Proofreaders do exactly what their job title suggests: they proofread materials for spelling, grammar, punctuation, syntax, usage, consistency, and brand voice. Proofreaders review and markup written work, such as marketing materials (brochures and flyers) and internal documents. Proofreaders also proof digital communications and correspondence, including emails, press releases, and website text.
Crosscheck References and Data Proofreaders are tasked with ensuring the accuracy of content. They verify the accuracy of all referenced facts (e.g., dates, pages, values) and double-check cross-referenced materials (e.g., websites, newspapers). Proofreaders may also be required to maintain source and reference logs to support their work.
Review Output for Consistency Proofreaders also review content with an eye towards campaign, product, or brand consistency. Accordingly, proofreaders are familiar with company-wide work to maintain consistency.
Collaborate with Team Members Proofreaders, working as part of a larger editing team, attend team meetings, provide constructive editorial input, and communicate with team members to effectuate consistent, accurate, and high-quality work product.
Improve Editing Processes Proofreaders are often asked to suggest process improvements. Through their daily exposure to copy and procedures, proofreaders can evaluate and recommend changes to create efficiencies.
Proofreader Skills and Qualifications
Proofreaders love the little details, and it shows in their work. The best proofreaders take pride in the quality of their product and are enthusiastic members of the editing team. Along with a bachelor's degree, proofreaders bring the following skills to the editing table:
Writing and editing - proofreaders that write well, edit well. So it should be no surprise that successful proofreaders are talented writers. And with good editing comes good proofreading. Proofreaders also are fluent in proofreading symbols, which remain relevant, notwithstanding Word's ubiquitous track changes
Computer proficiency - proofreaders work extensively on digital content and word processing software. As print media continues to decline, proofreaders will develop their computer skills to complete their job
Detail oriented - a proofreader's attention to detail is the centerpiece of his or her suite of editing qualities. Whether on paper or on screen, a proofreader needs to have a knack for catching the most trivial of errors, along with those most glaring
Quick reader - with deadlines always around the corner, proofreaders read and edit quickly without sacrificing quality
Resourcefulness - while crosschecking and verifying data, proofreaders track down the appropriate resources and address questions or issues in the copy that might require additional research. When faced with these hurdles, proofreaders know where to find answers to get the project to the finish line
Multitasker - proofreaders are expected to manage and prioritize multiple projects at once. These priorities may change from day to day, so proofreaders are both flexible and persistent in their pursuit of the perfect copy
Proofreader Education and Training
Proofreaders are expected to have a bachelor's degree, preferably in English, journalism, communications, or a related field. Years of experience vary, but usually, a minimum of one-to-two years is required. Depending on the industry, employers may require multiple years of industry-related experience.
Proofreader Salary and Outlook
The Bureau of Labor Statistics (BLS) most closely approximates proofreader employment data by reference to "proofreader and copy markers" statistics. The BLS lists the 2016 median annual salary for proofreader and copy markers at $36,960, or $17.77 per hour. Proofreader and copy markers in the lowest ten percent earned $21,660 a year, and the highest ten percent made over $60,500 a year. The "newspaper, periodical, book, and directory publishers" industry employed the largest percentage of proofreader and copy markers, while the "religious organizations" and "accounting, tax preparation, bookkeeping, and payroll services" industries paid the highest wages. Proofreader and copy markers employment is projected to grow by two percent from 2016 through 2026, a rate the BLS describes as slower than average.
Proofreader Helpful Resources
If you're looking to learn more about proofreaders, or if you're ready to pursue an editing position, these resources are a great way to get started:
McGraw-Hill's Proofreading Handbook (Second Edition) - This handy desk reference is a valuable tool for any new or seasoned proofreader. It includes a detailed walkthrough of the proofreading process, as well as handy proofreading checklists and a proofreading symbol cheat sheet.
Chicago Manual of Style - Although a subscription is required, prospective proofreaders may use the online version's 30-day trial to get acquainted with one of the industry's standards of style.
Editorial Freelancers Association - The EFA provides a resource for members to identify and connect with other freelance editors. The EFA also supports membership with educational tools.
Copy Edit This! - Want to put your editing skills to the test? Try this first in a series of at least nine interactive copy editing quizzes put out by the New York Times.
@copyeditors - This active Twitter account is run by ACES: The Society for Editing, a trade organization for editing professionals.
After Deadline - A retired but interesting New York Times editing blog that offered anecdotal "questions of grammar, usage, and style encountered by writers and editors of The Times."
Copywriting Cover Letter Examples
Create your own professional resume in just minutes.
Try our resume builder today
Build Your Resume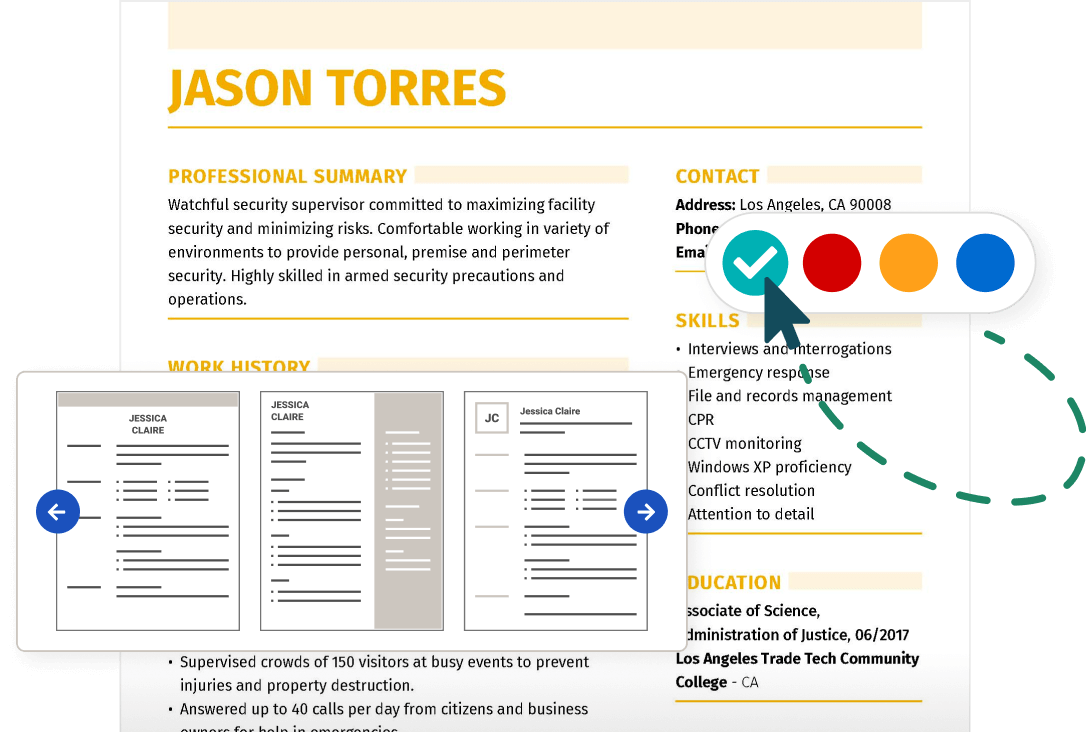 Proofreader Resume FAQ
What skills are listed on a resume for a proofreader?
A proofreader uses hard technical skills and intersocial soft skills to do their job effectively. Consider the following skills to add to your resume:
Technical skills
Excellent grammar and spelling
Knowledge of editorial style guides such as Associated Press (AP), MLA or Chicago.
Familiar with content management systems (CMS) such as WordPress, Contentful, Squarespace or Wix.
Knowledge of word processors such as Microsoft Word or Google Docs.
Practical knowledge of content strategies related to traditional marketing, social media or online editorial content.
Soft skills
Attention to detail.
Time management.
Collaboration and teamwork.
Effective written communication.
Check out the most commonly requested resume skills.
How do you describe proofreading on a resume?
Add quantifiable proof or numbers to persuasively describe proofreading on your resume persuasively. Details help hiring managers learn more about your current knowledge and former experience.
For example, a hiring manager learns more about your legal knowledge of local state employment laws from this first example, "Proofread an average of 124 pages of legal documents to align with California employment regulations and non-disclosure agreements. Identify errors in typing, spelling, syntax or voice." rather than this vague second example, "Proofread temporary employment contracts for legal and grammatical errors."
Check out our detailed guide on how to write a resume, which provides additional techniques to describe your proofreading skills.