Featured in:
From planting flowers and bushes to laying walkways, landscape technicians beautify lawns and gardens for residential and commercial customers. Also called groundskeepers or grounds maintenance workers, these professionals work to keep landscapes attractive, clean, and well maintained. Landscape technicians apply knowledge of plants, trees, and grasses in growing, pruning, and fertilizing shrubs, lawns, bushes, trees, and flowers. They also use knowledge of aesthetics to creatively design gardens, walkways, sitting areas, bridges, and other functional aspects of outdoor areas.
Landscape technicians must love working outdoors in different types of weather, enjoy physical labor, and have an interest in plants and trees. They work primarily for landscaping companies, golf courses, parks, or large or small corporations. While they work mainly full time, employment can be seasonal and little or no work may be available in the winter months.
Need cover letter guidance? Add a cover letter to your resume using our cover letter formats how-to guide and add value to your resume.
One extra step to impress a manager: A growing number of hiring professionals read cover letters to determine whether they'll interview a candidate or not. Use our cover letter templates to craft a complete application that lands you the interview.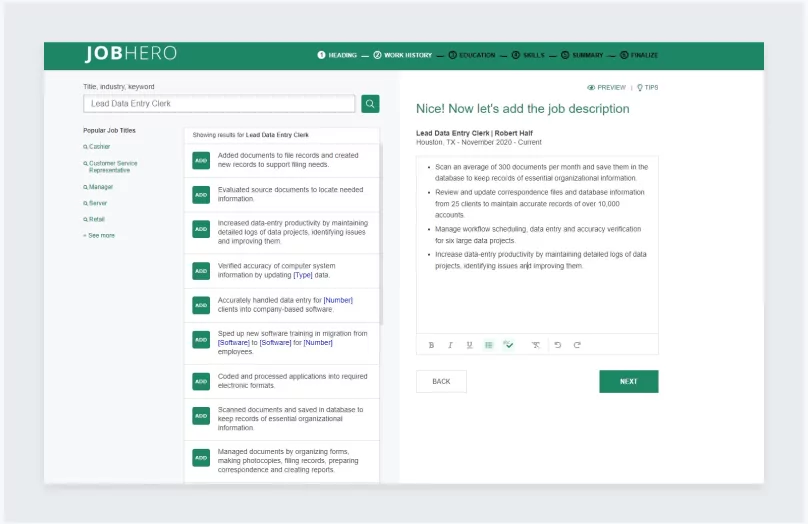 BUILD MY RESUME
Landscape Technician Duties and Responsibilities
While a landscape technician's day-to-day duties and responsibilities are determined by where they work, there are many core tasks associated with the role. Based on our analysis of job listings, these include:
Care for Lawns
From mowing to applying fertilizer, landscape technicians perform basic maintenance on lawns. They use their knowledge of different types of grasses to identify and treat any diseases as well as to lay sod, pick weeds, lay mulch, install sprinklers, and follow spring and fall fertilizing plans.
Plant Trees and Bushes
As part of their design responsibilities, landscape technicians plant trees and bushes to enhance a property. They apply their knowledge of which types of plants and trees will thrive in specific soil conditions and climates. They also prune trees and bushes, remove dead branches, and assess any potential diseases or conditions causing issues with existing foliage.
Design Walkways, Pathways, and Garden Areas
Landscape technicians lay slate, brick, or other types of walkways and create attractive garden areas using plants, flowers, and ornaments. They might erect bridges, arrange stepping stones, place decorative garden sculptures, and set up water fountains.
Monitor Plants and Flowers
It is typically a responsibility of landscape technicians to periodically check plants and flowers for potential insect infestation or signs of disease. Upon a diagnosis, landscape technicians apply appropriate sprays to address pests, fungi, or other problems. Landscape technicians follow all federal and state laws and regulations regarding these chemicals.
Landscape Technician Skills and Qualifications
Individuals who are physically fit and can endure working in various weather conditions, such as extreme heat or rain, can find success as landscape technicians. Employers ordinarily look for job candidates who display the following skills and abilities:
Mechanical skills - familiarity with operating and performing general maintenance using ride-on mowers, weed trimmers, and chemical spray equipment is essential for landscape technicians
Physical endurance - landscape technicians should be capable of standing, walking, kneeling, and crouching for long periods of time; they should also be able to carry heavy stones, slates, bags of fertilizer and grass seed, and other items used in landscape care and design
Customer service - providing satisfactory service for home and business owners is typically a prime ability that employers seek in landscape technicians
Attention to detail - high attention to detail when performing lawn maintenance or designing gardens is an important aspect of being a landscape technician
Problem-solving skills - from addressing and treating plant diseases to overcoming design issues, landscape technicians need to display strong problem-solving skills on a daily basis
Communication skills - the ability to communicate with customers, such as explaining landscape care or procedures to be carried out during a routine visit and writing up paperwork and service orders, reflect the verbal and written communication skills landscape technicians must possess
Tools of the Trade
Landscape technicians must be proficient with the following:
Lawn mowing equipment (push mowers, ride-on mowers, weed trimmers)
Garden tools (spades, hoes, shovels, trowels)
Tools for tree and shrub care (pruners, hedge cutters, loppers)
Landscape Technician Education and Training
Most employers do not require aspiring landscape technicians to satisfy any specific education requirements. In some cases, a high school diploma may be necessary. A two-year degree in landscape design or landscape architecture, with classes focusing on soil fertility, plant health, pesticides, and types of plants and plant diseases, can be helpful. Landscape technicians typically receive on-the-job training.
Landscape Technician Salary and Outlook
Reporting on grounds maintenance workers, the Bureau of Labor Statistics (BLS) reveals that these professionals earn an annual median salary of $30,000. Landscape technicians in the lowest 10th percentile make just over $20,000, while top earners can make a yearly median salary of about $62,000.
Landscape technicians working for federal agencies, recreation industries, and schools are paid at a higher level than those employed at parks or building services. On a state-by-state basis, the BLS reports that landscape technicians in Alabama earn the highest mean annual salary in the country at just over $62,000, followed by Pennsylvania (about $55,800) and Connecticut ($54,000).
It is expected that lawn care demand from large corporations and aging homeowners will lead to an 11 percent employment growth rate for landscape technicians through 2026.
Create your own professional resume in just minutes.
Try our resume builder today
Build Your Resume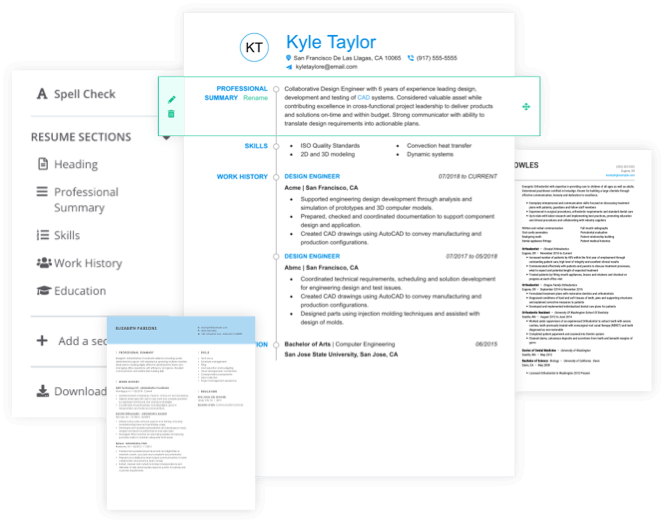 Helpful Resources
If you feel that the seed's been planted for your future as a landscape technician and you want to learn more, review the resources supplied below. You'll find links to books, professional organizations, and more:
Landscape Technician Resume Help
Explore these related job titles from our database of hundreds of thousands of expert-approved resume samples: