Featured in:
Human Resource Clerks spend most of their time assisting hiring personnel in the hiring process. This includes assistance in sourcing candidates, setting up interviews, maintaining records and several other clerical duties. Human Resource Clerks must be proficient in interacting with both machines and humans. When they aren't communicating with candidates or collaborating with coworkers, they are completing duties that involve using tools like spreadsheets and applicant tracking software.
The role of Human Resource Clerk is an entry-level position. It is technically possible to find employment with only a High School diploma, but most employers prefer candidates with at least an Associate's degree. Some people with a Human Resource Management educational background see this role as a way to get their foot in the door of a company's HR department. According to the National Bureau of Labor Statistics, demand for Human Resource Clerks is set to decline 4 percent through 2024.
Studying resume samples and examples are a great way to get inspiration for your own. Study our library of examples today!
Want to boost your resume? Your Jobhero subscription comes with a complimentary cover letter builder. Once you choose a cover letter template, the builder will suggest job-specific skills and prewritten entries, allowing you to save multiple letters for various applications fast.
Human Resource Clerk Duties and Responsibilities
Like any clerical job, Human Resource Clerks perform a wide range of duties throughout their shifts. The following list of duties for Human Resource Clerks was compiled from dozens of Human Resource Clerk job descriptions. These are the core duties and responsibilities that were listed most often.
Communicate Personnel Policies
Human Resource Clerks need to be experts on their employer's personnel policies. They play a role in any in-house issues, and they also explain the policies to new hires as part of the onboarding process.
Compile Employee Reports
This duty applies to a variety of personnel reports that are compiled by Human Resource Clerks. It includes productivity reports, employee reviews, employee disciplinary actions and candidate evaluations.
Process, Verify and Maintain Personnel Documentation
From job applications to disciplinary paperwork, Human Resource Clerks are responsible for processing these files and keeping them meticulously organized.
Assist in Arranging Training Activities
Human Resource Clerks assist Human Resource Coordinators in implementing training for current employees, as well as onboarding for new employees. This assistance usually comes on the clerical end, such as contacting candidates and scheduling sessions.
Create Job Postings
Although the Human Resource Coordinator typically writes the job description, Human Resource Clerks often assist in this process. They also post the description to job boards and advertise the opening through their networks.
Human Resource Clerk Skills
Human Resource Clerks deal primarily with humans, so it's obvious that they must have good interpersonal skills. In addition to being a people person, Human Resource Clerks must be technologically savvy in order to effectively use spreadsheets and applicant tracking software. The following is a list of core Skills Human Resource Clerks use most when performing their duties and responsibilities.
Communication Skills - Most of a Human Resource Clerk's duties require some form of communication. Being involved in the creation of job descriptions takes written communication skills, and so does writing emails to employees and candidates. They also use their verbal communication skills when conducting exploratory phone interviews.
Conflict Resolution Skills - The Human Resource department of a company is responsible for, metaphorically speaking, making sure the ship maintains a smooth course. This involves escalating any employee grievances to the proper parties, as well as diffusing minor conflicts between employees.
Interpersonal Skills - Interpersonal skills are slightly different than communication skills. Being able to "read" a person falls under interpersonal skills and is an important skill for Human Resource Clerks. They are often the first face a candidate sees before they meet their interviewee, and this first impression is important. Being able to provide insightful feedback to decision makers is a great way to get noticed for a promotion.
Collaborative Skills - There are several tasks that involve collaborating with others. Human Resource Clerks work with others in their department to source candidates, set up interviews and advertise open jobs.
Organizational Skills - Human Resource Clerks are responsible for maintaining the personnel files of every single employee in the company. Whether stored physically or digitally, Human Resource Clerks must call upon their organizational skills to complete this duty.
Human Resource Clerk Tools of the Trade
There are a few software tools Human Resource Clerks use to complete their duties, and they are compiled in the list below.
Applicant Tracking Software – Human Resource Clerks use applicant tracking software to automatically pre-screen candidate resumes. They must know which qualifying indicators to use to get the most out of this software.
Word Processing Software – Human Resource Clerks use word processing software, such as Microsoft Word, for things like drafting emails and working on job descriptions.
Spreadsheet Software – Human Resource Clerks are responsible for keeping track of where candidates are in the pipeline, which requires spreadsheet software, such as Microsoft Excel or a cloud-based platform like Google Sheets.
Human Resource Clerk Salary
According to the Bureau of Labor Statistics, the national median salary for Human Resource Clerks is $38,100. Those in the top 10 percent make over $55,200, while those in the bottom 10 percent make under $25,500. The three states with the highest median salaries for Human Resource Clerks are Alaska at $46,300, Massachusetts at $43,600 and California at $43,000.
Create your own professional resume in just minutes.
Try our resume builder today
Build Your Resume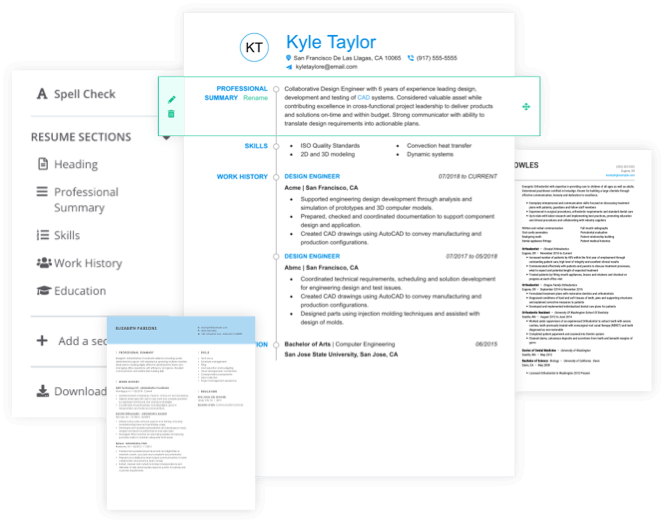 Human Resource Clerk Resources
Are you looking to further explore the HR industry? If so, then check out our list of resources below.
Human Resource Clerk Resume Help
Explore these related job titles from our database of hundreds of thousands of expert-approved resume samples: