Featured in:
A consulting engineer advises clients on the planning, design, and construction of projects. They can be licensed to practice any technical specialty, including but not limited to mechanical, electrical, chemical, structural, or environmental engineering. This is an ideal role for those who enjoy working with different clients on a variety of projects. Consulting engineers often work full-time in consulting firms, although some operate under a sole proprietorship.
If you are having writers block, our resume examples can help. Choose from hundreds of job titles to find the right example for your needs.
Impress your future boss! According to a 2020 survey, most hiring managers read cover letters for candidates they're considering interviewing before making their final decision. Make a cover letter that seals the deal with our professionally designed cover letter templates.
Consulting Engineer Duties and Responsibilities
The exact duties of a consulting engineer will vary depending upon their technical specialty; however, there are a few tasks that are universal to this position. Based on an analysis of real resumes and job listings, these tasks are:
Determine Client Needs
The first step of any project is to meet with clients and assess the exact requirements of a project. In the event that the client's problem requires a different skill set than the consulting engineer's expertise, they recommend another consultant or course of action that better meets their needs.
Present Project Concept
After meeting with the client, the consulting engineer drafts a project design or roadmap. If the consultant is part of a larger firm, they may get the input of other members on their team. They then present their final concept to the client, who offers feedback before agreeing to move forward with the project.
Organize Project Logistics
Consulting engineers manage all logistical considerations of an upcoming project. This may include ordering parts from vendors and suppliers. They also delegate assignments to crew members and other engineers within the firm.
Implement Project
Once construction of the project begins, consulting engineers supervise various aspects of execution, including the assignments they may have delegated to others. They ensure the project is proceeding smoothly, prevent or rectify any problems that arise, and ensure that safety procedures are always being followed.
Associate with Authorities
Consulting engineers are licensed professionals who take legal responsibility for their projects. It's their responsibility to make sure the project always upholds the highest safety and ethical standards. In addition, they must prepare, sign, and submit proposed projects to the local authorities for approval.
Consulting Engineer Skills and Qualifications
In addition to being experts in their field, consulting engineers are savvy businesspeople. Their solid sales skills and customer service experience allows them to grow and maintain a loyal clientele. Employers at consulting firms or clients looking for a consultant almost always prefer that candidates have a bachelor's degree in their technical specialty. A professional engineer license is extremely advantageous, along with the following skills:
Engineering expertise – clients depend on engineers who can design and construct projects that meet the highest standards of safety and quality
Computer competency – even if they delegate the drafting of designs out to someone else within their team, consulting engineers are adept at using computers to make or analyze models of proposed projects
Business acumen – knowledge of sales, marketing, and legal considerations are essential to a consulting engineer's business
Problem-solving ability – preventing and solving problems is the central focus of a consulting engineer's job, therefore they must be able to analyze the strengths and weaknesses of a proposed solution before choosing the best course of action
Communication skills – in addition to effectively sharing information within their team, consulting engineers must be able to explain complex ideas clearly with their clients and go above and beyond to provide excellent customer service
Tools of the Trade
Consulting engineers often use the following tools in their work:
Office suite software (including Microsoft Word, Excel, and Outlook)
Computer-aided design software (such as AutoCAD)
Consulting Engineer Education and Training
While the exact training and education of a consulting engineer will vary depending upon their specialty, all have at least a four-year bachelor's degree in engineering. It's becoming increasingly common to see consulting engineers with a master's degree in their field.
Because they offer their services to the public, consulting engineers who take legal responsibility for any project must be licensed within their state. The process for licensure includes passing the Fundamentals of Engineering (FE) exam, four years of professional experience, fulfilling the requirements of the state's licensing board, then passing the Principles and Practice of Engineering (PE) exam.
Consulting Engineer Salary and Outlook
The Bureau of Labor Statistics (BLS) states that the median annual wage for all architecture and engineering occupations is $79,000. This number will vary widely depending upon the specialty of the consulting engineer. For example, the median annual wage of a civil engineer is nearly $85,000, while the median annual wage of a chemical engineer is over $102,000.
Developments in renewable energy technology, automation, and infrastructure will continue to encourage job growth in engineering fields. The BLS projects that employment of all engineering occupations will grow by seven percent from 2016 to 2026, which is equal to the average growth for all occupations.
Create your own professional resume in just minutes.
Try our resume builder today
Build Your Resume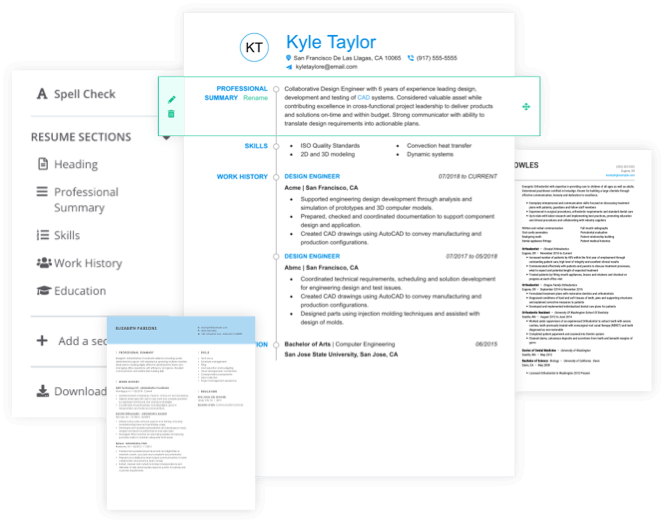 Helpful Resources
Looking to start a career as a consulting engineer? Check out the following list of resources to help you get started.