Featured in:
Proper data storage is crucial for any business, and it is typically up to an Informatica developer, or ETL (extract, transform, load) developer, to handle this important task. Informatica developers use specific Informatica software to design and oversee data storage systems. In this process, Informatica developers load, test, and troubleshoot data, and analyze and test data warehousing systems. These developers also resolve any issues with these systems and create technical documentation outlining design, troubleshooting, and repair processes. Informatica developers typically work 40 hours per week in an IT department. They enjoy insurance benefits, paid time off, and vacation time as dictated by their hiring company.
Our certified resume writers have created a library of resume samples to show you exactly what a strong resume looks like. Use them as-is or customize them to your needs.
Want to boost your resume? Your Jobhero subscription comes with a complimentary cover letter builder. Once you choose a cover letter template, the builder will suggest job-specific skills and prewritten entries, allowing you to save multiple letters for various applications fast.
Informatica Developer Duties and Responsibilities
Informatica developers work in a variety of industries. Specific duties and responsibilities may vary, but there are several core tasks associated with the job, including:
Analyze Database Models and Requirements
Informatica developers analyze a business's database storage and warehousing capabilities and assess the company's data requirements. They review data storage and access procedures and use Informatica tools to update, test, and provide solutions for data issues.
Integrate Informatica Systems
One of the main roles of an Informatica developer is to develop data warehousing systems using Informatica software tools. These developers must integrate this system with a company's existing systems, troubleshoot any issues, and smoothly implement the Informatica cloud data management product.
Develop Technical Documents for Informatica Systems
Informatica developers maintain up-to-date documentation of implementation, troubleshooting, and ETL processes related to Informatica systems. They also keep documents pertaining to specific issues and how they were resolved, including coding information and extraction and transformation processes.
Conduct Data Quality Tests
It is up to Informatica developers to regularly check the quality of stored data. They oversee mappings and workflows, check data integrity and accuracy, and perform data cleansing procedures as needed.
Informatica Developer Skills and Qualifications
In addition to the expected technical skills required to be an Informatica developer, these professionals should be team leaders with strong analytical, creative, and time management skills. After examining several job postings, we found that employers tend to favor candidates who display the following abilities:
Computer skills - a thorough knowledge of computer programming, coding, and various operating and database systems is a must for Informatica developers
Time management - Informatica developers should have the ability to quickly develop data warehousing systems and solve any issues to ensure the continued accuracy of business data
Creativity - the ability to create mappings from scratch often calls for strong creative skills on the part of an Informatica developer
Analytical thinking - Informatica developers should be able to analyze data needs and options and understand the needs of various clients
Troubleshooting - when data warehousing systems are down, it falls to Informatica developers to quickly assess the problem and provide a solution
Team collaboration - Informatica developers rarely work alone; they typically interact closely with database managers and other IT specialists when maintaining, storing, and retrieving data
Tools of the Trade
Informatica developers should have strong knowledge of the following tools:
Informatica PowerCenter tools (workflow manager, workflow monitor, designer)
Programming languages (SQL, XTML)
Data platforms (Oracle, Teradata, Hadoop)
Informatica Developer Education and Training
Prospective Informatica developers should hold at least a bachelor's degree in computer science, information systems management, or a similar area. In these programs, students take courses in programming, coding, database management, data warehousing, and systems development. It is helpful for candidates to hold Informatica certifications, such as those offered in PowerCenter Data Integration, Data Quality, Master Data Management, or Information Big Data. These certifications reflect expertise in data warehousing, extraction, and other duties handled by Informatica developers.
Informatica Developer Salary and Outlook
As reported by the Bureau of Labor Statistics (BLS), IT professionals earn a median annual salary of $87,000. Those in the 10th percentile earn about $48,500 annually, while top earners realize a yearly salary over $132,000.
Informatica developers working in areas of computer systems design (about $96,000) and telecommunications ($93,000) tend to earn the highest annual salaries among these professionals, the BLS further reports. Those making their living in New Jersey are paid the highest average salary in the US at just over $106,000, followed by Informatica developers working in the state of Washington ($98,000) and Connecticut (over $97,500).
An 11 percent employment growth rate is predicted by the BLS through 2026. A steady increase in data needs for all types of industries is expected to fuel this projected growth.
Create your own professional resume in just minutes.
Try our resume builder today
Build Your Resume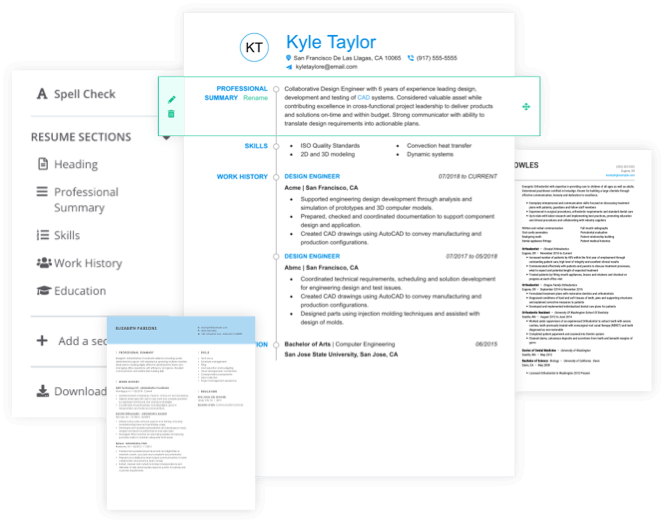 Helpful Resources
Do you see a future as an Informatica developer? If you're seriously considering this career, you might wish to learn more by accessing the resources we've listed below:
Informatica Developer Resume Help
Explore these related job titles from our database of hundreds of thousands of expert-approved resume samples: