Featured in:
Civil Supervisors monitor civil construction projects. They oversee activities such as building bridges, repairing highways and doing construction on airports. While Civil Supervisors may have an office, much of their time is spent on construction sites to make sure all parties involved are performing up to par. They are leaders who have worked their way up to this position from earlier experience in civil engineering and public works.
The safety and usability of our nation's infrastructure are important to everyone. People depend on dams holding, bridges staying stable and pipes delivering clean water. Thus, civil projects often take priority even in slow economic times. Because of this, job prospects for Civil Supervisors should be promising. The Bureau of Labor Statistics projects 11 percent growth in the employment of civil engineers between 2016 and 2026.
Our certified resume writers have created a library of resume samples to show you exactly what a strong resume looks like. Use them as-is or customize them to your needs.
Boost your resume with an extra click. Our cover letter templates match our resume templates' designs for a cohesive application. Use a template in our builder to help you quantify and expand upon the experience from your resume and impress employers.
Civil Supervisor Duties and Responsibilities
Part civil engineer and part manager, Civil Supervisors serve as both fountains of knowledge and project organizers. From our analysis of job postings, core responsibilities for Civil Supervisors include the following:
Supervise Construction Activities
Civil Supervisors familiarize themselves with all aspects of the project, from structural drawings to budgets to deadlines. They make sure all parties are doing what they are supposed to do, and they carry out visual inspections of work completed. If construction affects the activity of the general public, Civil Supervisors figure out adjustments, such as rerouting traffic.
Solve Problems
From contract disputes to materials not arriving on time, Civil Supervisors handle situations as they arise to limit tensions and disruptions.
Maintain Safety and Legality
From start to finish, Civil Supervisors make sure the work being performed is structurally sound. They follow governmental regulations, address environmental issues and comply with local codes. When state and federal inspectors visit the site, Civil Supervisors may lead them around and answer questions.
Communicate
Civil Supervisors act as a liaison between groups, such as carpenters and pipefitters. They also may need to provide reports to project engineers and others who monitor progress or make changes to plans.
Civil Supervisor Skills
Besides being talented civil engineers, Civil Supervisors must possess leadership skills so people will stay on task and work hard to get things done. They also must be outstanding organizers capable of working within budget and time constraints. Other skills Civil Supervisors are likely to possess include:
Multitasking to watch over different teams and activities at the same time
Exhibiting calmness and diplomacy to ease tensions when conflicts and problems arise
Attending to detail to ensure nothing slips through the cracks
Focusing on safety at all times
Civil Supervisor Tools of the trade
Aspiring Civil Supervisors need to be familiar with the following items:
Structural drawings and blueprints – Images detailing the work needing to be done
Design software – Computer programs that assist when planning out a project, such as a hydraulic system
Building materials – Wood, concrete, asphalt, steel and other basics of construction projects
Surveys – Examinations of the actual project site to obtain information on things such as soil condition and to place markers that will guide construction
Budgets – Breakdown of costs for each element of the project, such as material and labor
Building codes – Location-specific regulations governing the design, construction, alteration and maintenance of structures in order to ensure safety
Permits – Governmental permission to perform specific construction or repair
Hard hats – Protective headgear worn on construction sites
Civil Supervisor Education and Training
Civil Supervisors usually hold at least a bachelor's degree in civil engineering and a professional license. Many also pursue graduate studies in that area or a related field, such as construction management. Civil Supervisors should plan on being life-long learners in order to stay up-to-date on the latest developments and standards.
Create your own professional resume in just minutes.
Try our resume builder today
Build Your Resume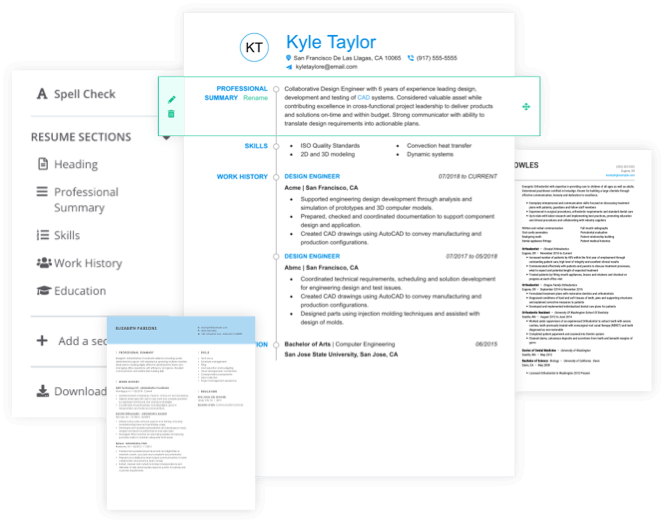 Civil Supervisor Resources
Here are more resources for learning about the role of Civil Supervisor:
Civil Supervisor Resume Help
Explore these related job titles from our database of hundreds of thousands of expert-approved resume samples: