How to Become a

Journeyman Lineman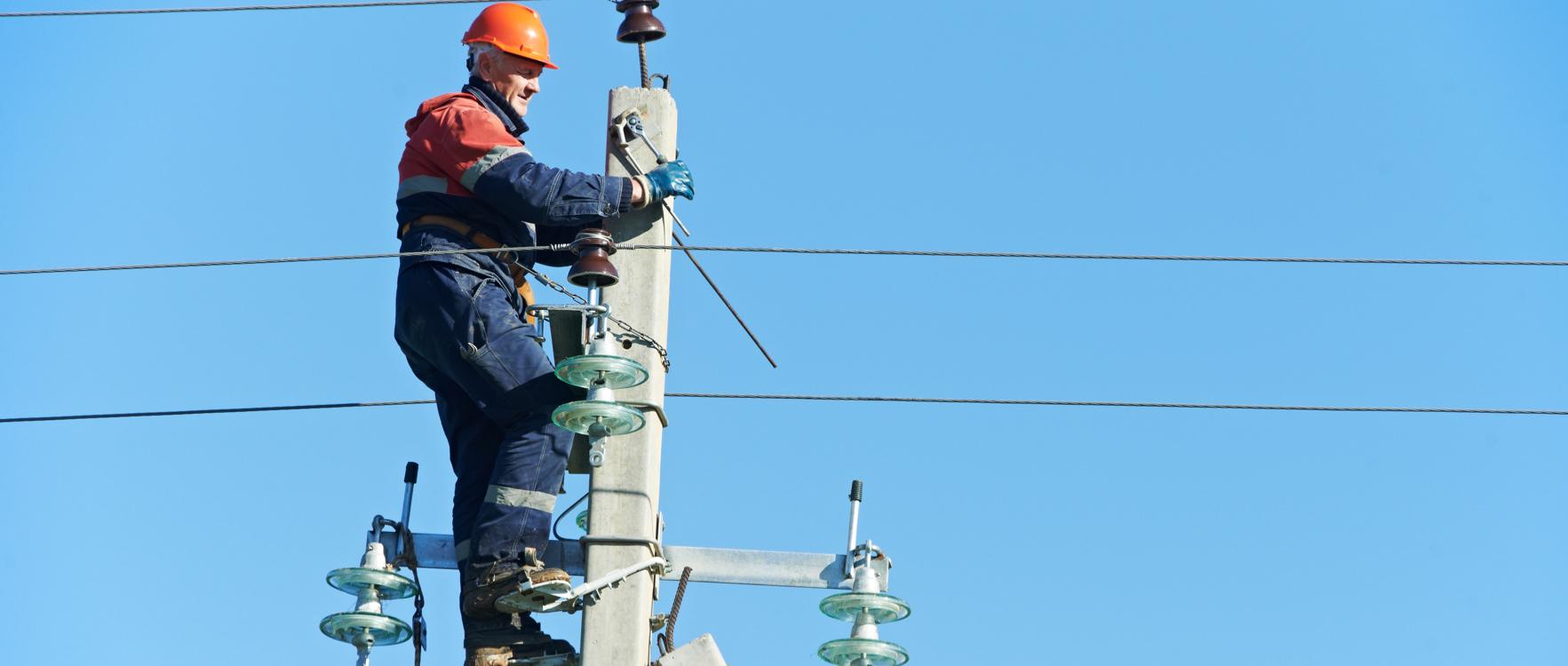 Do you want more information about a career as a Journeyman Lineman? Then you've come to the right place! This article will explain everything you need to become a Journeyman Lineman, such as skills, both hard and soft, as well as education. Also, find out what you can earn in this profession, and the job outlook through 2024.
What Does a Journeyman Lineman Do?
A Journeyman Lineman is not an entry-level position, and one that starts from being an Apprentice Lineman, which Journeymen Linemen eventually manage. This technician is in charge of the installation, maintenance and repair work for auxiliary equipment and electrical power systems. They must verify that the systems are working properly from the power plants all the way to the customers' locations. These professionals work in underground trenches and vaults, on overhead structures or on streetlights and traffic lights. Most Journeymen Linemen work for electrical utility companies.
Being a Journeyman Lineman requires technical knowledge to make sure that electrical power systems are functioning as they should. Typical responsibilities of this role include:
Technical tasks, such as installing and repairing electrical power systems

Project management, such as planning and supervising projects

Safety management, such as verifying that OSHA and Customer Safety Requirements are met

Management, such as supervising Apprentices and Groundsman
Journeyman Lineman Skills
Just possessing technical skills is not nearly enough to succeed as a Journeyman Lineman, which is an incredibly dangerous job. There is a higher than average chance of injury or death for this career for these individuals, who must work with electrical equipment in various weather conditions, such as rain, snow and extreme winds. There is a risk of falling off a high tower or pole or of getting electrocuted when working with high-voltage power lines. Journeymen Linemen must be comfortable with this level of danger, and be strong and healthy, as this position requires the operation of heavy equipment, such as aerial lifts, digger derricks, pullers and cranes, etc.
Other key Journeyman Lineman skills include:
Knowledge of building and construction

Knowledge of public safety and security

Performing equipment maintenance

Mathematical computation

Tree trimming
How Do You Become a Journeyman Lineman?
Education and Training
To get into this industry, candidates start as Apprentice Linemen, which are required to have a high-school diploma or equivalent along with a passing score in high school Algebra. Most positions offered four years of paid apprenticeship on-the-job training (7,000 hours) as well as in-classroom training before becoming a Journeyman Lineman.
To advance to becoming a Journeyman Lineman, it is helpful to have at least a two-year associate's technical degree or certification from a trade school.
Finding a job
There is a steady need for Journeymen Linemen, with an 11 percent increase in job openings, a total of 6,030 new jobs becoming available to all Electrical Power-Line Installers and Repairers through 2024, according to the Bureau of Labor and Statistics. This demand is due to a need for electricity and telecommunication services.
To apply for a position as a Journeyman Lineman, you need to highlight your educational and professional experience in a well-written resume.
In addition to searching for Journeyman Lineman job openings here, you can also apprentice with a contractor, or contact the Electrical Training Alliance to inquire about Apprenticeships.
Craft a great cover letter that expresses your interest in a position as a Journeyman Lineman and explains what soft and hard skills you have that make you the perfect candidate for this job. Check out out sample cover letters for help.
How Much Do Journeymen Linemen Get Paid?
The average yearly salary for Electrical Power-Line Installers and Repairers, such as Journeymen Linemen, is $66,500. The highest-paid make $96,000, and the lowest-paid earn $36,000.
Top 10 States for a Journeyman Lineman's Salary
Journeymen Linemen in the following states make the highest median salary in the U.S.
Journeyman Lineman Resources
For more information about becoming or working as a Journeyman Lineman, see these these additional resources.
On the Web
Powerlineman.com
Exclusively dedicated to one of the most dangerous, prestigious, rewarding, and challenging professions in the world, The Journeyman Lineman.
On LinkedIn
Linesman, PowerLine Technician, Journeyman Lineman, Line Mechanic Jobs
Electricity Distribution and Transmission Jobs in Africa, Asia, Australia, Canada, Ireland, Europe, New Zealand, Philippines, South America, UK and US.
Books