If you're interested in a career as an immigration lawyer, you'll want to keep reading. This guide will help you learn about the duties and responsibilities of an immigration lawyer, the educational requirements needed for the position, the median salary and much more.
Our certified resume writers have created a library of resume samples to show you exactly what a strong resume looks like. Use them as-is or customize them to your needs.
Boost your resume with an extra click. Our cover letter templates match our resume templates' designs for a cohesive application. Use a template in our builder to help you quantify and expand upon the experience from your resume and impress employers.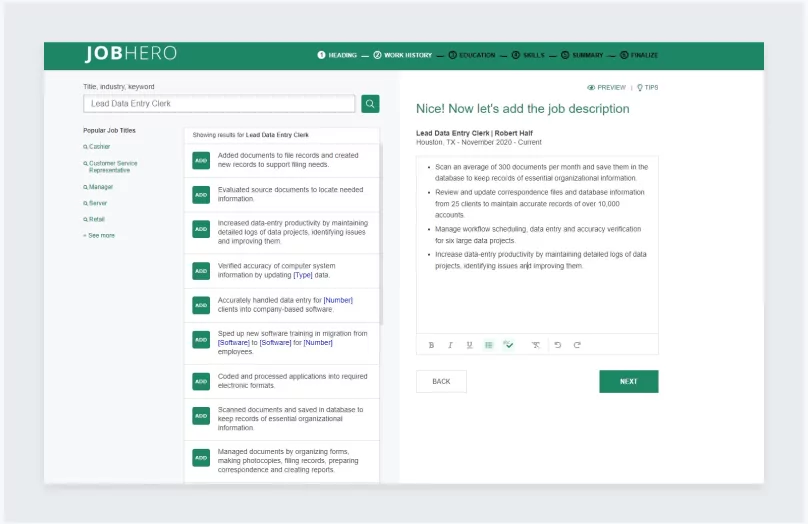 BUILD MY RESUME
What Does an Immigration Lawyer Do?
Immigration lawyers handle various issues on their client's behalf, including obtaining U.S. citizenship, acquiring immigrant or resident visas, filing for political asylum and defending against deportation. Immigration lawyers often work in law offices, either as a partner in a firm, as an independent private practice or as a government employee, while others perform their duties inside the courtroom as client representatives.
Being an immigration lawyer requires a thorough understanding of policy and excellent communication skills. Some common immigration lawyer duties and responsibilities include:
Technical tasks, such as filing immigration paperwork and filing motions.

Collaborating and reporting to the regional immigration attorneys.

Managing and preparing applications for permanent residency.

Processing nonimmigrant and immigrant visa petitions.

Organizing petition packets.

Gathering application and petition information from external parties.

Keeping clients apprised of the progress of their cases.

Client-based tasks, such as appearing in court and providing legal counsel.

Research-based duties include collecting and thoroughly analyzing the necessary data for each case.
How Do You Become an Immigration Lawyer?
The demand for lawyers of all kinds, including Immigration Lawyers, is steadily increasing. The Bureau of Labor Statistics predicts that the employment of lawyers will increase by 6% between 2014-2024, which translates to 43,800 available positions. However, the competition for these positions is likely to increase. To become an Immigration Lawyer, you'll need to focus on setting yourself apart from the competition. Here's how to do that:
1
Complete your bachelor's degree.
Immigration lawyers, just like all other lawyers, must earn a bachelor's degree from a four-year university and a Juris Doctor (J.D.) degree from a law school. You can specialize in intergovernmental affairs, economics, philosophy, political science and international studies.
2
Pass the Law School Admission Test (LSAT).
Most, but not all, law schools require incoming students to pass the Law School Admission Test (LSAT) before enrolling, so you'll want to start preparing for the LSAT well before you complete your bachelor's degree. After passing the LSAT and being admitted into law school, you'll likely be required to take general courses for the first year, while in the last two years, you'll be able to focus on immigration law and take courses that directly pertain to that field.
Besides formal education and licensing, employers also look for factors such as practical experience and skills that are preferred but not necessarily required. To boost your chances of landing a position as an Immigration Lawyer, try to find internships with law firms that specialize in immigration issues or with relevant government agencies, such as the United States Citizenship and Immigration Services or other branches of the Department of Homeland Security. To give yourself and your resume an edge, you should consider learning a non-English language if you don't speak one.
5
Set your job search for success.
The first and perhaps most essential step to setting yourself apart is creating a professional, compelling resume to underscore your education, training, achievements and experience. Jumpstart your career In just three simple steps with our Resume Builder. We offer over 30+ optimized template designs, and follow the prompts to create your own industry-specific resume. For examples and ideas to help you make the best resume possible, check out JobHero's library of Immigration Lawyer resume samples.
Immigration Lawyer Skills
In addition to extensive legal knowledge and specialized training, immigration lawyers must also have superb communication skills, especially when interacting with clients from different countries and cultures, many of whom may not be fluent in English.
They rely on a mix of soft and hard skills to handle extremely high-stakes situations with anxious and frustrated clients. Here are the most marketable skills to help you make an impact:
Insights from an Immigration Lawyers
Read on to discover what Immigration Lawyers have to say about their profession. Get the perspective from someone on the field and learn more about being an Immigration Lawyer.
What is the common career path for an Immigration Lawyer?
People interested in being an Immigration lawyer must complete three years of law school after completing an undergraduate degree in criminal justice or related fields.
What should someone consider before becoming an Immigration Lawyer?
An Immigration Lawyer must always be updating his knowledge base because regulations and policies can change in the blink of an eye. Research is key to know how to go about certain regulations and policies. If you enjoy this type of environment then you are in the correct career path.
What type of person excels in this job?
Some of the most important qualities a good Immigration Lawyer has is a good eye for detail, strong communication skills, creative problem-solving abilities, and perseverance.
What are some of the most important skills for Immigration Lawyers to have?
Good judgment, creative solution problem-solving abilities, excellent communication skills with customers, the ability to speak in public, compassion and good people skills.
What do you find to be the most rewarding aspect of being an Immigration Lawyer?
One of the most important aspects of becoming an Immigration Lawyer is the wide range of career options you have at your disposal in the public or private sector. This comes with great financial and emotional rewards. Another great benefit of becoming a lawyer is the mental stimulus that comes with the job and the skills gained that transfer to alternative career paths.
How Much do Immigration Lawyers Get Paid?
Lawyers, including Immigration Lawyers, are usually paid either on an hourly basis or on a flat fee basis. Lawyers in the United States earn an hourly median wage of $55.69, with the lowest paid lawyers earning $26.86 per hour and the highest paid lawyers earning $90 or more per hour.
Top 10 States for Immigration Lawyer Salary
Lawyers, including Immigration Lawyers, in the following ten states make the highest median hourly wage in the United States.
Immigration Lawyer Resources
We assembled this list of additional resources to help you continue exploring your career as an Immigration Lawyer.
Immigration Lawyer Industry Groups
American Immigration Lawyers Association
This association is made up of over 14,000 attorneys and law professors who practice and teach immigration law. AILA provides legal education, information and multiple other services to Immigration Lawyers across the country. The association offers discounted membership rates for law students, new members, and lawyers employed by nonprofit organizations.
National Immigration Law Center
The NILC is dedicated to defending and advancing the rights of low-income immigrants. They not only employ a team of lawyers, but also offer training as well as fellowship and internship programs.
The Federal Bar Association
This association consists of more than 18,000 federal lawyers. The FBA engages in federal issues, keeps its members up to date on current events, provides scholarship and educational opportunities, provides a social platform for lawyers and judges, and hosts events across the country. Additionally, they have a separate Immigration Law Section that has its own resources and private discussion group.
Immigration Lawyer Blogs
The U.S. Immigration Law Blog
This blog, written by Ashwin Sharma of the Sharma Law Office, publishes news, commentary and updates on U.S. Immigration policy.
Immigration Lawyer Books
Strategies & Tactics for the MBE
This guide is full of advice and strategies for passing the Multistate Bar Exam, and also contains a full-length practice exam.
Information sources for this article include the Bureau of Labor Statistics, job postings and other online sources.