Featured in:
Security officers are hired to keep commercial and residential areas safe, as well as to maintain crowds at public events. One should be fairly active and possess at least an average level of physical strength. Breaking up potential incidents cannot be done by someone who is out of shape. Security officers may be employed directly by a facility, or they may be employed by a security firm that services multiple clients. The work environment of a security officer varies by their industry of employment, which includes schools, hospitals, apartment buildings, gated communities, retail stores, malls, concerts, clubs, and sporting events. The hours for security officers also vary by industry. Security officers who specialize in events work mostly nights and weekends, while those who work for apartment buildings or hospitals often have to do overnight shifts.
Junior security officers often shadow a more senior security guard until they are competent to work independently. Security officers answer to the head of security. According to the National Bureau of Labor Statistics, the demand for security officers is set to rise 6 percent through 2026.
Need cover letter guidance? Add a cover letter to your resume using our cover letter formats how-to guide and add value to your resume.
Boost your resume with an extra click. Our cover letter templates match our resume templates' designs for a cohesive application. Use a template in our builder to help you quantify and expand upon the experience from your resume and impress employers.
Security Officer Duties and Responsibilities
Keeping an event, property, or retail location safe and secure is the primary responsibility of security officers. We researched security officer job descriptions to compile the following list of their most relevant duties and responsibilities:
Enforce Property or Event Rules
A security officer's main duty is to enforce the rules of the event or property at which they're working. The specific tasks involved with this duty vary by industry and from employer to employer.
Build Rapport with Patrons
Security officers don't always have to instill an element of fear into patrons. At facilities such as schools and hospitals, building rapport is a key element in maintaining a harmonious environment.
Monitor Patrons for Suspicious Behavior
Ways of monitoring patrons for suspicious behavior varries according to place. For instance, in schools and hospitals, a certain route is patrolled at regular intervals; in a retail store, a security officer might constantly watch all of the camera-blind areas of the sales floor; at some facilities, security officers monitor a network of CCTV cameras.
De-escalate Situations between Patrons
Event, bar, and school security officers break up fights fairly frequently. They have to be able to break up a physical altercation and keep the situation from escalating into a full-on brawl.
Refer Emergency Situations to Proper Authorities
While many retired police officers enter the world of security, security officers are not required to be trained police officers. They have to be able to keep their ego in check and know when to refer a situation to the proper emergency authorities. This requires knowledge of event or facility emergency protocols to keep patrons safe.
Security Officer Skills
Security officers are trained in crowd control during a crisis and administering basic first aid and CPR, as well as in how to spot criminal activity. Security officers rely heavily on their ability to communicate and work as a team. No security officer succeeds as a lone wolf. A vital aspect of their job is understanding and following proper communication protocol for security teams. In addition to these traits and areas of knowledge, the skills listed below are required to get a job as a security officer:
Building rapport with patrons to establish trust and a sense of safety
Using keen sense of awareness to detect and deter suspicious activity
Communicating and collaborating with other security officers to implement security protocols efficiently
Resolving conflicts between patrons
Remaining calm in emergency situations and using crowd control knowledge to keep people calm during a crisis
Security Officer Tools of the Trade
Video surveillance – some security officers are stationed in a room with CCTVs where they digitally monitor the property
Walkie-talkies -used to stay in constant contact with their team
Firearm – armed security officers use pistols or tasers, and are formally trained in these firearms
Security Officer Education and Training
Security officers only need to have a high school diploma or equivalent to find a job. They do have to undergo specialized training to get their security license, which includes 8 hours of classroom training, between 8 and 16 hours of on-the-job training and 8 hours of annual classroom training each year. Armed security officers are also required to maintain a pistol license.
Security Officer Salary
According to the National Bureau of Labor Statistics, the national median salary for security officers is $25,840 per year. Those in the top 10 percent make above $47,260, while those in the bottom 10 percent make below $18,860. Armed security officers earn much more than unarmed security officers.
Create your own professional resume in just minutes.
Try our resume builder today
Build Your Resume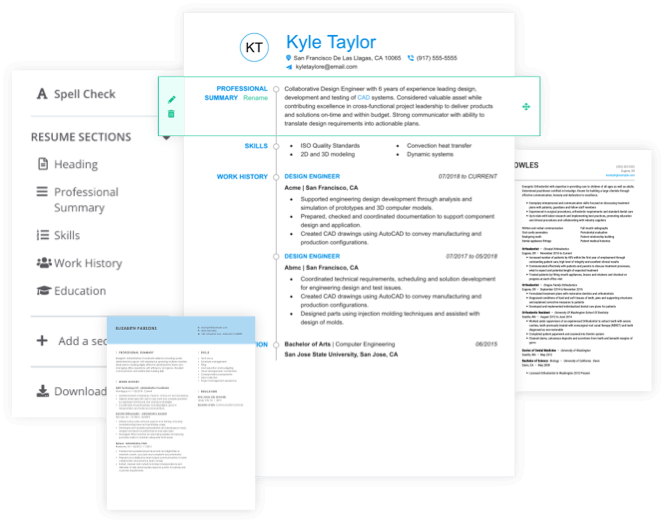 Security Officer Resources
If you're interested in pursuing a career as a security officer, then peruse the list of resources below:
Security Officer Resume Help
Explore these related job titles from our database of hundreds of thousands of expert-approved resume samples: