Featured in:
Real estate brokers are essentially real estate agents who are licensed to own their own business. They help homebuyers and sellers navigate the processes of selling, searching for, and purchasing real estate. Real estate brokers represent buyers and sellers for commercial and residential properties. They oversee an office of real estate agents and make commissions off of properties sold by these agents. Real estate brokers can expect to work weekdays and nights as well as weekends; hours are often dictated by the availability of clients. This is a full-time position that often requires more than 40 hours per week. Real estate brokers, as business owners, are their own bosses. As such, this is a position that does not often include health benefits, retirement plans, or paid vacations. Wages typically include bonuses and commissions.
Studying resume samples and examples are a great way to get inspiration for your own. Study our library of examples today!
Impress your future boss! According to a 2020 survey, most hiring managers read cover letters for candidates they're considering interviewing before making their final decision. Make a cover letter that seals the deal with our professionally designed cover letter templates.
Real Estate Broker Duties and Responsibilities
While a real estate broker's day-to-day duties and responsibilities are determined by where they work, there are many core tasks associated with the role. Based on our analysis of job listings, these include:
List and Show Properties
Real estate brokers list homes and commercial properties for sale both locally and on the Multiple Listing Service (MLS). They review property details and availability to ensure potential buyers see accurate and up-to-date information. They also oversee all marketing practices related to the advertisement of properties.
Negotiate on a Client's Behalf
When real estate brokers are hired by a seller or buyer, they become responsible for negotiating price and any contingencies attached to the property in order to get their client the best deal possible. They handle all communications between their client and the seller or buyer, prepare offers, relay all responses to the client, and clarify all negotiable elements of a real estate contract.
Coordinate Transaction Documents
Preparing contracts, agreements, property disclosures, and all other relevant paperwork usually falls to real estate brokers. They also coordinate home inspections and check inspection reports, repair assessments, home warranties, and other pertinent documents.
Oversee Sales Agents
Real estate brokers manage real estate agents working in their office. They review sales numbers, ensure proper training of all agents, provide a website for agent use, and make sure that all agents fulfill continuing education requirements to maintain licensure.
Real Estate Broker Skills and Qualifications
Real estate brokers are typically results-driven and sales-minded individuals with strong leadership skills. Those interested in pursuing this type of career need to demonstrate the following:
Marketing skills - a strong understanding of marketing tools and practices, such as social media and local advertising, is crucial for real estate brokers
Sales skills - knowing how to close deals and follow up on leads is an asset for real estate brokers
Management - applying effective leadership and management skills to oversee office employees is vital to the success of a real estate brokerage
Communication skills - real estate brokers must display strong oral and written communication skills when preparing documents, speaking with clients, and interacting with real estate professionals
Negotiation - a major ability of real estate brokers is negotiating with buyers and sellers as well as attorneys to arrive at the best agreements for their clients
Collaboration - real estate brokers must work closely with sales agents, home inspectors, mortgage officers, lawyers, and other professionals on a daily basis
Multitasking - the ability to handle negotiations for various clients, communicate with agents and other involved parties, and prepare documents calls for strong multitasking skills
Mentoring - real estate brokers often mentor agents to help them close deals and prepare them for operating their own brokerages
Real Estate Broker Education and Training
While not always required, it can be helpful for real estate brokers to have completed some college courses in real estate or to have a four-year degree. These courses cover real estate finance, laws, and business administration and are often required to fulfill pre-licensing obligations set by most states. Real estate brokers must take and pass a state exam to obtain licensure to sell real estate and own and operate a real estate office.
Real Estate Broker Salary and Outlook
The Bureau of Labor Statistics (BLS) reports a median annual salary of $56,000 for real estate brokers. In the 10th percentile, these professionals earn just over $24,000, while the higher earners can realize a salary of over $151,000 per year. Real estate brokers in the U.S. who work in Connecticut make the highest annual salary in the country at nearly $130,000, followed by those in New Hampshire (about $126,500) and Ohio ($116,700).
As far as employment growth goes, the BLS predicts a 6 percent job growth rate through 2026. Better connections in the industry and longevity in the field as compared to agents mean that brokers should expect a slightly higher growth rate than sales agents. An improving economy and increasing home sales are other major reasons for this expected growth. Economic downturns negatively impact the growth rate for this profession.
Create your own professional resume in just minutes.
Try our resume builder today
Build Your Resume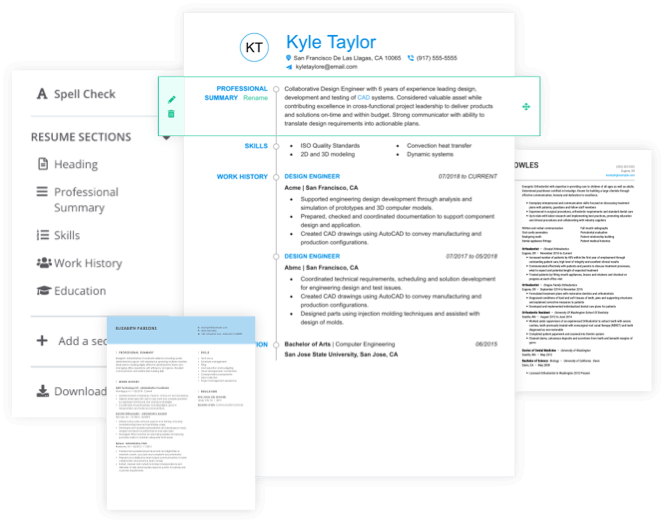 Helpful Resources
Sold on a career as a real estate broker? Close the deal by exploring more information about this profession in the links provided below:
founded in 1947, NAREB offers real estate brokers a place to network, discover professional development conferences, and learn about industry regulations and legislative activities
are you seeking continuing education information? Looking to take broker courses? Want access to real estate broker summits offering learning and networking opportunities? You can get all this and more as a member of NAR
 NAR's blog covers topics like the impact of regulations on real estate businesses, how to structure a marketing service agreement, leadership practices, customer service advice, and more
how do real estate brokers recruit and retain agents? What are the best practices in order to lead personnel and run a successful brokerage? This book covers the basic nuts and bolts of being a real estate broker
real estate broker and university instructor Claude Boiron's LinkedIn page provides links to several helpful articles about real estate industry trends, as well as to courses and the Commercial Real Estate podcast
Realtor Magazine
the "For Brokers" section of this online magazine offers plenty of advice to help you run a successful brokerage, from businessboosting tips to personnel management strategies
from real estate business advice to articles about negotiation skills, this blog features many insightful pieces relevant to real estate brokers as well as agents and investors
this book teaches readers how to use their available resources to take a creative approach operating a real estate brokerage
Real Estate Broker Resume Help
Explore these related job titles from our database of hundreds of thousands of expert-approved resume samples: