Featured in:
Junior QA testers work collaboratively with other groups to test software. They report and truck bugs within software, and they help fix them. Junior QA testers usually work in an office environment. This position is typically offered full time and reports to senior-level QA testers. They are employed by companies that deal with web applications, video games, and software. Those well-suited to this career enjoy problem-solving and working collaboratively with others.
Need cover letter guidance? Add a cover letter to your resume using our cover letter formats how-to guide and add value to your resume.
Boost your resume with an extra click. Our cover letter templates match our resume templates' designs for a cohesive application. Use a template in our builder to help you quantify and expand upon the experience from your resume and impress employers.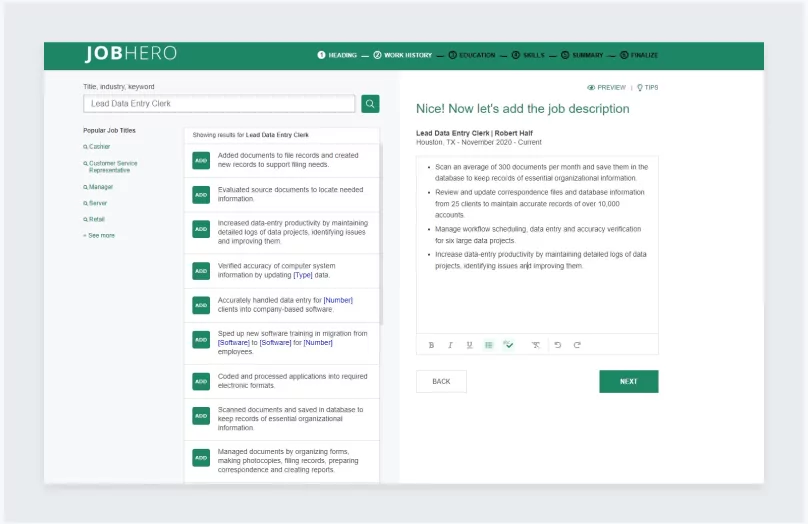 BUILD MY RESUME
Junior QA Tester Duties and Responsibilities
While a junior QA tester's day-to-day duties and responsibilities are determined by where they work, there are many core tasks associated with the role. Based on our analysis of job listings, these include:
Perform Tests
Junior QA testers perform a variety of tests, such as regression, integration, platform, and performance testing to confirm the stability of software systems.
Communicate with Clients and Stakeholders
Communicating with clients and stakeholders, junior QA testers present demos and answer questions at the end of a sprint.
Report Bugs
Junior QA testers report and solve bugs. They track bugs using programs like JIRA.
Work with Team Members
Junior QA testers work collaboratively with QA, development, and business groups to complete testing.
Perform Automation
Junior QA testers generate automation metrics. They research and use tools with the goal of increasing automation.
Junior QA Tester Skills and Qualifications
In order to test and debug software, junior QA testers need strong critical thinking skills. They are familiar with automation and work well within a team. In addition to proven experience working with QA and a bachelor's degree in computer science, junior QA testers have the following skills and qualifications:
Automation experience - junior QA testers are familiar with automation tools such as Selenium Web Driver and Visual Studio. They have experience developing automation scripts
Familiarity with testing - junior QA testers are knowledgeable of testing phases and approaches, including functional, regression, integration, and end-to-end
Programming - junior QA testers may use programming languages to write tests as necessary, so they should have experience programming and coding
Problem-solving skills - junior QA testers have strong problem-solving skills that allow them to test software, identify bugs, and solve errors
Teamwork - working with other groups, junior QA testers have strong communication skills that allow them to collaborate with others. They communicate problems and coordinate with QA, development, and business groups to ensure products are free of errors
Tools of the Trade
Junior QA testers use the following software in their work:
Databases and SQL (MS SQL Server, Oracle, MySQL)
Automation tools (Selenium Web Driver, Visual Studio)
SQL Server Reporting Services (SSRS), SWL Server Analysis Services (SSAS), and SQL Server Integration Services (SSIS)
Junior QA Tester Education and Training
Junior QA testers typically have a bachelor's degree in computer science. They are familiar with quality assurance and are skilled in carefully finding bugs. Employers prefer junior QA testers to have up to five years of prior experience providing quality assurance or writing test scripts. Some junior QA testers have software-related training or certification, such as a certified software tester or agile tester designation.
Junior QA Tester Salary and Outlook
The average median salary for junior QA testers is $48,000. Low earners in this field make less than $37,000; high earners make more than $66,000. Junior QA testers who work full time receive benefits such as sick and vacation days, health insurance, retirement options, and bonuses based on company or individual performance.
Create your own professional resume in just minutes.
Try our resume builder today
Build Your Resume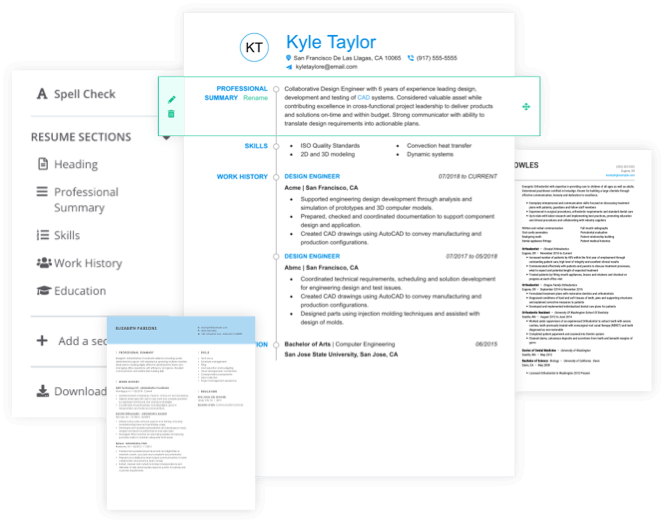 Helpful Resources
Are you interested in learning more about being a junior QA tester? Here are some helpful resources to get you started:
Junior QA Tester Resume Help
Explore these related job titles from our database of hundreds of thousands of expert-approved resume samples: