Featured in:
Apprentice mechanics perform automotive inspections and repairs in keeping with company standards. Automotive repair shops, oil change shops, car parts stores, and car dealerships commonly hire apprentice mechanics to service vehicles and provide vehicle advice to customers. Apprentice mechanics usually work daytime hours on weekdays and weekends. Apprentice mechanics are supervised by mechanics, floor supervisors, and shop managers.
Need cover letter guidance? Add a cover letter to your resume using our cover letter formats how-to guide and add value to your resume.
Boost your resume with an extra click. Our cover letter templates match our resume templates' designs for a cohesive application. Use a template in our builder to help you quantify and expand upon the experience from your resume and impress employers.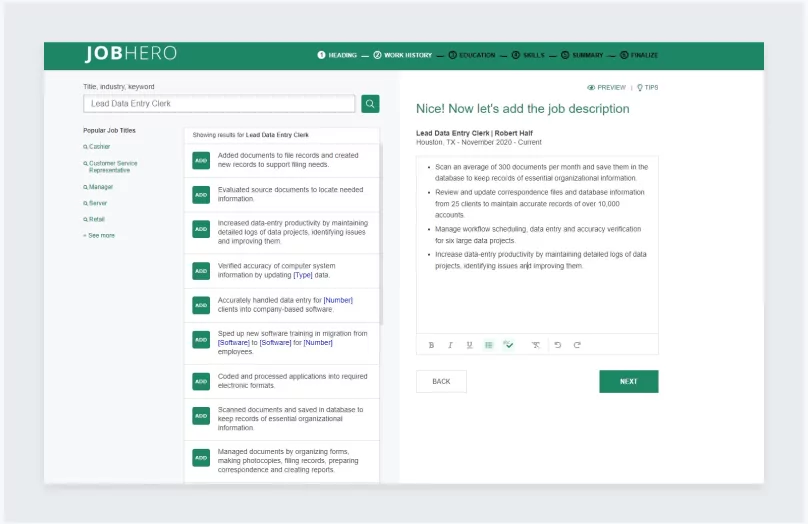 BUILD MY RESUME
Apprentice Mechanic Duties and Responsibilities
Apprentice mechanics find jobs in many automotive-related businesses that service and sell cars, trucks, and motorcycles. No matter what type of businesses hire apprentice mechanics, the basic day-to-day duties are the same:
Perform Simple Automotive Repairs
Apprentice mechanics perform standard vehicle repairs on their own, tasks such as changing brake pads and rotors, replacing vehicle fluids, and replacing car batteries.
Follow Car Checklists
Apprentice mechanics use company-created automobile checklists to determine which repairs are needed on vehicles scheduled to be serviced.
Learn Repair Techniques
Learning is a huge part of the apprentice mechanic's job. Apprentice mechanics learn how to repair vehicles through formal training sessions and hands-on work tasks supervised by auto mechanics.
Write Estimates
Apprentice mechanics create written labor, time, and parts cost estimates for needed vehicle repairs.
Inspect and Test Vehicles
All vehicles must be tested before and after the repair procedure, a task that often falls to apprentice mechanics.
Test Car Batteries
Apprentice mechanics routinely disconnect batteries inside vehicles and hook them up to an in-shop testing device to determine their functionality.
Clean Shop, Inventory, and Customer Areas
Apprentice mechanics are responsible for performing light custodial tasks to keep workshop and customer areas clean and presentable. Apprentice mechanics also keep inventory areas clean and well-organized.
Disassemble Vehicles and Engines
Apprentice mechanics take apart car and truck engines, as well as other parts of the vehicle, such as sidewall panels and floorboards.
Order Vehicle Parts
Apprentice mechanics order new parts for vehicles over the phone and online.
Apprentice Mechanic Skills and Qualifications
Apprentice mechanics work well with their hands and have an interest in automobiles and mechanics of all types. In addition to candidates who know a lot about cars and trucks, businesses seeking out apprentice mechanics look for professionals who have several skills and abilities that are vital to the job:
Customer service - apprentice mechanics frequently speak with customers to learn the nature of their vehicle problems, explain repair processes, and collect payment for completed repairs
Physical ability - candidates seeking this job must be physically able to complete tasks; apprentice mechanics stoop, crawl, work laying down, and lift heavy pieces of vehicle machinery
Mechanical skills - apprentice mechanics must have a strong understanding of mechanics and engines in order to complete their daily duties and learn how to successfully repair all types of vehicle problems
Communication - apprentice mechanics are learning how to become mechanics, which requires the ability to listen and absorb information, as well as the ability to relate information clearly to others
Analytical abilities - dozens of different things can go wrong on any vehicle; apprentice mechanics must isolate the problems
Tools of the Trade
Apprentice mechanics work with many different types of tools, using them regularly in the course of repairing automotive problems:
Hand tools (wrenches, ratchets, sockets, screwdrivers, pliers, hammers, vise grips, pry bars)
Flashlights (headlamps, handheld flashlights)
Car jacks
Air tools (needle scalers)
Circuit testers
Apprentice Mechanic Education and Training
Apprentice mechanics need a high school diploma or equivalent to get started in this career. People who want to become apprentice mechanics must also have a valid driver's license and must know how to successfully drive both automatic and manual transmission types. Having a forklift certification can help candidates stand out to employers who are seeking apprentice mechanics.
Apprentice mechanics are in training to become mechanics; the training period varies by company from 12 weeks to one or more years' worth of learning before promotional opportunities are given.
Apprentice Mechanic Salary and Outlook
In 2016, automotive service technicians and mechanics who completed their apprenticeship training earned a median income of $18.50 hourly or $38,470 yearly. There were 749,900 jobs available for automotive service technicians and mechanics in 2016, a figure that is expected to grow by six percent through 2026. This is the national job growth average, according to information from the Bureau of Labor Statistics. Apprentice mechanics earn significantly less hourly than mechanics who have completed training, a median wage of approximately $14.50 an hour, according to PayScale.
Apprentice mechanics typically receive a basic benefits package from their employers that includes health insurance, paid vacation leave, paid holidays, and paid sick days. Other benefits, such as profit-sharing bonuses, retirement packages, and life insurance, are usually offered after the apprenticeship training period has ended and a promotion to mechanic is offered.
Create your own professional resume in just minutes.
Try our resume builder today
Build Your Resume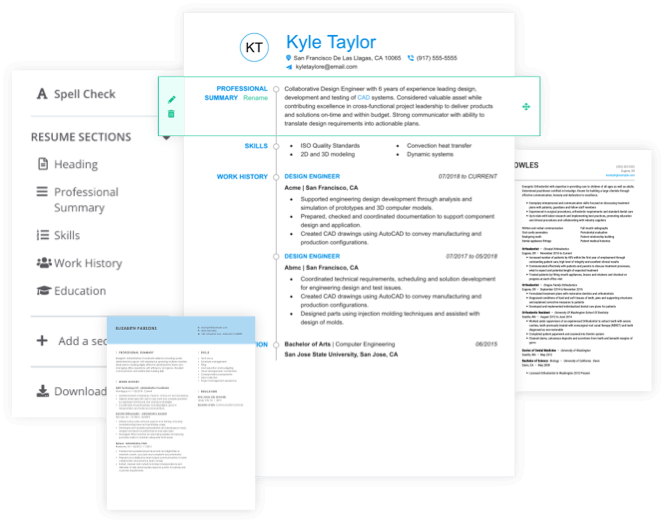 Helpful Resources
Find tips and support for apprentice mechanics with these useful online and print resources:
Apprentice Mechanic Resume Help
Explore these related job titles from our database of hundreds of thousands of expert-approved resume samples: