Featured in:
Television production assistants, also known as TV production assistants or simply PAs, assist in all aspects of television broadcasts, including live shows and tapings. Production studios and television stations hire television production assistants to work full-time and part-time hours in a television studio environment. Television production assistants work as part of a collaborative TV production team and report to the producer and director. Television production assistants work primarily within the studio property itself, but may be tasked with running errands outside the studio for various reasons.
Our certified resume writers have created a library of resume samples to show you exactly what a strong resume looks like. Use them as-is or customize them to your needs.
Want to boost your resume? Your Jobhero subscription comes with a complimentary cover letter builder. Once you choose a cover letter template, the builder will suggest job-specific skills and prewritten entries, allowing you to save multiple letters for various applications fast.
Television Production Assistant Duties and Responsibilities
Daily duties for television production assistants vary depending on the type of production they work on, the size of the production team, whether the show is broadcast live or pre-taped, and the amount of equipment and number of cameras used to create the television show. However, despite these differences, there are several core universal job tasks associated with this job.
Prepare the Studio
Television production assistants prepare the studio for live productions or/and filming sessions. This includes preparing the studio audience, if present, and giving them instructions for how to react during the show.
Set Up and Break Down Scenery
Television production assistants set up scenery prior to live productions or tapings and break down scenery to be placed back in storage once the show is over.
Collaborate
Television production assistants collaborate with on-air talent, audience members, guests, and other production staff members to complete broadcasts.
Distribute Paperwork
Television production assistants distribute scripts, call sheets, and production schedules to on-air talent and production staff members.
Edit Video
Television production assistants prepare and edit video packages and edit taped broadcasts.
Operate Studio Equipment
Television production assistants operate multiple pieces of studio equipment, such as teleprompters, sound equipment, cameras, control boards, and lighting.
Check All Equipment
Television production assistants check all microphones, lights, cameras, and other studio equipment immediately before each broadcast to ensure functionality.
Design Graphics
Television production assistants design graphic packages for on-screen promotions and segments.
Perform Assigned Tasks
Television production assistants perform other tasks as assigned by production staff members, such as running errands, performing clerical duties, and making coffee.
Television Production Assistant Skills and Qualifications
Television production assistants perform a wide variety of tasks to assist in all aspects of creating TV programming, using communication, multi-tasking, and many other skills to perform their job duties. Employers look for television production assistants who have all the skills needed to perform these varied job tasks.
Communication – television production assistants work in team-oriented environments, so having superb verbal communication skills is important
Multi-tasking – television production assistants often perform many job duties at once, so being able to multi-task effectively is crucial
Time-management – television production assistants use time-management skills to work within very tight deadlines and stay on schedule
Interpersonal skills – television production assistants interact with people of all ages, which requires good interpersonal skills
Mechanical ability – television production assistants operate cameras and digital recording equipment, which requires mechanical ability
Physical ability – television production assistants move and lift pieces of scenery and various types of equipment, climb ladders, and crawl as needed to perform job tasks
Computer skills – television production assistants work with sound boards, cameras, teleprompters, and many types of digital equipment, which requires strong computer skills
Tools of the Trade
Television production assistants regularly work with the following tools and equipment:
Camera equipment (cables, cameras, camera mounts)
Sound equipment (microphones)
Studio equipment (teleprompters, control boards, lighting)
Communication tools (radios, headsets)
Television Production Assistant Education and Training
Many employers require television production assistants to have a bachelor's degree in communications, or equivalent past work experience in television production. However, some companies will train television production assistants as entry-level candidates.
Despite past education and/or experience television production assistants may have, employers provide training for this job. The length of the training period varies by employer and by the television production assistant, depending on their background and previous experience in the industry. Many employers offer internship training programs to television production assistants that last for several weeks.
Television Production Assistant Salary Outlook
Job data from the Bureau of Labor Statistics (BLS) shows that secretaries and administrative assistants earned a median hourly salary of $18.21 in 2017, or $37,870 annually. There were almost four million jobs for secretaries and administrative assistants in 2016, a number the BLS projects will decline by five percent through 2026. Like television production assistants, secretaries and administrative assistants perform clerical duties and provide support to other staff members. According to information provided by PayScale, television production assistants earn a median yearly income of $33,000.
A majority of employers provide basic benefits packages to full-time television production assistants that include health insurance coverage. Some employers may offer vision and dental insurance benefits as well. Paid vacation days are typically offered in standard benefits packages. Some employers provide television production assistants with free parking and free meals during their work hours. Part-time television production assistants do not typically receive insurance or vacation benefits.
Create your own professional resume in just minutes.
Try our resume builder today
Build Your Resume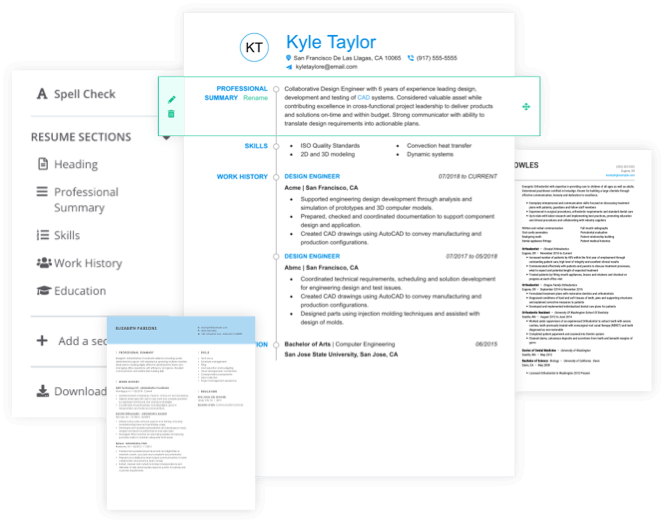 Helpful Resources
These helpful resources provide job listings, industry news updates, and useful practical tips for television production assistants who want to excel at this career path: