Featured in:
Construction laborers perform a variety of tasks at construction sites, ranging from digging trenches for pipes and wires to mixing and pouring cement and asphalt for building foundations and roadways. Their work consists mainly of manual labor, but also involves working with construction machinery and power and hand tools. In some cases, construction laborers may also support contractors and other craft workers throughout the construction process.
Construction laborers follow the instructions of a site supervisor and tend to switch between a variety of tasks from day to day. They are frequently the first and last workers on a construction site, as their duties often begin with preparing the site and end with loading fixtures and equipment in the final stages of construction.
Need cover letter guidance? Add a cover letter to your resume using our cover letter formats how-to guide and add value to your resume.
Improve your application with a personal message! Your resume may summarize your qualifications, but a cover letter can help you express your professional accomplishments and working style. Pair these cover letter templates with our builder subscription to unlock AI-powered text templates and professional designs that will help you submit a complete application.
Construction Laborer Duties and Responsibilities
Construction laborers work in different fields and specializations, so there is a great deal of variety in job duties. However, many of the core duties remain the same across postings that we examined:
Clean and Prepare Construction Sites
Construction workers ensure that job sites are prepared for work by removing debris either by hand or using machinery and tools. They may clear brush and small trees from a site, haul stone away from dig sites, or remove large pieces of debris that would cause delays or hazards. Laborers also construct temporary structures, such as scaffolding, to ensure that workers can access all areas of the site.
Load and Unload Supplies
Construction laborers load and unload construction supplies on the job site. They may deliver a truckload of cinderblocks for a foundation, for example, or a pallet of lumber. Additionally, many construction laborers load and unload equipment and fixtures on job sites. For a residential project, this may include placing equipment such as dishwashers and refrigerators in a completed kitchen, while for other projects this can involve setting water heaters and furnaces in place.
Excavate and Dig Trenches
Excavation is another duty of many construction laborers. Using hand tools, such as shovels and picks, as well as large machinery, such as excavators and backhoes, construction laborers remove dirt and rocks from sites to prepare them for foundation construction. They may also dig trenches for drainage, electrical piping, and other utility lines on new construction sites, which frequently occurs before any other work on the site.
Maintain Site Safety
Construction laborers also help maintain site safety throughout the construction process by maintaining equipment, clearing dangerous debris from the site, and cleaning up materials that contractors leave behind. This is especially true for construction laborers who work on demolition projects and roadwork, where remaining materials can present hazards to workers and others.
Provide Contractor Support
Some construction laborers also work closely with subcontractors, such as plumbers, framers, and electricians. While some of the laborer's work supports these activities (such as digging trenches for wiring or helping set a furnace in place), there are occasions where the laborer provides additional support. While these tasks can vary from situation to situation, laborers often need to jump in to lend a hand while on-site.
Construction Laborer Skills and Qualifications
Construction laborers need to be physically capable of lifting and operating a variety of hand and power tools. This is typically an entry-level role, but companies prefer candidates with the following skills:
Physical and manual labor - construction labor involves significant lifting, bending, and stretching
Time management - construction laborers frequently switch between tasks and responsibilities
Communication skills - to direct workers and report progress to the construction foreman and other personnel
Equipment operation - laborers should be skilled with a variety of tools and equipment ranging from forklifts to backhoes and bulldozers
Safety skills - in this role, laborers are responsible for jobsite safety throughout the construction project; they should have a solid grasp on safety procedures and best practices
Maintenance - construction laborers also clean and maintain a variety of equipment, so they should be able to perform small repairs and routine maintenance
Construction Laborer Lead Education and Training
Construction laborers typically don't need any formal education and can be hired without completing their high school diplomas. However, many laborers take technical classes during high school or complete an associate's degree to prepare them for work and provide opportunities for advancement. There are many opportunities for on-the-job-training in this role, as new laborers frequently work under the direction of experienced laborers or foremen.
Construction Laborer Salary and Outlook
The Bureau of Labor Statistics (BLS) found that construction laborers earned a median annual salary of $32,230 as of May 2016. The highest-paid 10 percent of workers in this role earned over $59,820 annually, while the lowest-paid earned less than $21,150. It's worth noting that the BLS estimates also include lower-paid helpers, so the median annual wage for laborers is slightly higher at $33,430.
The BLS estimates that construction laborer employment will grow at a faster-than-average rate of 12 percent from 2016 to 2026, particularly in infrastructure-related fields.
Create your own professional resume in just minutes.
Try our resume builder today
Build Your Resume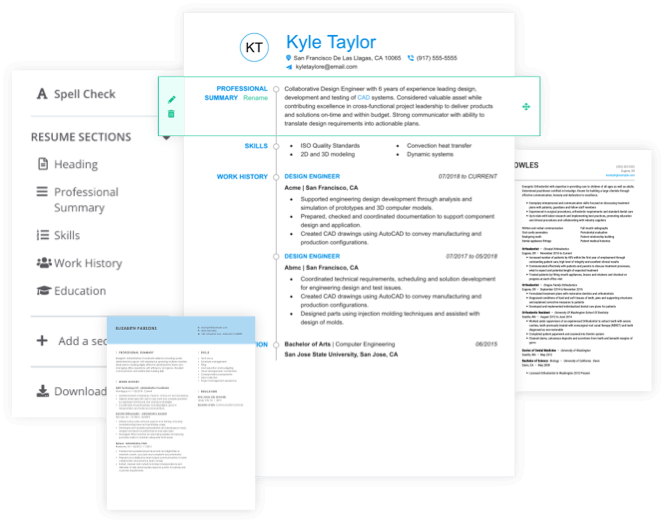 Helpful Resources
We searched the web and found a number of resources to check out if you're interested in learning more about working as a construction laborer:
Construction Laborer Resume Help
Explore these related job titles from our database of hundreds of thousands of expert-approved resume samples: