What is a Production Associate?
Production Associates assist their senior colleagues in the manufacturing process. Their main responsibilities include making sure that sufficient materials are available to produce products according to a schedule.
Production Associates don't have a lot of autonomy during working hours; they work in a team unit, reporting to the Product Manager. They typically work a standard 40-hour week, and aren't obligated to work overtime unless the schedule demands. The Bureau of Labor and Statistics expects a 2 percent increase in jobs for Production, Planning, and Expediting Clerks, including Production Associates, with 8,890 jobs becoming open through 2024.
Need a strong cover letter can help set you apart from the completion. Our professional cover letter builder shows you how.
Production Associate Duties and Responsibilities
Production Associate perform a variety tasks in service of their main goal of ensuring that manufactured products meet certain standards of quality. Based on our review of several job postings, we have identified the following core Production Associate duties and responsibilities.
Maintain Production Equipment
As a Production Associate, acquiring production equipment is one of the most important duties. It is their responsibility to make sure that the production crew is fully equipped with everything required for the manufacturing process. This includes ordering production equipment, verifying that the employees are using it correctly and training new staff members in proper usage. These professionals turn on the machinery at the beginning of each shift, and turn it off at the end or between shift changes. If something happens and equipment breaks, the Production Associate is usually the one held responsible for fixing it or alerting their supervisor of the issue.
Quality Control
The Production Associate has the vital task of ensuring quality control of the items being manufactured. This includes being knowledgeable in the specifics, such as the size, details and functions of the items made, and observing the finished products to verify that they meet all the standards. If an issue continuous to arise in the quality or usability of the end product, the Production Associate must identify whether it is due to faulty equipment or human error, and address the cause.
Supervise Personnel
This professional not only deals with equipment, but must also have the interpersonal skills to supervise employees in the manufacturing plant. They must dictate daily work responsibilities to employees, making sure that every single worker knows what they have to do. They must oversee the employees to verify that they are following safety and standard operating procedures (SOPs) as well as details as specified in the work orders.
Maintain a Clean Working Environment
Production Associates must perform certain janitorial tasks to keep the working area clean. They must keep the plant clutter-free and move any items that may be obstructing a clear path for employees to get to their station or move around freely. These employees must also remove any debris or trash left over after the production process from the machinery and surrounding areas.
Perform Clerical Tasks
In addition to interpersonal and technical duties, Production Associates must perform
clerical tasks
to keep detailed records of work orders and completions. They must organize work orders by due date and priority, collecting all the relevant documents required for employees to make a precise product. They also keep track of equipment malfunctions, maintenance due dates and repair work. Finally, they notate where finished products are stored and when they may be picked up for delivery.
Production Associate Skills
Successful Production Associates possess many different skills and must wear many hats throughout a project. Above all they must be reliable, quick thinking and extremely organized. In addition to those skills and personality traits, employers are looking for Production Associated with the following skills.
Core skills Based on job listings we looked at, employers want Production Associates with these core skills. If you want to work as a Production Associate, focus on the following
Strong production projections
Knowledge of safety procedures
Excellent communication skills
Ability to work as part of a team
Very good eye for detail
Proactive problem solver
Advanced skills While most employers did not require the following skills, multiple job listings included them as preferred
Multilingual
Management experience
Computer literacy
Report writing experience
Tools of the Trade Production Associates typically work with these tools
Forklift
Small hand tools
Production Equipment
Precision measuring equipment
GO PRO

Choose from fully customizable

GET PAST THE BOTS

Ensure compatibility with Applicant Tracking Systems

LOOK YOUR BEST

Save time with sleek and stylish professional design templates
Build Your Resume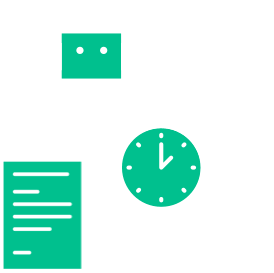 Production Associate Salary
The median annual salary for Production, Planning, and Expediting Clerks, a category that includes, Production Associates, is $46,200. Those starting out in the field can earn a minimum of $27,200, while those with years of experience can anticipate earning $73,300. Production Associates salaries vary heavily on location. The following states offer the highest median salaries for Production Associates: Maine ($58,000); New Mexico ($56,600) and District of Columbia ($56,300).
Production Associate Resources
Do you want to learn more about working as a Production Associate? Visit the links below to access helpful online tools to educate you more about working in this type of profession.
On the Web
Manufacturing Transformation Blog
A blog discussing topics on today's global manufacturing transformation, such as supply chain complexity, technological advances, getting lower costs and meeting customer expectations.
Cisco Manufacturing Blog
Topics discussed include plant safety, driving convergence, navigating the aging workforce and more.
Otabo Manufacturing Blog
Details about the manufacturing process of an international shoe company.
On LinkedIn
SME Manufacturing Group
A group that encourages the discussion on all things manufacturing trends, technology, current events and news.
Manufacturing & Industrial Group
Over 25,000 group members discuss topics on jobs in the production industry, as well as post and answer questions and queries.
Production Associate Resume Help
Explore these related job titles from our database of hundreds of thousands of expert-approved resume samples: