What is a Documentation Specialist?
A Documentation Specialist is an administrative professional who is responsible for maintenance of company documents. Their job is to store, catalogue and retrieve documents. This may involve maintaining paper files, electronic files, or even databases. They develop and maintain systems for document storage, and are responsible for document security and access.
Documentation Specialists work in a wide range of sectors, particularly in healthcare, legal, and finance. They may work as part of a documents team or might specialize in a particular type of document, such as contracts or medical documentation. According to the Bureau of Labor Statistics, demand for Medical Records and Health Information Technicians – a similar position to Documentation Specialist – is set to grow 15 percent through 2024.
Want to add value to your job application? Using a professional cover letter builder can help you stand out from the competition. Use ours to build a stand out letter that will get you noticed.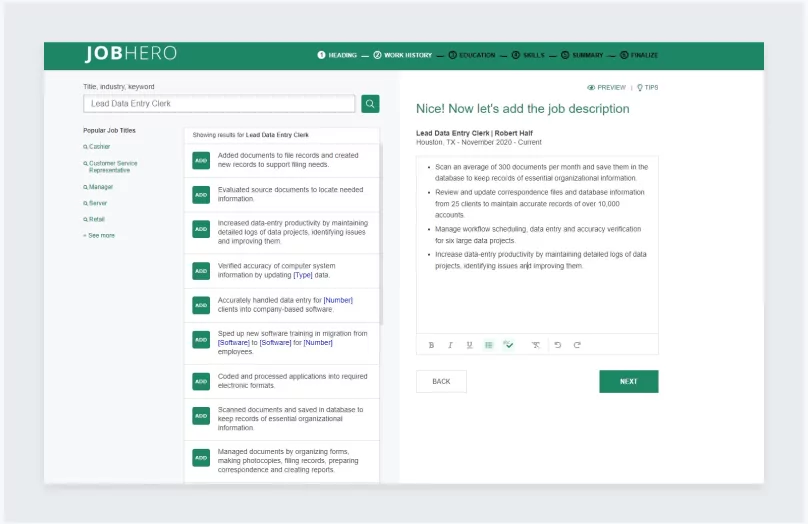 BUILD MY RESUME
Documentation Specialist Duties and Responsibilities
Documentation Specialist job responsibilities may vary with the industry, and with the methods used to store and retrieve documents in any particular job. But almost all Documentation Specialists share these core responsibilities in their daily work.
Input Documents
A key part of the Documentation Specialists job is to properly store or input documents into a records system. They may also need to catalogue their inputs in a database.
Maintain Integrity of Documents
Documentation Specialists often must edit or review documents, especially when working in specialized areas like a bank's loan department, a medical facility or an organization's contract division. They perform document control of all documents entering and leaving storage.
Store Documents
Documentation Specialists develop and maintain systems for document storage and retrieval, and help train other employees on efficient system usage. They are also responsible for document security and for assigning access to documents.
Provide Administrative Assistance
As administrative professionals, the job of Documentation Specialist often involves other administrative tasks, to include filing, scanning, faxing, composing reports, conducting research and data entry.
Documentation Specialist Skills
A successful Documentation Specialist is detail-oriented and able to work with a high volume of documents in a fast-paced environment. They should be highly organized and process-oriented. It also helps to have excellent oral and written communications skills, because the job involves interacting with all levels of an organization. Good listening skills are also important. A Documentation Specialist needs to be able to handle multiple, detailed requests at a time, without dropping any balls.
Core skills Based on job listings we looked at, Documentation Specialists should already have these core skills. Make sure you have these on your resume If you want to work as a Documentation Specialist.
Basic analytical experience
Proficient typing skills
Data organization and storage knowledge
Able to work independently and in a team environment
Able to prioritize responsibilities and adhere to deadlines
Advanced skills The below skills are not required in most Documentation Specialist job openings, but many employers prefer candidates that also have these skills and experience. Add these to your resume to boost your chances of getting hired as a Documentation Specialist.
Clinical Documentation Improvement (CDI) experience
Demonstrated leadership qualities such as the ability to motivate, teach, and facilitate individuals and groups
Working knowledge of Quality Assurance systems and cGMPs
Tools of the trade The Documentation Specialist's job requires the use of different tools. Here are some of the mains ones that you might want to have experience in if you're applying for Documentation Specialist jobs.
Computer software programs such as word processors, spreadsheet programs, and database systems
Document scanning equipment
Documentation repositories such as Windchill or PVCS
GO PRO

Choose from fully customizable

GET PAST THE BOTS

Ensure compatibility with Applicant Tracking Systems

LOOK YOUR BEST

Save time with sleek and stylish professional design templates
Build Your Resume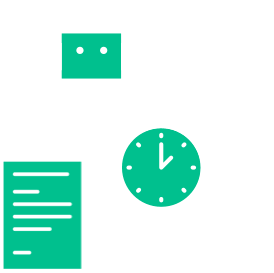 Documentation Specialist Q & A
To give you a better idea of what goes into the job of Documentation Specialist, we talked to Harrine Freeman a Financial Expert and the CEO/Owner of
H.E. Freeman Enterprises
. Freeman has been a Documentation Specialist for ten years, and had the following insights to share.
What challenges does a Documentation Specialist face?
Lack of organization, policies or standards regarding documents, and lack of documentation priorities – what documents are the most important for scanning, storing or creating.
What skills do Documentation Specialist use most?
Documentation Specialists must possess multiple skills but the skills they use the most are editing, proofreading, and grammar skills, and expertise in Microsoft Word, Outlook and Excel.
What should someone consider before becoming a Documentation Specialist?
Things someone should consider before becoming a Documentation Specialist are identifying the training needs for the jobs you want to apply for, obtaining a college degree, required certifications, and consider joining a professional writing organization such as National Writers Association or National Writers Union. The person may be required to lift, carry or move boxes from one location to another.
What type of person is successful in this job?
The type of person successful in this job should be able to work independently or in a team environment, pay attention to detail, have good organizational skills, have good time management skills, excellent computer skills, interpersonal skills, oral and written communication skills, analytical skills, collaboration skills, conflict resolution and diplomacy skills.
What do you find to be the most rewarding about being a Documentation Specialist?
The most rewarding about being a Documentation Specialist is delivering a finished product that is useful and helpful to the particular audience that will read it.
Documentation Specialist Salary
The BLS does not track salary information for Documentation Specialists, but it does for the closely related field of Medical Records and Health Information Technicians. Medical Records and Health Information Technicians make a median annual wage of $37,110. Some Medical Records and Health Information Technicians make less than $24,190 a year, while others earn more than $61,400 annually. The highest-paid states for Documentation Specialists are New Jersey, District of Columbia, and Maryland, where they make an annual median salaries of more than $58,000, $48,000, and $46,000, respectively.
Documentation Specialist Resources
The web is a great source of information about the job of Documentation Specialist. We found these great resources online to help you learn more about becoming a Documentation Specialist.
On the Web
Document Manager
This UKbased magazine is designed for those working in document management professions. It is a great source of jobs tips and industry news.
ACDIS Blog
This blog from the Association of Clinical Documentation Specialists provides tons of useful and uptodate information for clinical Documentation Specialists.
Documentation Specialist Resume Help
Explore these related job titles from our database of hundreds of thousands of expert-approved resume samples: