Featured in:
Training coordinators develop, enact, and lead employee training programs within a variety of organizations. They may work directly for an organization or as a part of a consulting or training company that works with employees on-site. In this role, the training coordinator determines current and future employee training needs, assesses and improves training materials, and directly leads training sessions.
Training coordinators need a high level of subject matter expertise and the ability to successfully convey information to both trainers and employees. They play an important role in selecting appropriate and effective training methodologies and activities and in assessing the needs of organizations as a whole.
Our certified resume writers have created a library of resume samples to show you exactly what a strong resume looks like. Use them as-is or customize them to your needs.
Boost your resume with an extra click. Our cover letter templates match our resume templates' designs for a cohesive application. Use a template in our builder to help you quantify and expand upon the experience from your resume and impress employers.
Training Coordinator Duties and Responsibilities
While the specific duties of a training coordinator can vary between organizations, most workers in this role share several essential responsibilities:
Develop Training Programs and Materials
The primary duty of a training coordinator is developing effective and interactive training programs and materials to support employee development and organizational enhancement. Training coordinators may focus on a specific department, such as HR or finance, or may develop big-picture plans to train personnel across the organization. For training coordinators who work on a consulting basis, they may develop a suite of training materials and programs to use at many organizations.
Conduct Organizational Needs Assessment
To develop timely and essential training programs and materials, training coordinators conduct regular assessments of organizational and personnel needs. They may utilize surveys and interviews to gather data regarding areas where employees and departments need further training and tailor training programs based on these evaluations. In many cases, training coordinators also directly collaborate with leaders to identify areas for improvement.
Lead Training and Coaching Programs
Training coordinators frequently lead training and coaching sessions, working directly with employees to provide guidance and build essential skills. In this aspect of the role, the training coordinator uses the materials and programs they have developed and present them directly to employees and departments while also organizing training and knowledge-building activities, usually over the course of several days and with many smaller groups of employees.
Assess Program Impact
Throughout the training process and after introducing training programs, the training coordinator assesses their impact to ensure materials are effective. These evaluations may share some similarities with organizational needs assessments, since the training coordinator needs to determine whether training activities achieved their intended goals. In the course of these assessments, the training coordinator may also identify areas where further training is needed.
Manage Training Schedules
Training coordinators directly oversee training schedules, ensuring that programs are delivered on time and according to internal timelines. Additionally, training coordinators work with department managers and company leadership to determine when to schedule training sessions and programs to prevent excessive business interruption. Training coordinators may develop schedules for overlapping training programs and work with departments to schedule training based on their schedules.
Direct Individual Trainers
In many cases, training coordinators provide materials and programs to trainers, who then lead employee training sessions. In this aspect of the role, the training coordinator provides direct coaching and leadership to the training team, advising them on how to best incorporate activities and materials and assess the impact of training materials on employees. The training coordinator may also help resolve issues that arise during training.
Training Coordinator Skills and Qualifications
Training coordinators design, develop, and coordinate training activities within a number of organizations and industries. Most workers in this role have at least a bachelor's degree and the following skills:
Organizational skills - this role requires a high level of organization, since training coordinators need to schedule and prepare training sessions across departments and according to business needs
Presentation skills - training coordinators frequently lead training sessions and provide employees with necessary information, so they need effective presentation and public speaking skills
Data analysis - the ability to analyze and assess data is also important in this role, as training coordinators need to assess the impact of their training programs and use this data to make informed changes
Leadership skills - leadership skills are also vital in this role, as training coordinators provide direct support and coaching during training sessions and ensure that employees participating in the sessions stay on task
Problem-solving skills - training coordinators should also possess excellent problem-solving skills to resolve issues that come up during training programs and assist employees who need additional help
Communication skills - training coordinators must be effective verbal and written communicators, able to speak with employees and managers and develop written training materials
Training Coordinator Education and Training
Training coordinators typically have at least a bachelor's degree in a related field, which can include human resources management, business administration, instructional design, or education. Additionally, companies tend to hire candidates who have some experience developing training materials and providing instruction to employees or other individuals. Training coordinators can improve their job prospects by achieving certification through a human resources organization like the Association for Talent Development (ATD) or International Society for Performance Improvement (ISPI).
Training Coordinator Salary and Outlook
According to the Bureau of Labor Statistics (BLS), training and development specialists (including training coordinators) earn a median annual salary of $60,360. The highest-earning 10 percent of workers in this role earn over $102,340 per year, while the lowest-paid 10 percent make less than $33,150 annually.
The BLS expects employment for training and development specialists to grow 11 percent by 2026 as companies integrate new technologies into their training programs.
Create your own professional resume in just minutes.
Try our resume builder today
Build Your Resume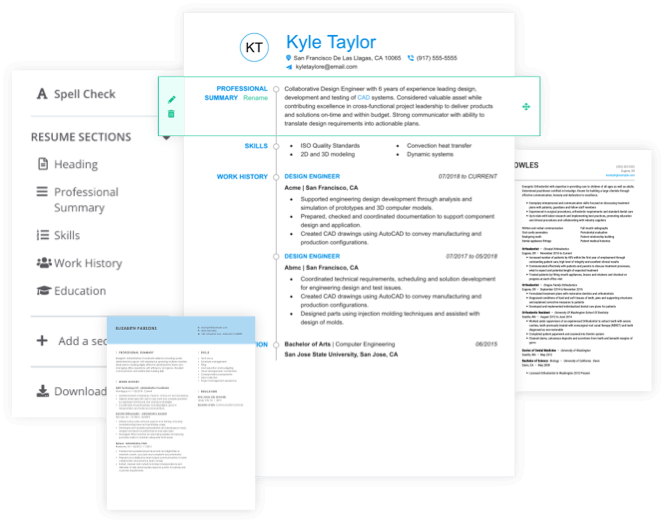 Helpful Resources
We searched the web and found a number of resources if you're interested in learning more about or starting a career as a training coordinator:
Training Coordinator Resume Help
Explore these related job titles from our database of hundreds of thousands of expert-approved resume samples: