Featured in:
Research technicians handle much of the day-to-day duties in a research laboratory. They work under the direction of research scientists, but typically have a great deal of autonomy and several tasks they're solely responsible for. Also called lab assistants or research assistants, these science professionals can enter the field with a degree or with prior hands-on lab, medical, or scientific experience. Many specialize in one field of research, such as biology, chemistry, agriculture, or environmental science.
Need cover letter guidance? Add a cover letter to your resume using our cover letter formats how-to guide and add value to your resume.
One extra step to impress a manager: A growing number of hiring professionals read cover letters to determine whether they'll interview a candidate or not. Use our cover letter templates to craft a complete application that lands you the interview.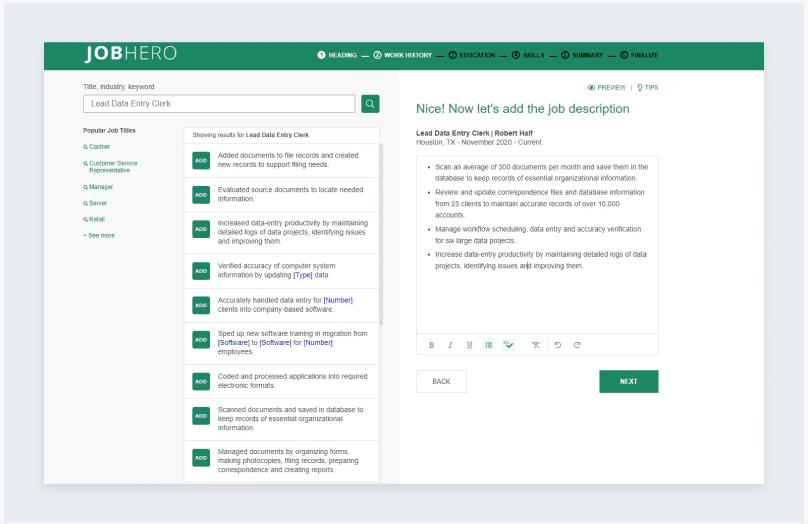 BUILD MY RESUME
Research Technician Duties and Responsibilities
A research technician's tasks may vary considerably from one job to another and depend largely on the type of research they're engaged in, as well as the size of the lab. Despite these differences, we've identified several core duties that are common to most research technician jobs:
Review Existing Scientific Literature
As part of the planning process, research technicians may review prior research conducted by other teams, including studies published in relevant scientific and academic journals.
Document Findings
In many labs it's the research technician who keeps detailed logs regarding all experiments conducted and the results of each for other team members to use and to serve as an official record.
Prepare Samples and Specimens
Research technicians collect samples for use in experiments, and also process and prepare them and ensure they're stored properly. This includes labeling them and placing them in the correct storage areas. In addition, they analyze samples and interpret the results.
Maintain Lab Equipment
Laboratory instruments such as microscopes require careful use and frequent maintenance, a task that typically falls to the research technician. They ensure all equipment works properly and notes when repairs are needed. They also set up tools, instruments, and equipment prior to use.
Manage Lab Facilities
At some organizations, the research technician manages the lab and all equipment, and may manage and train employees as well as monitor inventory.
Research Technician Skills and Qualifications
Research technicians combine strong analytical and reasoning skills with extensive scientific knowledge specific to the type of lab they work in. Employers typically seek either formal training or hands-on experience, in addition to the following skillset:
Safety knowledge – this job involves frequent exposure to chemicals, bacteria, and other hazards, as well as glass test tubes, heat sources, electrical tools and equipment, and other instruments requiring careful use
Computer skills – research technicians use computers to input information and results from their studies, analyze data, and perform computer simulations
Physical dexterity – although they may spend much of their time at a computer or examining specimens, research technicians also sometimes lift and move heavy equipment and perform other physically taxing duties such as standing for extended periods
Math skills – while conducting research and experiments, research technicians routinely work with units of measurement and perform calculations, both of which require accuracy to prevent compromising the study
Collaboration – while research technicians handle their assigned tasks with minimal supervision, they're also part of a research team and work closely with scientists, fellow technicians, assistants, and students if they work at a university
Communication skills – research technicians document their findings in written reports and follow both written and verbal instructions. They also give instructions to other team members
Tools of the Trade
Research technicians typically work in a laboratory environment and use the following tools and equipment regularly:
Computer programs (Microsoft Word, Excel, and PowerPoint or similar)
Laboratory equipment (microscopes, test tubes, syringes)
Research Technician Education and Training
Research technicians need at least an associate's degree in an applied science such as chemistry or biology, though many employers prefer a bachelor's degree. Some have degrees in a field that combines technology and science, such as medical laboratory technology. Whatever degree they choose, they need both classroom study and a hands-on clinical component, along with extensive math and science coursework.
Research Technician Salary and Outlook
Research technicians, categorized as medical and clinical laboratory technologists and technicians by the U.S. Bureau of Labor Statistics (BLS), earn a median annual salary of $51,770. Pay can go as high as more than $79,530 for those in the top 10 percent. For those in the bottom 10 percent, annual salaries may be $29,640 or less.
The BLS expects employment opportunities for research technicians to grow by 12 percent between 2016 and 2026, which is a faster rate of growth than that projected for other occupations.
Create your own professional resume in just minutes.
Try our resume builder today
Build Your Resume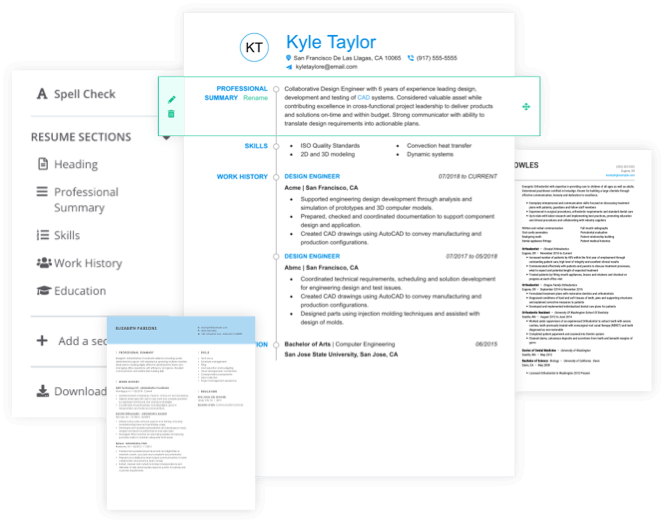 Helpful Resources
If you're ready to embark on a career as a research technician, we have some of the best resources out there to help you get started. Develop your skills, find your dream job, and connect with fellow research and lab professionals with the following guides and websites: