Featured in:
Junior mechanical engineers test, build, and develop mechanical devices of all types, including machines, engines, and tools. They usually work day hours in a lab or office environment. However, some on-site and weekend work may be required to complete necessary tasks and meet deadlines. Junior mechanical engineers are considered entry-level employees and usually report to senior mechanical engineers.
Need cover letter guidance? Add a cover letter to your resume using our cover letter formats how-to guide and add value to your resume.
Impress your future boss! According to a 2020 survey, most hiring managers read cover letters for candidates they're considering interviewing before making their final decision. Make a cover letter that seals the deal with our professionally designed cover letter templates.
Junior Mechanical Engineer Duties and Responsibilities
Junior mechanical engineers are responsible for isolating and fixing problems as well as creating and designing brand-new products, machines, and tools. They complete the following duties on a regular basis:
Create Mechanical Designs and Drawings
The junior mechanical engineer creates highly detailed design schematics for various components of a project.
Write Precise Calculations
The first part of any mechanical engineering project often begins on paper. This requires writing out precise calculations before any hands-on mechanical work begins.
Test Products for Functionality
Calculations must be tested and retested to isolate problems with mechanical equipment. The junior mechanical engineer must re-engineer products when problems are found and recalculate to return products to full functionality.
Prepare Reports for Senior Engineers
Junior mechanical engineers report to senior mechanical engineers, creating detailed reports and summaries of ongoing projects to keep their supervisors up-to-date.
Collaborate with Engineering Team
Junior mechanical engineers may complete some projects alone, but in most cases they work as part of an engineering team. This requires frequent communication and daily collaboration to make sure all aspects of the project are being addressed, and to ensure that no one is working on the same problem at the same time.
Junior Mechanical Engineer Skills and Qualifications
Junior mechanical engineers are precise and detail-oriented, but they must also be capable of creative thinking and problem-solving. They need several skills to perform their daily responsibilities:
Software proficiency - junior mechanical engineers perform many tasks on the computer using specialized design software
Communication skills - because this is a collaborative position, it's necessary for junior mechanical engineers to clearly communicate with the rest of the engineering team and to actively listen to problems expressed by others
Attention to detail - junior mechanical engineers may look through hundreds of lines of computer code and design schematics to isolate problems, which requires strong focus
Patience - isolating problems can be a lengthy and frustrating process, so remaining patient and calm is essential
Creativity - junior mechanical engineers must design and develop brand-new machinery and tools, which requires creativity and the ability to visualize new projects
Junior Mechanical Engineer Tools of the Trade
Junior mechanical engineers work daily with computer programs, design schematics, and machinery, including:
Engineering software (AutoCAD or similar programs)
Mechanical schematics
Machinery
Protective equipment (safety glasses, work boots, hard hats, and gloves)
Junior Mechanical Engineer Education and Training
Junior mechanical engineers need a bachelor's degree in mechanical engineering. After one to two years of working on projects for the same company, they're often eligible for promotion to a senior mechanical engineer position. Obtaining a master's degree in mechanical engineering can increase the chances of receiving this promotion, but most companies do not require additional schooling.
Junior Mechanical Engineer Salary and Outlook
Data from the Bureau of Labor Statistics shows that mechanical engineers earn around $41,506 to $74,003 annually, and often earn extra money through bonuses and profit-sharing programs. The median pay for mechanical engineers is $84,190 per year. There were 288,800 mechanical engineering jobs available in 2016, and through 2026 job growth is estimated at 9 percent, which is the national average.
Junior mechanical engineers receive health insurance and retirement benefits in addition to a regular salary, with promotional opportunities available. Regular vacation time and paid leave are also available, and some companies may offer additional perks such as continuing education.
Create your own professional resume in just minutes.
Try our resume builder today
Build Your Resume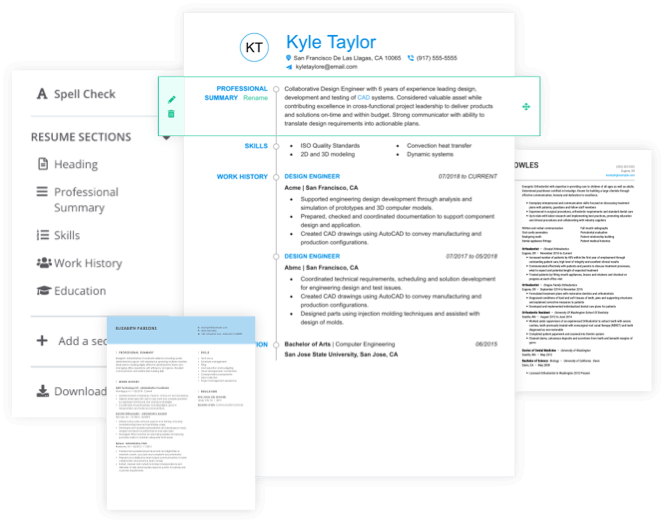 Junior Mechanical Engineer Helpful Resources
Mechanical engineering is an ever-evolving industry, and new technologies emerge in this field all the time. Stay on top of the best methods and the latest industry developments with resources that keep you in the loop:
Junior Mechanical Engineer Resume Help
Explore these related job titles from our database of hundreds of thousands of expert-approved resume samples: