Featured in:
A Federal Bureau of Investigation (FBI) Agent's role is to protect U.S. citizens by investigating federal crimes. They work in five different divisions investigating crimes that range from bombings to identity theft. Some agents may be field agents working outside the office to gather evidence, question suspects or witnesses and performing surveillance operations. Other agents may work in the office performing technical tasks such as gathering evidence online and maintaining FBI security systems.
Becoming a FBI Agent is a highly selective process in which a series of exams and physical tests must be passed before being considered. According to the Bureau of Labor Statistics, Police and Detectives are expected to see a job increase of 4 percent through 2024. This will add an estimated 33,100 jobs to this sector during this period.
Need cover letter guidance? Add a cover letter to your resume using our cover letter formats how-to guide and add value to your resume.
Want to boost your resume? Your Jobhero subscription comes with a complimentary cover letter builder. Once you choose a cover letter template, the builder will suggest job-specific skills and prewritten entries, allowing you to save multiple letters for various applications fast.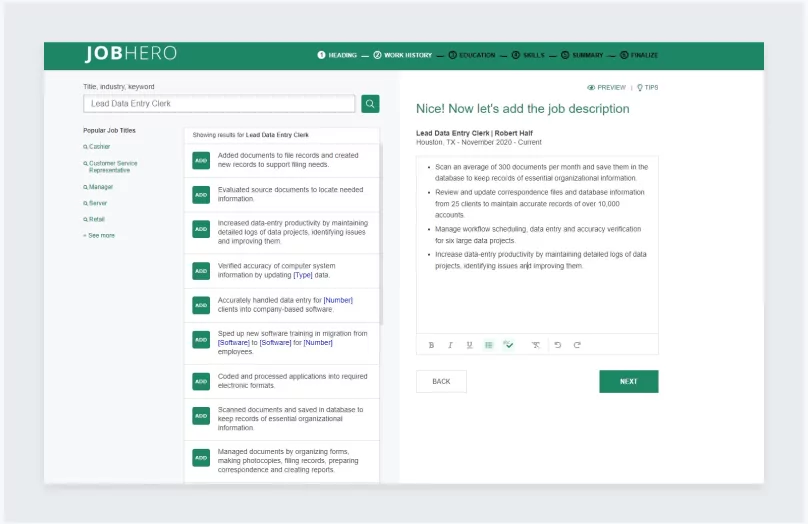 BUILD MY RESUME
FBI Agent Duties and Responsibilities
The duties assigned to a FBI Agent will vary depending on the division they work in and the types of crimes they investigate. Their daily duties are highly variable and unpredictable due to the nature of the job. There are some broad common responsibilities, however, that will provide an idea of what FBI Agents do. A review of current job listings identified these following tasks and responsibilities.
Investigate Crime Scenes
A common task of the FBI Agent is to investigate crime scenes and collect evidence. They often work closely with local law enforcement agencies and may be present during the initial crime scene investigation or may come to the case at a later point in the investigation and rework the crime scene themselves or review the evidence collected by local law officials. They also interview witnesses and suspects and canvass areas where crimes occurred to help generate leads.
Conduct Surveillance
Many FBI Agents will be involved in surveillance operations in which they are required to watch a particular person or place to catch a crime in progress. These operations usually come after the FBI Agent or their team has gathered intelligence from a source indicating a person or a place in criminal activity. These may be short surveillance operations or lengthier assignments requiring the agent to work undercover.
Create Reports
Regardless of the role a FBI Agent plays in the field or in the office, all agents are required to create and file reports on their investigative activities. Depending on the crime and division a FBI Agent may spend a large part of their time reporting or a smaller amount of time. For agents working with lots of data, such as those working financial fraud cases, more detailed reports may be necessary. Either way, FBI Agents must expect to spend a significant part of their career completing necessary paperwork.
FBI Agent Skills
Honesty and trustworthiness are important traits for the FBI Agent to possess. They should also enjoy helping others and be great problem solvers. They should work well under pressure and have wonderful critical reasoning skills. In addition to these traits, employers look for applicants with the following skillset.
Core skills
: Based on job listings we looked at, employers want FBI Agent with these core skills. Focus on the following, if you wish to become a FBI Agent.
A bachelor's degree in any field from an accredited four year university
Ability to pass physical and psychological exams
Valid driver license
Basic computer skills such as, word processing and spreadsheet knowledge
Knowledge of criminal, civil, and probate laws
Advanced skills
: While most employers did not require the following skills, multiple job listings included them as preferred. Add these to your skillset and broaden your career options.
Fluent in additional languages
Police academy training or its equivalent
Create your own professional resume in just minutes.
Try our resume builder today
Build Your Resume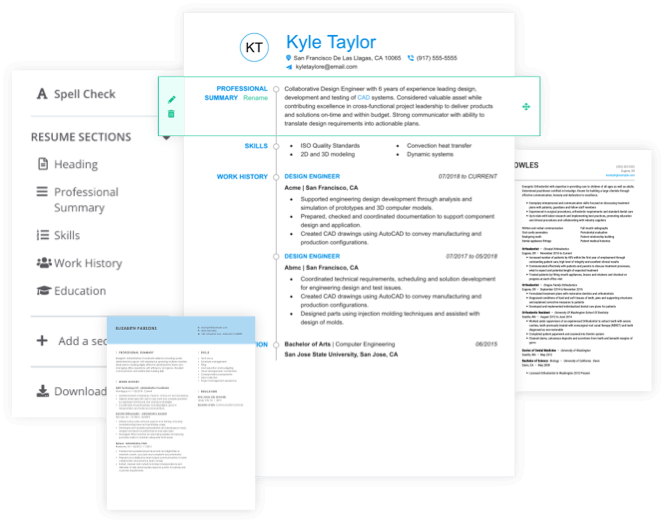 FBI Agent Resources
There are more helpful and informational resources available on the Web for those interested in working in the maritime field. We searched the internet and found these links full of learning opportunities and the latest industry news.
On the Web
This is the FBI's official website for job openings and career information. From detailed descriptions of each FBI division to the requirements for a career with the FBI, this site is a great resource for those looking to become an FBI Agent.
This official FBI blog offers posts on recent crimes and as well as historic cases and is a great source for those looking to learn more about the types of crimes the FBI investigates.
FBI Agent Books
Written by a decorated FBI Agent, this book provides details about what agents do day to day, the benefits of being an agent, educational and career decisions that improve your odds of being selected, as well as skillsets and many more tips to becoming a FBI Agent.
This read is both an entertaining and educational look at what it is like to work for the FBI as a female agent.
This text is aimed at preparing students to pass the exam portion of the FBI Agent application process.
Industry Groups
The FBIAA was founded in 1981 to advance and safeguard the careers of current and retired FBI Agents. They provide legal representation, legislative advocacy and financial support to their members.
FBI Agent Resume Help
Explore these related job titles from our database of hundreds of thousands of expert-approved resume samples: