Featured in:
Bank clerks support daily banking activities both through direct customer interaction and behind-the-scenes tasks like data entry. While many bank clerks primarily work as bank tellers and provide customer service, other bank clerks work in credit and securities departments and provide support for these specialized activities.
This role is completely essential to a bank branch's function, as bank clerks tend to be the first (and possibly only) bank personnel that the customer interacts with. Additionally, bank clerks maintain important customer and financial records to ensure that the bank branch remains efficient and follows reporting and financial management laws and guidelines.
If you are having writers block, our resume examples can help. Choose from hundreds of job titles to find the right example for your needs.
Boost your resume with an extra click. Our cover letter templates match our resume templates' designs for a cohesive application. Use a template in our builder to help you quantify and expand upon the experience from your resume and impress employers.
Bank Clerk Duties and Responsibilities
Bank clerks support banking activities through a wide variety of administrative and customer service tasks. Based on our research, a bank clerk's core duties are:
Process Customer Transactions
One of a bank clerk's main duties is processing customer transactions. Bank tellers are the clerks who tend to handle this duty the most, but clerks from other departments frequently need to provide support and backup to ensure a positive customer experience and reduce wait times. These transactions can range from deposits and withdrawals to loan payments and requests for cashier's checks.
Answer Visitor Questions
Bank clerks also support positive customer experiences by answering customer questions about bank accounts, credit cards, and loan products. They may provide customers with information about specific account amenities and fees or may highlight the differences between two credit cards offered by the bank. Bank clerks also answer questions about bank policies and hours.
Direct Customers to Bank Personnel
Bank clerks may also assist customers by directing them to banking personnel. If a customer comes in for an appointment with a loan officer, for example, a bank clerk welcomes that customer and informs the loan officer of the customer's arrival. In a larger bank branch, the bank clerk may then lead the customer to their appointment. Some clerks meet directly with customers to conduct loan or credit interviews as well.
Verify Personal and Financial Information
Many bank clerks work in specific departments as loan or credit clerks. These clerks support bank activities by looking up and verifying customer information during the loan application process, providing loan officers or securities personnel with relevant financial data to make loan and credit decisions. Credit clerks may also contact other financial institutions to gather and check financial information. Tellers also frequently need to verify customer information to process transactions.
Maintain Customer and Financial Data
Bank clerks enter and update customer and financial data in the bank's computer systems based on customer or supervisor requests. This can include updating a customer's address or contact information, making changes to customer income records, or removing customers from bank records when they close their accounts. Bank clerks also enter bank-related information in databases to support financial reporting.
Support Cash Management Activities
Bank clerks play an important role in cash management. Tellers keep detailed records and ensure that their cash drawers are balanced throughout their shifts. Vault clerks oversee daily cash deposits and verify amounts to maintain accurate records of cash deposits and reserves. Bank clerks who work with cash need to promptly report any discrepancies (both shortages and overages) to their supervisors so that errors can be quickly corrected.
Bank Clerk Skills and Qualifications
Bank clerks balance customer support with administrative tasks. Banks typically hire applicants with at least a high school diploma, along with the following skills:
Customer service - much of a bank clerk's role, especially for bank tellers, involves providing excellent customer service to bank visitors, so an outgoing and friendly demeanor is essential
Attention to detail - bank clerks provide administrative support across departments, so they need to pay close attention to customer information, individual transactions, and cash reporting
Organization skills - this role also requires a high level of organization. A bank clerk may be responsible for maintaining customer and transaction records, counting cash, and verifying financial information without making any errors
Data entry - bank clerks should also be skilled with data entry, since they need to quickly and accurately enter and update customer and financial information in banking systems
Cash management - while this skill is particularly important for tellers and vault clerks, all clerks should have extensive knowledge of cash management procedures and best practices
Bank Clerk Education and Training
Most bank clerks need at least a high school diploma or GED. Specialist clerks may need to complete some level of higher education, typically an associate or bachelor's degree program. There are significant opportunities for on-the-job training and advancement in this role. A bank clerk may begin as a teller and move on to a more specialized or focused role based on their performance record and areas of interest.
Bank Clerk Salary and Outlook
The Bureau of Labor Statistics (BLS) maintains extensive data on annual salaries for bank clerks. Tellers earn a median annual salary of $27,260. The highest-paid tellers earn more than $37,760, while the lowest-paid 10 percent earn less than $20,810. New account clerks earn slightly more, with a median annual income of $34,990. Credit clerks earn $36,930 on average, while loan interviewers and clerks make $38,630.
The BLS expects bank teller employment to decline 8 percent by 2026. However, the employment outlook for other financial clerks is expected to improve over the same time period by 9 percent. This seems to indicate that bank clerks can improve their employment outlook and opportunities through specialization.
Create your own professional resume in just minutes.
Try our resume builder today
Build Your Resume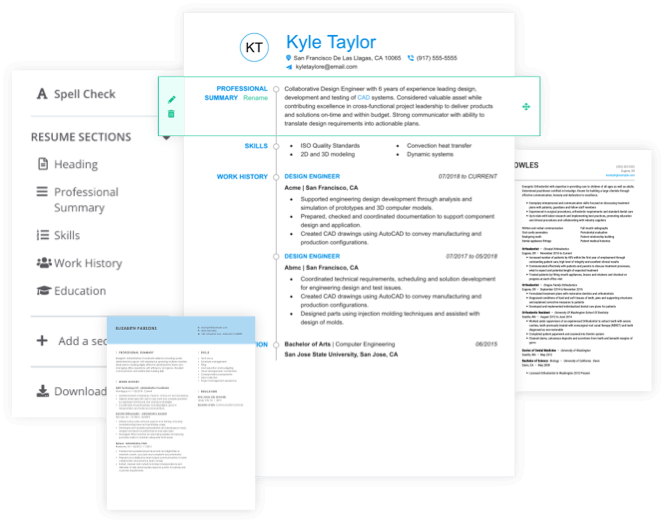 Helpful Resources
If you'd like to learn more about starting a career as a bank clerk, we found many resources on the web for further information:
Bank Clerk Resume Help
Explore these related job titles from our database of hundreds of thousands of expert-approved resume samples: