Featured in:
An apprentice plumber is an entry-level plumber working under the guidance of a more experienced tradesman. Apprentice plumbers perform many of the same tasks that veteran plumbers do, including installing new plumbing fixtures, unclogging plumbing systems, and repairing pipes. They may handle easier jobs on their own and act as a helper on more complex jobs. Apprentice plumbers typically work regular business hours, but some companies work on a shift basis to cover a 24-hour period. This job can take place in a range of locations, from commercial buildings and businesses to clients' homes. Applicants well suited to becoming apprentice plumbers are well organized and detail-oriented, are able to follow instructions and clear orders, enjoy working with a range of different people each day, and have strong mechanical skills.
Need cover letter guidance? Add a cover letter to your resume using our cover letter formats how-to guide and add value to your resume.
Improve your application with a personal message! Your resume may summarize your qualifications, but a cover letter can help you express your professional accomplishments and working style. Pair these cover letter templates with our builder subscription to unlock AI-powered text templates and professional designs that will help you submit a complete application.
Apprentice Plumber Duties and Responsibilities
The type of organization an apprentice plumber works for determines the exact duties and responsibilities they take on. Based on job listings we analyzed, an apprentice plumber's duties typically involve:
Identifying and Locating Leaks
Apprentice plumbers identify the location of leaks, so they make repairs. This often involves reading blueprints and following the local building codes, particularly for large commercial spaces where the plumbing system will be much larger.
Repairing or replacing parts
'Once a problem is diagnosed, an apprentice plumber will help make the necessary repairs. Depending on the issue, this can involve cutting into walls or tearing up concrete to access pipes and repairing or replacing sections of pipe to stop leaks, using a rooter to clear clogs, or performing minor repairs to dripping fixtures.
Determining the equipment needed
Plumbing jobs and tasks require a range of different types of equipment, so apprentice plumbers determine the right tools or materials needed to fix issues, leaks, or malfunctioning systems.
Helping to prepare cost estimates
Through assisting with jobs, apprentice plumbers work out how jobs are charged and what equipment, materials, and labor total. They assist in preparing cost estimates for clients, and as they become more experienced, produce these on their own.
Apprentice Plumber Skills and Qualifications
Apprentice plumbers should have good troubleshooting skills, be excellent listeners with the ability to follow instructions efficiently, and have an aptitude for developing mechanical skills and retaining knowledge about processes and systems. Typically, employers will require a high school diploma, as well as the following abilities:
Problem-solving - plumbing systems are complex, and the cause of a particular problem isn't always obvious. Apprentice plumbers must use their knowledge of these complex systems, past experience, and deductive reasoning to identify the cause of a problem
Physical strength - tools and equipment can be heavy, so apprentice plumbers need to have the physical strength and stamina to lift heavy items when necessary
Dexterity - apprentice plumbers need to be able to use and maneuver parts and tools easily and accurately, usually in tight spaces, so they need to be dextrous
Mechanical skills - this job requires the use of various tools to assemble or repair plumbing systems, so applicants need to have the mechanical skills to know which tool is right for the job, and how to use it properly
Communication skills - apprentice plumbers need to be able to work well with their managers and listen to instructions, as well as talking and explaining issues to customers, so strong communication skills are a must for this job
Apprentice Plumber Education and Training
The minimum requirement to become an apprentice plumber is a high school diploma or GED. Employers may favor applicants who have experience through trade schools or vocational colleges. Given the nature of the role, applicants will learn the skills for this position through on the job training and homework in order to gain their qualification and become a skilled plumber.
Apprentice Plumber Salary and Outlook
The median annual salary for apprentice plumbers is $30,000. Apprentice plumbers in the 10th percentile earn around $19,000 a year, while the highest paid earn $47,000 annually. Bonus schemes can amount to almost $2,000 with this role. Over half of apprentice plumbers don't receive any health benefits, but those that do receive medical cover. The Bureau of Labor Statistics predicts that the growth rate for this sector is expected to grow by 16 percent through 2026.
Create your own professional resume in just minutes.
Try our resume builder today
Build Your Resume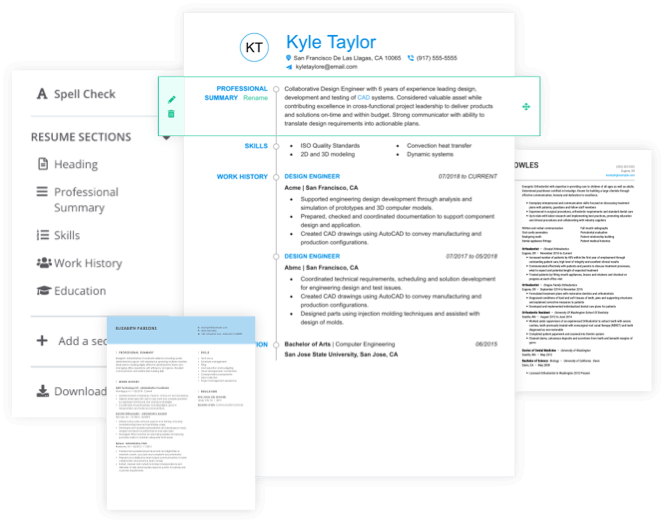 Helpful Resources
We've collected some of the best resources to help you begin your career as an apprentice plumber.
Apprentice Plumber Resume Help
Explore these related job titles from our database of hundreds of thousands of expert-approved resume samples: