Featured in:
Housemaids work in the hospitality industry and are responsible for the cleaning and tidying of all areas within a set time limit, as well as delivering excellent customer service at all times. Housemaids often work shifts and can work full- or part-time, with overtime often being available. This job requires long periods of being on one's feet and is physically demanding. Housemaids generally work in hotels or in residential homes; uniforms are often provided.
Need cover letter guidance? Add a cover letter to your resume using our cover letter formats how-to guide and add value to your resume.
Want to boost your resume? Your Jobhero subscription comes with a complimentary cover letter builder. Once you choose a cover letter template, the builder will suggest job-specific skills and prewritten entries, allowing you to save multiple letters for various applications fast.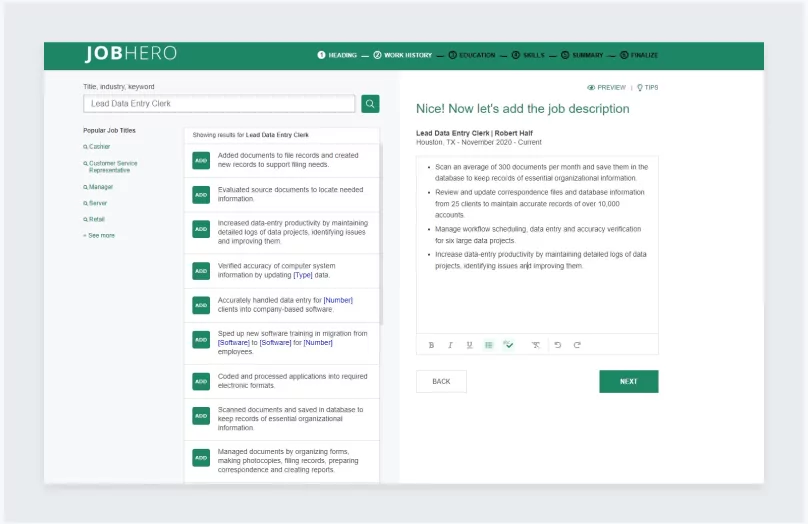 BUILD MY RESUME
Housemaid Duties and Responsibilities
This role is well suited to people who pride themselves on delivering great service, have a professional and polite manner, and are motivated to work independently. Based on job listings we analyzed, a housemaid's duties typically involve:
Clean and Tidy All Areas
Housemaids clean and tidy all assigned areas within a set timeframe, ensuring that certain cleanliness standards are met. This involves creating a daily task list and recording all serviced rooms.
Deliver Excellent Customer Service
Customer experience should be at the forefront of every housemaid's mind when they're working. Housemaids ensure that the cleanliness of the room exceeds a customer's expectations and that any requests or complaints are dealt with in a professional manner.
Report Damage or Security Issues
If a housemaid spots a security problem or damage to the room while they're cleaning, it's reported to her superior or the general manager of the hotel to be fixed.
Check Stock Levels
While retrieving stock to be placed in the rooms, housemaids check the general supply levels and report items that are running low so they can be ordered. In each room, housemaids check the supplies of minibars, glasses, tea and coffee, and toiletries, replacing them if they've been used.
Maintain Equipment
Housemaids use cleaning equipment all day and are responsible for checking that it is working correctly. Cleanliness and hygiene standards are important, so it's a housemaid's duty to ensure that all equipment is well maintained and clean for future use.
Housemaid Skills and Qualifications
Housemaids should have a good level of fitness and be able to work independently. Companies usually request a high school diploma and previous cleaning experience, as well as the following:
Attention to detail - the ability to work quickly without affecting the standard of the work completed and to follow task lists without missing anything are essential
Customer service skills - housemaids should be polite and considerate and able to handle reasonable requests or complaints in a professional manner to ensure customer satisfaction
Professionalism - housemaids should be courteous and professional at all times, both to customers and to their colleagues. Good team working skills are a must
Time management - housemaids are generally required to complete a certain amount of cleaning in a set timeframe
Physical stamina - housekeeping is a physically demanding job involving standing, walking, and stooping for long periods of time, and carrying laundry and supplies. A good level of fitness is required to be able to do this job long-term
Housemaid Education and Training
No formal qualifications are necessary to become a housemaid, although employers typically require a high school diploma and some may request previous cleaning experience. On-the-job-training is usually provided, and applicants can build their knowledge through learning from more experienced colleagues.
Housemaid Salary and Outlook
The median annual salary for housemaids is over $23,000. Housemaids in the 10th percentile earn around $12,000 a year, while the highest paid earn close to $49,000 annually. Health benefits and bonus packages are rare, however, there is an opportunity for additional earnings through overtime and tips. The level of experience an applicant has can affect the salary she's able to earn.
Create your own professional resume in just minutes.
Try our resume builder today
Build Your Resume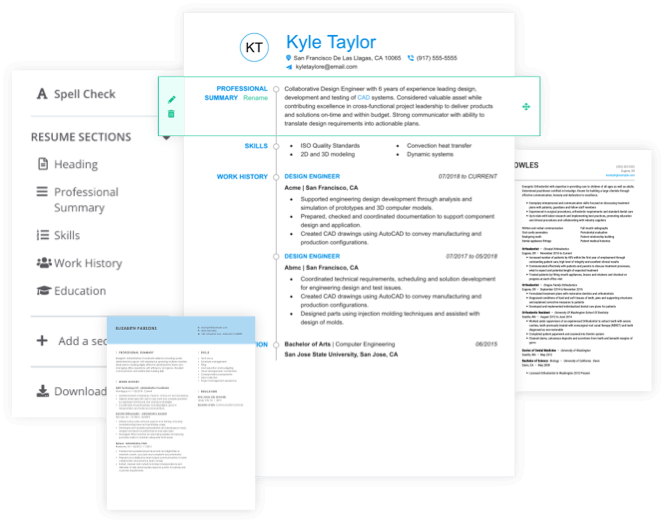 Housemaid Helpful Resources
We've collected some of the best resources to help keep you build a successful career as a housemaid:
Housemaid Resume Help
Explore these related job titles from our database of hundreds of thousands of expert-approved resume samples: