Featured in:
A certified occupational therapist assistant, or COTA, supports patient well-being, rehabilitation, and recovery by providing direct support to an occupational therapist. COTAs can work in a variety of settings, including hospitals, rehabilitation centers, and nursing homes. They help patients with physical, mental, emotional, or social limitations to improve their quality of life and independence.
This role requires a high level of patience and compassion as well as the ability to implement treatment and care plans designed by occupational therapists. A successful COTA helps a wide variety of patients overcome injuries and illnesses and maintain healthy and productive lives throughout the therapy process and beyond.
Our certified resume writers have created a library of resume samples to show you exactly what a strong resume looks like. Use them as-is or customize them to your needs.
Impress your future boss! According to a 2020 survey, most hiring managers read cover letters for candidates they're considering interviewing before making their final decision. Make a cover letter that seals the deal with our professionally designed cover letter templates.
COTA Duties and Responsibilities
Because COTAs can work in different settings, their daily responsibilities can vary. However, based on postings that we analyzed, most COTAs perform several core duties:
Evaluate Patient Health
One of the first duties of a COTA is to evaluate patient health and wellness. A COTA may conduct tests and evaluations to measure a patient's mobility, emotional and social skills, and overall health prior to beginning to develop a treatment plan. For a patient recovering from an injury, a COTA may ask questions about pain levels and recurring issues related to the injury, while a COTA working with patients dealing with emotional or social limitations may ask personality-related questions.
Develop Treatment Plans
Working closely with occupational therapists, COTAs also help develop patient treatment plans. This can include inpatient techniques and methodologies as well as exercises and other methods the patient will use at home. These plans can vary based on the type of support a patient needs and can include group or one-on-one activities aimed at restoring the patient's quality of life or helping them work with their limitations. Treatment plans also need to adhere to both local and federal regulations.
Implement Occupational Therapy Activities
After the occupational therapist develops a treatment plan, the COTA's main responsibility is to implement that plan. They may work directly with patients recovering from injuries to increase strength and mobility or teach patients with social or emotional limitations to perform everyday activities like cooking and using public transportation to give them a higher level of independence. Some of these activities may be conducted at a healthcare facility, while others are in a patient's home.
Monitor Patient Progress
Throughout the occupational therapy process, COTAs also maintain detailed records of patient progress and provide reports to the occupational therapist. They may conduct periodic evaluations of patients' progress, comparing their current wellness levels to benchmarks in the patient's therapy plan. Based on their observations, COTAs may recommend changes to treatment plans or new activities and methodologies aimed at enhancing patient outcomes.
Operate Therapeutic Equipment
A COTA supports therapeutic activities and patient success by operating a range of equipment and devices. This equipment can range from strength and functional capacity evaluation equipment to passive training machines and exercise equipment. These devices are used throughout the therapy process, from initial patient evaluation through direct therapeutic activities, and a COTA may use several devices to support and monitor each patient.
COTA Skills and Qualifications
COTAs provide therapeutic support and assistance for patients dealing with a wide range of physical, emotional, and social limitations. Healthcare facilities typically hire candidates with at least an associate degree in a related field, along with the following skills:
Patient Evaluation Skills - COTAs evaluate patients for physical, social, emotional, and behavioral limitations using a variety of evaluation methodologies
Therapeutic Modalities - Familiarity with a wide variety of therapy methods is also vital in this role so that COTAs can work with patients dealing with a variety of limitations or health issues
Communication Skills - Because they work with both patients and occupational therapists, COTAs need strong verbal and written communication skills
Collaboration Skills - COTAs also need to be highly collaborative, both while working with occupational therapists and in implementing occupational therapy activities with other healthcare activities
Documentation Skills - It's vital that COTAs maintain excellent records of patient treatments, health issues, and progress to support therapeutic activities and outcomes
Tools of the Trade
A COTA may work in a healthcare facility or at a patient's home and uses:
Evaluation Equipment – (strength, functional capacity, and muscle measurement tools)
Therapeutic Equipment – (passive exercise machines and strength-building equipment)
COTA Lead Education and Training
COTAs need at least an associate degree from a program accredited by the Accreditation Council for Occupational Therapy Education. These programs typically take two years to complete and provide COTAs with information about biology and psychology. Additionally, COTAs need to complete 16 weeks of fieldwork under the direct supervision of an occupational therapist. CPR certification is also a requirement for many COTA positions.
COTA Salary and Outlook
According to the Bureau of Labor Statistics (BLS), the median annual salary for COTAs was $59,010 as of May 2016. The lowest paid workers in this role earned less than $39,160 per year, while the highest paid 10 percent earned more than $80,090 per year. The highest paid COTA positions tend to be in the home healthcare industry.
The BLS estimates that this field will grow very rapidly between 2016 and 2026, with employment increasing by 29 percent. This role will likely be in high demand due to the healthcare needs of aging baby boomers.
Create your own professional resume in just minutes.
Try our resume builder today
Build Your Resume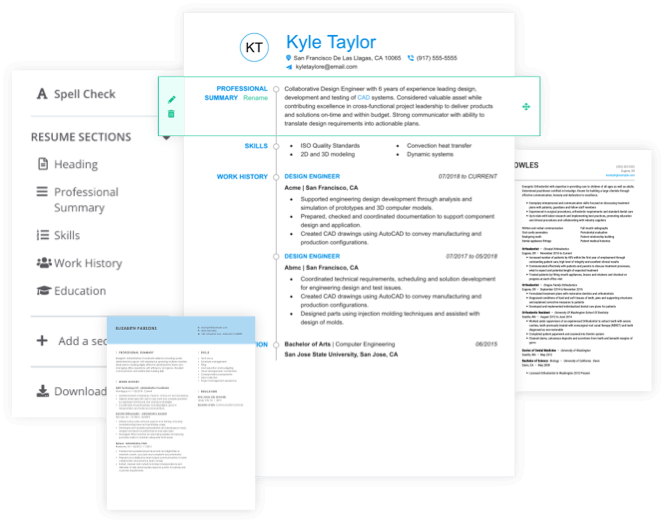 Helpful Resources
We searched the web and found a number of resources to help you learn more about a career as a COTA:
COTA Resume Help
Explore these related job titles from our database of hundreds of thousands of expert-approved resume samples: