Featured in:
Electrical Supervisors are experienced electricians who are in charge of a team of electricians and oversee their work. They provide technical guidance and support as the team installs, maintains, and repairs the building's electrical system. They are responsible for ensuring that safety standards and compliance codes are met, and oversee the training and scheduling of workers. Maintaining and troubleshooting equipment is part of their job duties as well. They should be familiar with the building's electrical system and be able to troubleshoot the devices involved. A strong knowledge of electrical and circuitry layouts is essential. Electrical Supervisors should be prepared to work unconventional hours, as they must be on call for electrical emergencies. This is a leadership position, and as such the Electrical Supervisor should be familiar with the positions of the team under them. Electrical Supervisors will generally have past experience in the field of electronics. The exact job duties will vary based on the type of facility and the specifics of the electrical system, but they will always require someone with strong people skills and wide technical knowledge. All large buildings have a complex and coordinated electrical system, and as such the job growth outlook for the Electrical Supervisor position is strong and growing.
Need cover letter guidance? Add a cover letter to your resume using our cover letter formats how-to guide and add value to your resume.
Impress your future boss! According to a 2020 survey, most hiring managers read cover letters for candidates they're considering interviewing before making their final decision. Make a cover letter that seals the deal with our professionally designed cover letter templates.
Electrical Supervisor Duties and Responsibilities
The job duties of an Electrical Supervisor entail technical, interpersonal and administrative responsibilities. They are responsible for coordinating and scheduling their team, as well as ensuring quality work. In some cases, they may have a role in hiring and termination decisions. They will have hands-on duties such as troubleshooting and repair when needed. Administrative duties such as inventory and budgeting are part of the job. Other common Electrical Supervisor duties include the following.
Team Leadership
The Electrical Supervisor will oversee a team of electricians as they maintain a large electrical system and ensure the proper schedule is kept. The supervisor must be effective at motivating their team, as well as giving a frank but constructive assessment of the work done.
Schematic Design and Improvement
Electrical Supervisors are tasked with keeping their system up to date. In addition to maintenance, this entails contributing improved designs and manufacturing processes to corporate. This will generally involve schematics and cost estimates.
Payroll and Scheduling
Electrical Supervisors are in charge of their division's staffing and payroll decisions. They are responsible for deciding how many workers are needed on each shift, and how best to use each employee. In addition, they keep track of payroll and make sure that the electrical budget is kept within corporate mandates.
Installation, Troubleshooting and Repair
The Electrical Supervisor needs to be a skilled hands-on electrician. They will generally have extensive experience in the field. They must be able to perform emergency repairs on their own, as well as take charge of troubleshooting their employees' work.
Inventory and Purchasing
Electrical Supervisors must ensure that their company is stocked with any necessary supplies for emergency repairs. Within the provided budget, they are responsible for purchasing the needed supplies. This entails negotiating with vendors and making purchases based on the highest priority and best value.
Electrical Supervisor Skills
Electrical Supervisors require skills typical of both an electrician and a manager/supervisor. A keen orientation towards detail is important for both positions. The Electrical Supervisor will need to have a strong eye for technical specifics and potential trouble spots. Strong leadership skills are required to oversee a team of workers and motivate them to do effective, thorough work. Electrical Supervisors will need flexibility, as they will often be called into work on short notice for emergency affairs. Based on out review of online job postings, employers also are looking for Electrical Supervisors with the following skills.
Creativity - In addition to maintaining the current electrical mainframe, Electrical Supervisors are responsible for keeping the system up to date and developing potential improvements. An open and creative mind will be an asset in this area.
Eye for Detail - Even one small frayed wire or misapplied fuse can shut down an entire building's system. A strong Electrical Supervisor will check for every weak spot and pinpoint them before a crisis. In addition, this skill will prevent mistakes with payroll or scheduling.
Research Ability and Knowledge - Every building and electrical system is different, and each has strengths and weaknesses. Electrical Supervisors will know the major types of electrical systems inside and out, and will research the history of their building to learn about strengths and weaknesses.
Team-Building Skills - Electrical teams work long hours and often face danger in their work. As such, proper motivation is key. A talented Electrical Supervisor will be able to build camaraderie among their workers. This includes ensuring that feedback is given in a positive, constructive fashion.
Electrical Supervisor Tools of the Trade
Electrical Supervisors will use a selection of technical tools and resources to manage their job duties. They will often include:
Electrician's Tool Kit – The specifics and size will vary by job, but every Electrical Supervisor should have a basic selection of tools for safely working on fuses and wires. In addition, a voltage checker is an essential piece of hardware.
Building Schematics – The Electrical Supervisor will need access to the detailed plans for the building's electric system. This will allow them to pinpoint the source of problems as well as map out potential improvements.
Spreadsheets and Accounting Software – Electrical Supervisors keep track of payroll and schedule for their team. Software like Excel makes it easy to keep track of months of data and ensure accuracy.
Graphic Design Software – Paired with the building schematics, graphic design software allows Electrical Supervisors to map out repair jobs to avoid potential costly mistakes. In addition, system upgrades can be planned on screen to be presented to management.
Electrical Supervisor Educational Requirements
Although some Electrical Supervisor positions are open to those with only an Associate's Degree in a technical or engineering field, the majority of positions are looking for a Bachelor's in Electrical Engineering. Some programs will require an apprenticeship in the field as well. Companies hiring an Electrical Supervisor will also be looking for hands-on experience in the field. Generally, an Electrical Supervisor will have experience as an electrician. Many companies will require additional training in management for a first-time Electrical Supervisor.
Electrical Supervisor Salary
According to the Bureau of Labor Statistics, the average median salary for Electrical Supervisors is $62,070. This is projected to increase by 10 percent over the next ten years. The salary varies based on the property employing the Electrical Supervisor, as well as the complexity of the electrical system. The low end of the salary is around $56,000, while the high end can exceed $119,000. The high end is usually for companies with multiple properties. Some smaller companies will employ an Electrical Supervisor on an hourly basis, for an hourly rate in the $35 range.
Create your own professional resume in just minutes.
Try our resume builder today
Build Your Resume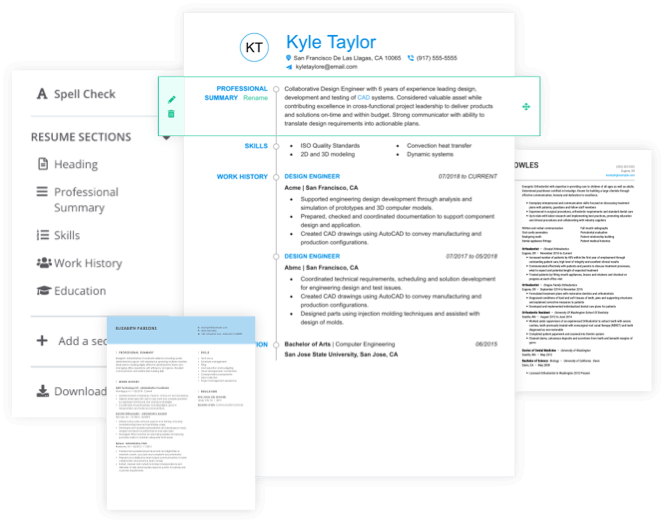 Electrical Supervisor Resume Help
Explore these related job titles from our database of hundreds of thousands of expert-approved resume samples: