Featured in:
Electrical designers create electrical systems. Using their expertise on how electricity works, they come up with wiring and power distribution diagrams to fit the needs of individual projects. This might entail examining the electrical needs of a new building and figuring out how best to supply it. Or it might mean talking to the makers of a revamped appliance and determining how to get it to perform at capacity while still being electrically safe.
The services of electrical designers are of value to an array of people and industries. Homeowners, architects, and construction firms need their input for building projects. Manufacturers ask them to design circuits and switchboards for machinery and equipment. Power distribution, utility, and telecommunication companies seek electrical designers to work on public grids and route wires in the best ways.
Need cover letter guidance? Add a cover letter to your resume using our cover letter formats how-to guide and add value to your resume.
Improve your application with a personal message! Your resume may summarize your qualifications, but a cover letter can help you express your professional accomplishments and working style. Pair these cover letter templates with our builder subscription to unlock AI-powered text templates and professional designs that will help you submit a complete application.
Electrical Designer Duties and Responsibilities
Electrical designers see ideas through from the brainstorming stage through installation. Our analysis of job postings revealed the following activities to be among the main ones employers expect them to perform:
Designing
Electrical designers are presented with a situation that needs to be figured out. After consulting with interested parties—such as managers, clients, and colleagues—they begin designing solutions. Using CAD software, electrical designers draft what the electrical system will look like. Their work includes electrical specifications and detailed drawings.
Planning
Electrical designers estimate the time, cost, labor, and materials that are needed to produce a real version of their ideas. They reformulate plans along the way based on unexpected circumstances or client changes.
Attending to Safety
Preventing electrical hazards is a top priority for electrical designers, thus, they need a thorough understanding of relevant standards, including the National Electric Code (NEC)—the benchmark for safe electrical design, installation, and inspection in all 50 states.
Updating
Electrical designers may be responsible for one part of a larger project. They have to keep colleagues, managers, and clients in the loop as to progress and deviations from schedule or budget so as not to disturb the workflow of the whole.
Monitoring
Electrical designers may be on-site during some or all of the installation of their design to make sure things are going as planned, answer questions, and respond to any problems.
Electrical Designer Skills
Technical prowess isn't the only thing on the minds of hiring managers when examining resumes for electrical designer positions. Qualifications found among successful electrical designers often include:
Communicating effectively with fellow tech staff as well as with clients and other people who may need things explained in layman's terms
Working well with others since projects are often done as a team
Problem-solving to make adjustments when plans don't go as expected
Attending to detail to ensure consistency and safety of final products
Maintaining professionalism when dealing with colleagues and clients
Electrical Designer Tools of the trade
Electrical designers require an array of things to do their job. Some of the most common items include:
CAD software – design and drafting software, such as MicroStation and AutoCAD, that enables creation of precise 2D and 3D drawings
Currents – electric charges, expressed as AC (alternating current) or DC (direct current)
Wires – used as conductors (gives electricity a path on which to flow)
Switches – controllers to turn electrical systems on and off
Circuit breakers – safety devices that stop the flow of current
Volts – measurement of electric potential
Electrical Designer Education and Training
Electrical designers often hold an associate's or bachelor's degree in electrical engineering. Coursework centers on math, physics, and science, as well as specifics such as electrical circuits, digital electronics, electrical codes and computer-aided design (CAD). Electrical designers wishing to further their career prospects frequently opt to get a professional engineering license. Requirements vary by state but generally involve passing a test on fundamentals and completing several years of work experience. Some employers like candidates to possess a journeyman electrician certificate.
Create your own professional resume in just minutes.
Try our resume builder today
Build Your Resume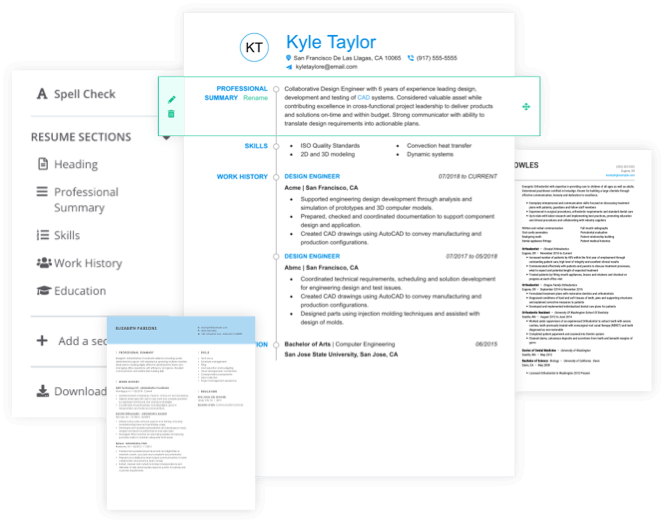 Electrical Designer Resources
As you consider a career as an electrical designer, the following books and organizations may be good places to turn to for further information:
Electrical Designer Resume Help
Explore these related job titles from our database of hundreds of thousands of expert-approved resume samples: