Featured in:
Electrical design engineers develop new electrical systems for various applications. They research systems ideas and draw up plans for these systems, usually using a computer program. They are responsible for developing system specifications and layouts. Electrical design engineers also test their systems and make adjustments as needed. In addition, they provide support throughout the manufacturing of the electrical systems they have designed.
Electrical design engineers generally work for engineering firms or in manufacturing settings. The employment growth rate for this occupation is projected to be 7% between 2016-2026, according to the Bureau of Labor Statistics (BLS). The ever-changing world of technology and increasing use of electronic devices, along with the growing use of automated production equipment, are believed to be the main reasons for this expected growth rate.
Our certified resume writers have created a library of resume samples to show you exactly what a strong resume looks like. Use them as-is or customize them to your needs.
Want to boost your resume? Your Jobhero subscription comes with a complimentary cover letter builder. Once you choose a cover letter template, the builder will suggest job-specific skills and prewritten entries, allowing you to save multiple letters for various applications fast.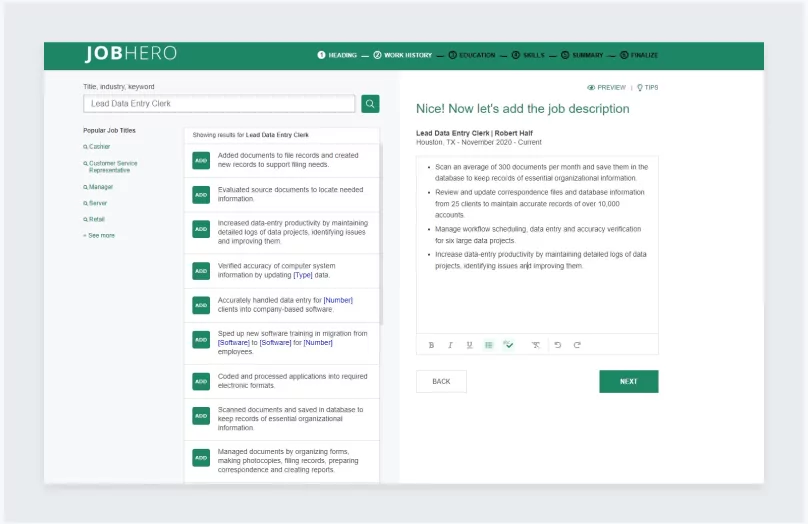 BUILD MY RESUME
Electrical Design Engineer Duties and Responsibilities
Striving for excellence, the best electrical design engineers are innovative, detail-oriented, and analytical. Electrical design engineers perform a variety of tasks. Our analysis of job postings revealed the following to be some of their core responsibilities:
Develop Electrical Systems
Electrical design engineers use software programs to design and perfect new electrical systems. They design prototypes, troubleshoot potential issues, make changes to fix any issues, and create specifications and other details for these systems.
Create Documentation
Throughout the design process, electrical design engineers are responsible for documenting specifications, schematics, and diagrams regarding their projects. They must also produce reports addressing project progress and other details for managerial staff.
Provide Input in Electrical System Manufacturing
Electrical design engineers use their expertise to assist in the production of electrical systems; helping to avoid problems and addressing any issues that might arise in the manufacturing process, thus reducing downtime and ensuring that the project adheres to time and budget expectations.
Electrical Design Engineer Skills
Electrical design engineers are expected to consistently display strong communication, analytical, and problem-solving skills. Detail-oriented time managers with the ability to meet deadlines and focus on project schedules are most successful in this occupation. Organizational, leadership, and creative skills also benefit electrical design engineers. Besides these skills, it is important that electrical design engineers possess the following capabilities:
Designing and laying out new electrical systems
Creating system models and simulations
Testing new systems and making design changes if needed
Producing necessary design reports and documentation
Assisting in the manufacture of new electrical systems
Electrical Design Engineer Tools of the Trade
It is imperative that electrical design engineers have a thorough knowledge of the necessary tools of the trade in order to be successful in their job. If you have the desire to become an electrical design engineer, you must understand the following:
CAD software – use computer-aided design (CAD) software on a daily basis
Project management concepts – from scheduling to meeting deadlines, electrical design engineers should be able to adhere to project management guidelines and processes
Electrical codes – knowledge of electrical codes is important in the design and manufacture of electrical systems
Electric Design Engineer Education and Training
In most cases, employers seek candidates for electrical design engineer positions who hold a bachelor's degree in electrical engineering. These programs often teach students how to use CAD software, read technical drawings, and understand electrical theories and concepts. No licensing is required to work in this field; however, it could be helpful to secure a Professional Engineering (PE) license for career advancement purposes.
Electrical Design Engineer Salary
The BLS reports that electrical design engineers earn a median annual salary of $94,210. Those earning in the 10th percentile realize a salary of $59,720, while those in the top ten percent are paid a median salary of $149,040. States where electrical design engineers earn the highest mean annual wages are Alaska ($122,050), California ($115,290), and District of Columbia ($110,310).
Create your own professional resume in just minutes.
Try our resume builder today
Build Your Resume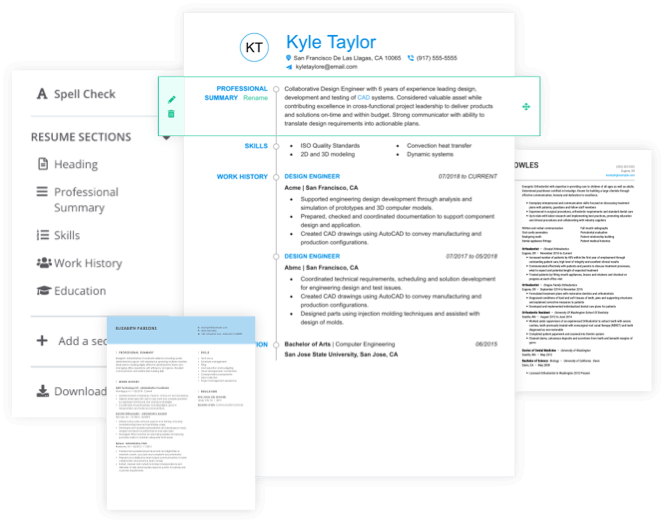 Electrical Design Engineer Resources
We have provided links to more resources below to help you better understand what it takes to become and work as an electrical design engineer. Follow these links to professional associations, publications, blogs, and more:
Electrical Design Engineer Resume Help
Explore these related job titles from our database of hundreds of thousands of expert-approved resume samples: