Featured in:
Construction project managers oversee the completion of construction projects. From planning to budgeting and making key decisions, they ensure that projects fall within the proposed budget and are completed on time. Construction project managers typically have offices to work in, though they frequently work on construction sites. As travel between sites is common, construction project managers must have a reliable form of transportation. This position is full-time, and many construction project managers are expected to be available on-call. It is common for construction project managers to work more than 40 hours a week.
Need cover letter guidance? Add a cover letter to your resume using our cover letter formats how-to guide and add value to your resume.
Improve your application with a personal message! Your resume may summarize your qualifications, but a cover letter can help you express your professional accomplishments and working style. Pair these cover letter templates with our builder subscription to unlock AI-powered text templates and professional designs that will help you submit a complete application.
Construction Project Manager Duties and Responsibilities
No two construction project manager positions are exactly alike, as specific skills vary from employer to employer. However, after analyzing online job postings, we identified several core duties and responsibilities common to the job:
Make Schedules
Construction project managers schedule construction projects. They oversee production from the conception phase to the construction phase, coordinating deadlines to ensure that projects are completed within the proposed time frame.
Determine Costs
Evaluating a project's costs, construction project managers prepare a budget outlining both soft and hard costs. When necessary, construction project managers find solutions to reduce budgets, such as using alternative building materials.
Supervise Staff
Supporting and supervising staff in day-to-day management, construction project managers monitor and control safety. Working with other staff, construction project managers give directions as necessary.
Attend Construction Meetings
Communicating with staff, supervisors, and other parties involved with the construction project, construction project managers contribute to meetings discussing budgets, plans, and goals. They also create agendas for meetings and prepare documents, such as schedules and logs.
Negotiate Contracts
Construction project managers negotiate contracts. When unexpected changes occur, they renegotiate contracts with contractors and subcontractors.
Construction Project Manager Skills and Qualifications
Since their job involves extensive planning and scheduling, construction project managers are highly organized. Supervising their staff, they are proactive with strong leadership abilities. Employers additionally seek those with the following skills:
Technical understanding of construction - knowledge of building codes, trade sequencing, and best building practices help with problem-solving and dealing with complex, detailed projects
Communication skills - to coordinate and work with a variety of different people such as contractors, subcontractors, city inspectors, architects, and suppliers
Strong judgment - to make major decisions for construction projects, understanding the implications of their choices
Budgeting experience - in cost estimating, cost control, and cost analysis to manage project costs and control budgets, ensuring that the project does not go over the proposed costs
Project controls - to evaluate data to determine the needs of a project, understanding the scope of a project, assessing risks, assigning tasks, and planning for presentation
Tools of the Trade
Construction project managers are familiar with the following tools:
Microsoft Suite (Excel, Word, PowerPoint)
Project Management Software (Primavera, Microsoft Project, or similar)
Construction Project Manager Education and Training
The minimum requirements for this position are a high school degree (or GED) and three to five years of experience; however, many employers prefer those with a bachelor's degree in engineering, architecture, or construction management. Employers seek candidates with a proven ability to manage projects and experience working in commercial construction.
Construction Project Manager Salary and Outlook
The median annual salary for construction project managers, categorized by the Bureau of Labor Statistics as "construction managers," is $89,000. The lowest ten percent in this field earn less than $53,000 while the highest ten percent earn over $158,000.
Employment for construction project managers is expected to grow 11 percent over the next ten years. This growth is faster than the average for all occupations. As businesses and populations grow, there is an increased need for residences, office buildings, hospitals, and schools. As construction activity expands, the need for construction project managers is expected to grow.
Create your own professional resume in just minutes.
Try our resume builder today
Build Your Resume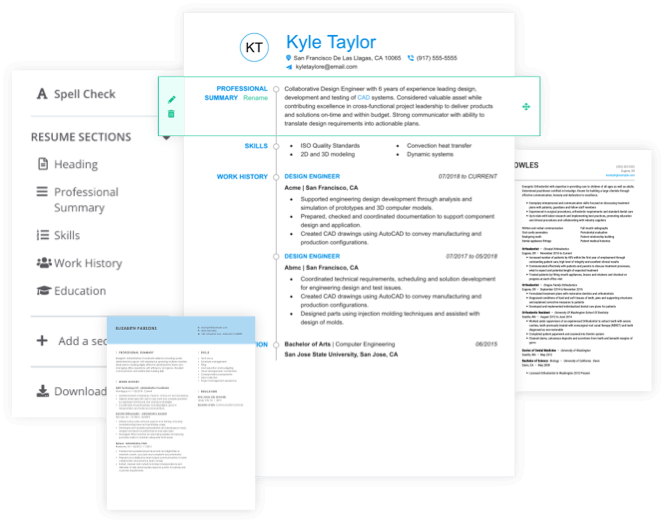 Helpful Resources
Are you considering a career as a construction project manager? We've gathered some helpful resources to get you started:
Construction Project Manager Resume Help
Explore these related job titles from our database of hundreds of thousands of expert-approved resume samples: