Featured in:
Civil drafters prepare drawings and maps for use in civil engineering projects, such as the construction of bridges, highways, and piping systems. They also calculate costs and interpret data for designs. Civil drafters typically work in an office environment where they calculate and create designs using computer software, and the job also requires visits to construction sites where civil drafters take note of geographic features of the area. Civil drafters communicate with engineering or other technical personnel and work with construction and production teams during the building of a design. This position suits those who enjoy design and have a knack for accurate calculations.
Our certified resume writers have created a library of resume samples to show you exactly what a strong resume looks like. Use them as-is or customize them to your needs.
Want to boost your resume? Your Jobhero subscription comes with a complimentary cover letter builder. Once you choose a cover letter template, the builder will suggest job-specific skills and prewritten entries, allowing you to save multiple letters for various applications fast.
Civil Drafter Duties and Responsibilities
Civil drafters work in a variety of organizations. Specific duties and responsibilities may vary, but there are several core tasks associated with the job, including:
Perform Design Calculations
Civil Drafters perform calculations for layouts and designs. They also assist in design computations and cost estimates, and they prepare layouts that are drawn to scale.
Assist and Prepare Reports, Maps, and Plans
In order to design and plan projects, civil drafters help prepare reports, maps, drawings, and plans. They share their reports and plans with the civil engineering team, and they use this information to help coordinate production of the project.
Conduct Field Surveys
To help engineers, civil drafters conduct field surveys and provide accurate, reliable data for use in design activities. They visit site locations and take note of natural features and human-made structures.
Use Computer-Aided Design Programs to Sketch
Experienced in working with computer-aided design (CAD), civil drafters create the initial drawings of plans. These plans get further developed as the project moves along.
Communicate Designs to Construction or Production Teams
Civil drafters maintain communication with the construction or production teams. They ensure that the project is built accurately and reflects the intentions of the drafted plans and drawings.
Civil Drafter Skills and Qualifications
Proactive and detail-oriented, civil drafters are sensitive to project budgets and provide valuable information for the development of designs. In addition to a degree in engineering and three to five years of experience, employers look for candidates with the following skills and qualifications:
Problem-Solving Skills - Dealing with budgets and strict deadlines, civil drafters have strong problem-solving skills. They prioritize their tasks and make decisions to stay within the budget of their project
Knowledge of Topography - Conducting field surveys and considering the physical location of projects, civil drafters have knowledge of roadway layouts, topographic surveys, earthwork calculations, and erosion control plans
Design - With visual acuity and accuracy, civil drafters create sketches of designs. This involves making all the necessary calculations and creating layouts for projects
Communication Skills - Civil drafters work with many other members in a team to coordinate the design and production of a project. They share their sketches with others and maintain contact with construction and production teams to ensure that designs are completed as planned
Data Analysis - In order to create layouts and plans, civil drafters analyze relevant data for their projects. This data includes the results of field surveys, budget plans, and calculations and measurements
Tools of the Trade
Civil drafters are comfortable using the following software and tools in a typical workday:
Design Software – (AutoCAD, Civil 3D, Microstation)
Microsoft Suite – (Word, Excel)
Civil Drafter Education and Training
Most civil drafters have an associate or bachelor's degree in drafting, civil technology, engineering technology, or a similar area of study. Many employers desire candidates who have AutoCAD certification or experience using software such as Microstation. Employers expect civil drafters to be comfortable designing and using software. In addition, on-the-job training is provided to ensure civil drafters are familiar with company policies.
Civil Drafter Salary and Outlook
The average annual salary for civil drafters, categorized by the Bureau of Labor Statistics as "Drafters," is $53,000. Those who work in the lowest ten percent of the field earn less than $33,000, while those in the highest ten percent earn more than $83,000.
In the next 10 years, this job is expected to grow 7 percent, but employment growth varies by industry. Employment for civil drafters is expected to grow the most in industries such as engineering services and construction. However, since many architects and engineers know computer-aided design (CAD) and building information modeling, this causes a reduced need for drafters.
Create your own professional resume in just minutes.
Try our resume builder today
Build Your Resume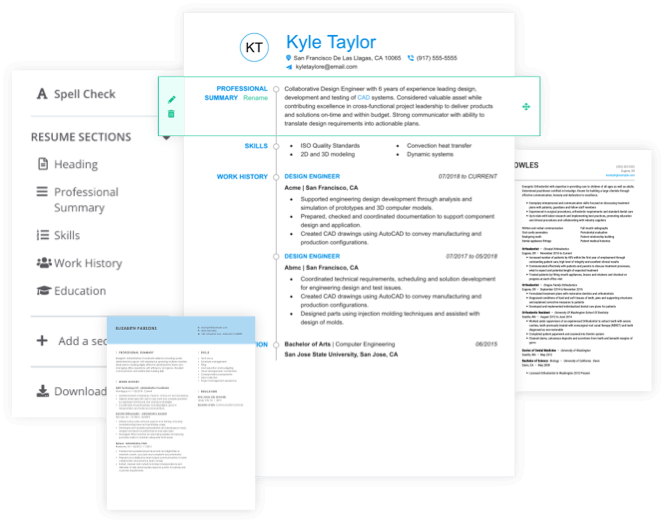 Helpful Resources
Are you interested in entering a career as a civil drafter? If so, here are some helpful resources to get you started:
Civil Drafter Resume Help
Explore these related job titles from our database of hundreds of thousands of expert-approved resume samples: