Featured in:
More Preschool Lead Teacher Resumes
Use these Preschool Lead Teacher samples as a guideline or visit our extensive library of customizable resume templates.
Additional Teaching Resume Samples
Preschool Lead Teacher Resume Samples
No results found
0-5

years of experience
Outstanding experience implementing state approved preschool curriculum.
Leads the teaching of general education, also individuals with learning challenges and special needs within an inclusive classroom.
Creates lesson plans and as well as prepares documentation boards highlighting students' achievements.
Observe and document quarterly behavior and learning abilities.
CPR/First Aid Card Holder.
0-5

years of experience
Planning, teaching and implementing the curriculum and providing quality care for children 3 and 4 year olds.
Planning and executing indoor and outdoor experiences appropriate to the development levels of the children.
Meet with parents, staff and administration.
Familiarity with state licensing requirements and CNI policies.
0-5

years of experience
Lead teacher in the Three/Four year old classroom.
Create and implement developmentally appropriate curriculum that address all learning styles.
Established a safe play environment for the children.
Collaborate with co-teacher on developing new classroom projects, lesson plans and monthly themes.
Comply with all state, local and schools regulations.
0-5

years of experience
Follow and implement curriculum
Plan and prepare classrooms for daily activities to run smoothly and be understood for all who enter the classroom
Create a fun and loving environment for 24+ students daily
Communicate progress and daily activities with parents and members of leadership
Stay current on all certifications and trainings
10+

years of experience
Address situations of domestic violence, abuse, depression, and other psychosocial disabilities with care, confidentiality, and strong emotional intelligence. Provide families, children, and teachers with a judgement-free zone in which they felt safe expressing themselves and participating in the problem-solving process.
Coordinate and attend meetings with social workers to create strategies to aid students both at home and in the school; maintain a positive and collaborative attitude, encouraging and facilitating the success of both students and their families even in the face of difficult and complex situations.
Provide educational resources, coaching, and support for children and family of diverse sociocultural and economic backgrounds; holistically evaluate student progress and opportunities for growth and development, addressing students' at-home reality during conferences with parents. Partner with parents to ensure the best possible educational environment and experience is provided in school and at home.
Address and respond appropriately to disciplinary concerns in the classroom; provide mentorship to parents in addressing and coping with behavioral issues in the home.
Develop curricula that promotes the cognitive, social, and emotional development of two- to five-year-old children; adjust curricula for delivery to large groups of children (20+ constituents). Provide mentorship in classroom management and curriculum implementation and revision to instructors and student teachers.
0-5

years of experience
Creating weekly lesson plans and implementing them to four and five year olds
Stimulating the children's learning abilities in order to prepare them for kindergarten
Building lasting relationships with students as well as with their parents and guardians
0-5

years of experience
In charge of teaching children ages 3-5
Keep track of children by completing a roster every day
Create a fun and effective lesson plan each week
Maintain classroom clean and well organized
Serve children snacks and lunch
Give parents an oral report of activities done and how the child did throughout the day
0-5

years of experience
Plan and develop theme-based curriculum and activities according to specific developmental stages and needs
Communicate with parents daily regarding children's progress
Hold parent-teacher conferences
Create, update, and manage school blog
Develop and teach afternoon curriculum and activities (Spanish, yoga, and science)
0-5

years of experience
Lead teach in preschool classroom of twenty students
Mentor, support, and coach Teaching Fellow and Teaching Assistant in classroom
Implement Every Child Ready curriculum in the classroom by providing students with differentiated whole group and small group instruction
Plan and coordinate family engagement activities in order to foster teacher-family relationships
Data entry and analysis of students' knowledge, progress, and behavior
0-5

years of experience
Oversee associate teacher
Planned and implemented weekly lesson plans
Published weekly newsletters
Provide children with a safe and happy environment
Students were either GSRP or Head Start qualified
0-5

years of experience
Lead Teacher in one of four classrooms. Initiate teaching to prepare for kindergarten ready students. Oversee 3 to 5 year olds.
Completing paperwork such as monthly attendance reports, DRDP recordings for each child, written anecdotal throughout the day.
Working with families to help and assist in their child's welfare to achieve greatness
0-5

years of experience
Develop and carry out lesson plans
Daily written and verbal communication with parents
Assess children using Creative Curriculum
Load More
Teaching Cover Letter Examples
Create your own professional resume in just minutes.
Try our resume builder today
Build Your Resume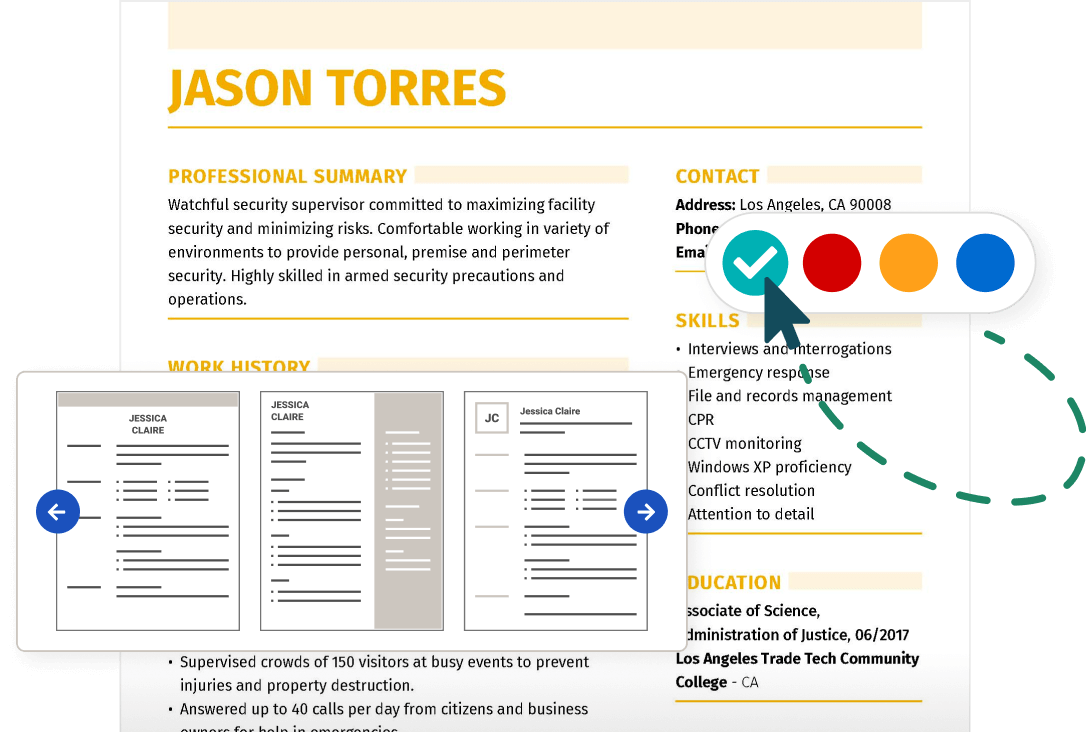 Preschool Lead Teacher Resume FAQ
What should a lead teacher put on their resume?
A lead teacher's resume should include sections on contact info, a professional summary, skills, education and work history.
The work history section starts with your most recent job and should touch upon the most critical duties and responsibilities of a lead teacher, which may include:
Overseeing the associate teacher and providing children with a safe and happy environment.
Completing paperwork for monthly attendance reports and DRDP forms for each child.
Planning and coordinating family engagement activities to foster teacher-family relationships.
How do you describe a lead teacher on a resume?
Lead teachers are in charge of maintaining a safe and happy environment for children in the classroom and addressing administrative needs, often acting as a liaison between their fellow teachers and the administration.
A good lead teacher's work description may include the following points:
Oversee children between 3-5 years old in one of four classrooms, preparing them for kindergarten.
Communicate daily with parents in written and verbal forms.
Mentor, support and coach the teaching fellow and teaching assistant in the classroom.
How do I describe my preschool teacher role on a resume?
You should describe your preschool teaching role in your professional summary (or resume objective) and throughout your work history section. Keep your summary brief but informative, highlighting your most relevant qualifications for the role. Here's an example:
Empathetic preschool teacher with five years of experience managing small and large groups in the classroom. Skilled at developing lesson plans, communicating with parents, and supporting the academic and emotional development of the students. Two-time winner of the XYZ "Preschool Teacher Making a Difference" award for my lesson plans on improving problem-solving skills.
What are the duties of a lead preschool teacher?
Lead preschool teachers are responsible for fostering the learning and development of children in the classroom through a thoughtfully-designed curriculum. They must also keep the classroom neat, organized and safe while supervising the children's daily activities. Another critical task is keeping parents informed about their child's progress and any social or learning issues. The ultimate goal is to prepare the kids for kindergarten.