More than ever, technology is at the core of human communication, work and education. People maintain relationships with text, video chat and social media, businesses use tech to optimize hiring processes
In the world during and post COVID-19, technology in these areas has become even more important. Due to long periods of sheltering in place, many have turned to technology to keep their careers on track. From taking online classes to enable a career change to mastering groundbreaking software to add to their resume, the benefits of edtech for career growth has become undeniable. This article briefly breaks down what edtech is and how it can be used to boost skills and support long-term career goals.
Need cover letter guidance? Add a cover letter to your resume using our cover letter formats how-to guide and add value to your resume.
Improve your application with a personal message! Your resume may summarize your qualifications, but a cover letter can help you express your professional accomplishments and working style. Pair these cover letter templates with our builder subscription to unlock AI-powered text templates and professional designs that will help you submit a complete application.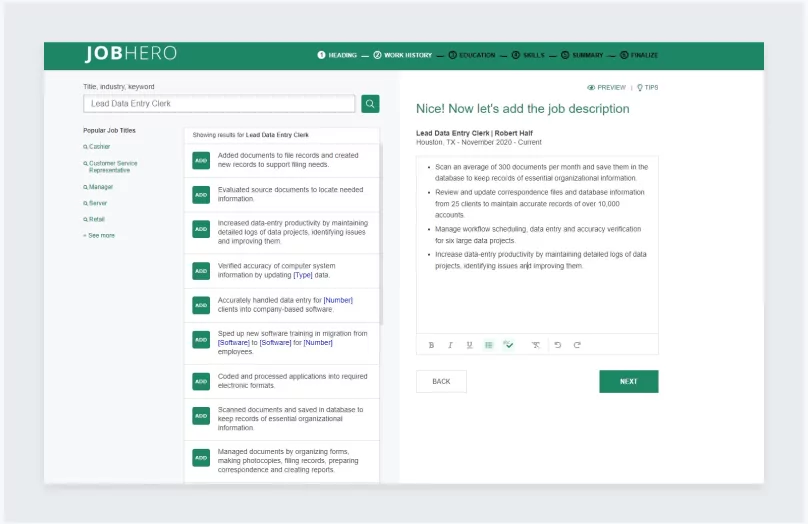 BUILD MY RESUME
Featured in:
What is Edtech?
Edtech, or educational technology, is a combination of computer software, hardware and theory that is used in education or training to increase the engagement and success of students. Though the term is relatively new, using technology in education has always existed. Whether you grew up using an overhead projector in class or a smartboard, these innovations were designed to help students stay engaged and learn more efficiently.
In recent years, the benefits of using edtech have been noticed in training and career development. The flexibility, cost-effectiveness and efficiency that new hardware and software offer is undeniable. Instead of sitting through a week-long orientation from HR when starting a new job, new hires can use online training sessions to get up to speed faster and cheaper.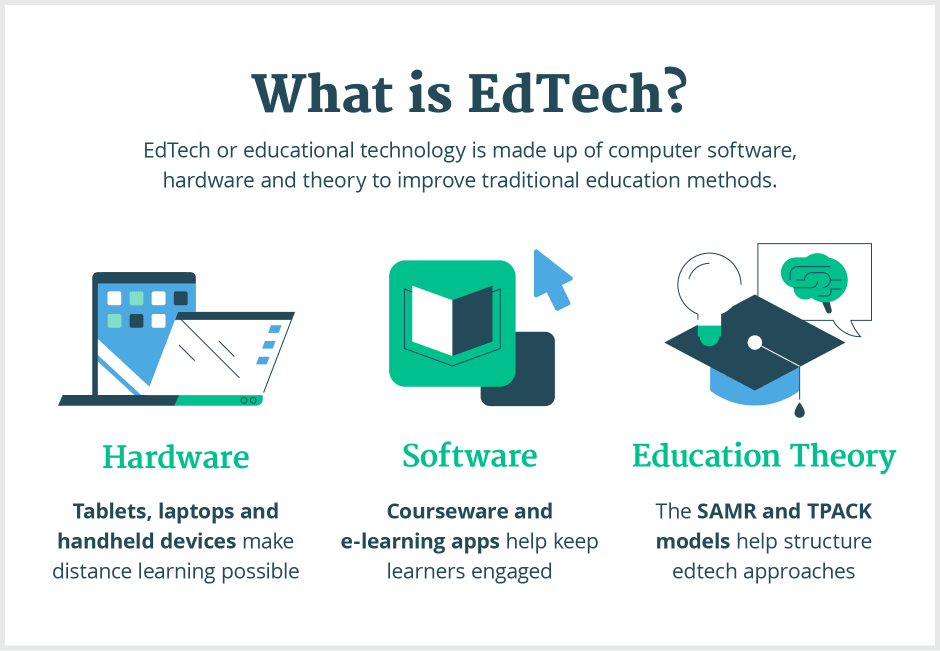 The Rise of Edtech
Due to the global pandemic, nearly 25% of workers aged 16 to 24 lost their jobs in the economic downturn. This massive impact left a gap in millions of resumes and took six months of experience away from many. To bridge the gaps, young professionals have taken advantage of edtech for their career advancement.
In the absence of classroom and work experience, new technology such as AR and VR training allows professionals to get valuable, hands-on lessons without leaving the house. These hardware revolutions paired with new teaching methods such as microlearning and gamification, professionals can learn efficiently and cheaply so that they can quickly excel in their careers despite setbacks caused by the pandemic.
5 Ways to Use Edtech to Propel Your Career
Prompted by the need for distanced learning in 2020, edtech is being used in ways like never before. For workers who are looking for a change or would like to stay competitive, there are several ways to use technology to support those goals.
1. Massive Open Online Courses (MOOCs)
Massive open online courses, or MOOCs, give learners access to countless courses from universities such as Harvard, Yale and MIT as well as Fortune 500 companies like Google and Microsoft. Whether professionals want to take Introduction to Financial Accounting from Wharton or Game Theory from Stanford, there is something for everyone. These courses are self-paced so professionals can learn soft-skills or technical skills to further their career at a cadence that works with their schedule. For professionals who are looking to climb the company ladder or switch industries altogether, these courses can provide an opportunity for growth without having to get a new job or go back to school.
The best way to find MOOCs is to search through sites that offer various courses. Each site features slightly different offerings so learners should look through multiple options before starting their next course.
2. Microlearning
Microlearning uses bite-sized lessons to train learners in various skills or competencies. These lessons can come in the form of text, video, games, images and quizzes that help trainees retain information. Microlearning apps and programs such as
Master-O
, a sales and customer service training platform, and
Duolingo
, a language learning program, are available in various industries. Since training is given in short bursts, microlearning sessions can be completed during a lunch break or even in the waiting room at a doctor's office. Microlearning platforms are also cost-effective and flexible which makes this type of learning particularly beneficial for corporate training.
3. Blended Learning
Blended learning has been a popular and necessary trend for 2020. As
90% of the global student population
was sent home to stop the spread of COVID-19,
teachers
quickly learned to adapt. This teaching style merges traditional classroom instruction with online lessons which creates an optimal learning environment for students. For professionals looking for career growth, this could look like taking a coding class online with the option to come into a lab as needed. This gives trainees the freedom to learn in environments that support maximum growth for their careers.
4. Multidirectional Training
In a traditional work environment, training options are limited to support for existing job responsibilities. For example, a
marketing professional
may be able to get access to in-bound marketing training or Google Analytics courses. However, if that worker wanted to learn about other facets of their industry, like graphic design, it may not be as easy to obtain. Edtech tools can help fill this need. Workers can access multidirectional training so that they can stay competitive in their industry or make lateral moves to other departments if they wish.
5. Career Development
One of the most beneficial aspects of using edtech in career advancement is that it puts the professional in the driver's seat of their career. They no longer have to depend on class schedules, work promotions or hiring boards to advance. The freedom to earn micro-credentials that will give them an edge that can help them develop long-term career goals and work towards them consistently.
The Future of Edtech
Edtech tools like MOOCs and blended classrooms are only the tip of the iceberg in the wide ocean of opportunity for career advancements using technology. On the horizon, there are ground-breaking trends that could potentially revolutionize education and career development.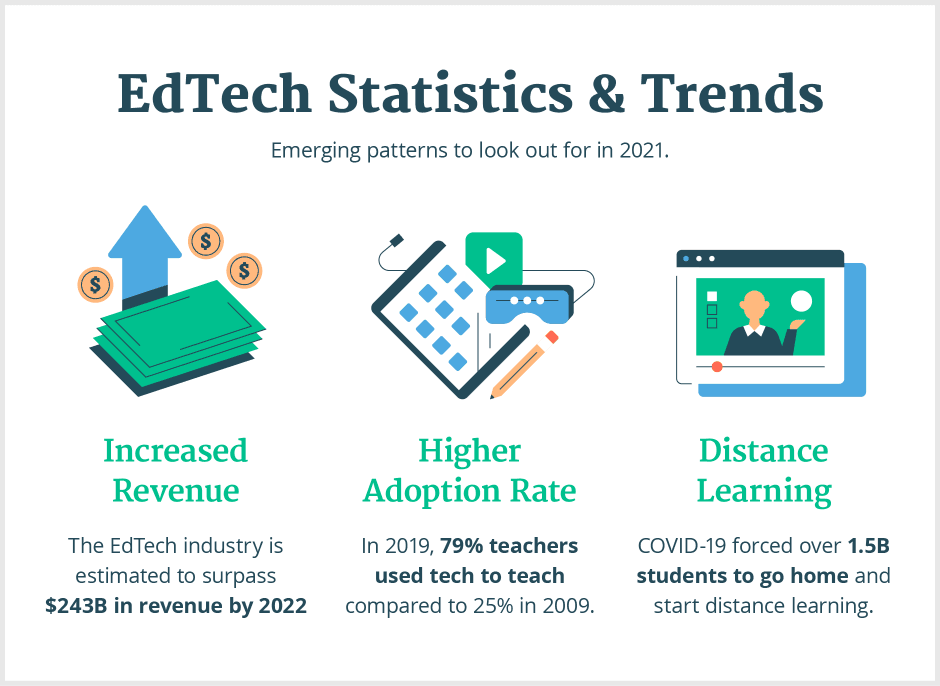 Gamification
This growing trend has already taken root in classroom instruction around the world and is spreading to other industries over time. This strategy transforms traditional learning methods into games with goals and rewards. Gamification is particularly beneficial because the reward system causes
endorphins to be released
which makes education fun. When learning is fun, trainees stay engaged and retain the knowledge they consume.
Distance Learning
As the world adjusts to a new reality, more technology will become available. Some of these advancements could look like digital classrooms with helpful interfaces, quizzing during instructions and real-time translation to make language barriers fall away. Perhaps the biggest benefit of this trend is the access to education anywhere in the world. Whether professionals are located in an area with poor education or are disabled and can't leave their homes, education will always be available.
Immersive Tech
One of the most exciting trends on the horizon is the use of AR and VR technology. The potential applications for this type of learning are endless. From hands-on machinery labs for
technicians
to interactive crowds for
public speaking
, learners can have access to stimulating artificial environments from the comfort of their own home. This method of teaching is not only exciting,
early studies
show that this engaging tech can improve student outcomes and retention rates.
Additional Edtech Resources
As the world of edtech continues to evolve, keeping up with new trends is important. For those who are interested in training or learning more about edtech in general, there are numerous online magazines and tech blogs for staying up-to-date. Some of these are edtech specific and some extend into the broad world of e-learning. Learners can bookmark these sources for easy access or subscribe to emails for frequent updates.
For even more edtech resources, check out the infographic below. It highlights some of the benefits of using edtech for career growth and illustrates new tech on the horizon. The future of edtech is here and with a little guidance, it can support long-term career growth like never before.

Edtech can give professionals the reins on their career to guide it wherever they want. Whether they lost their job in the last few months or would like to
build their resume
, keeping up-to-date on edtech advancements and taking advantage of the opportunities it allows could change their career trajectory.