Becoming an intelligence analyst may be your next career move if you have a passion for crime prevention, problem-solving and technological innovation. This article will teach you everything you need to know about becoming an intelligence analyst. We compiled a list of requirements for entering the profession, salary and job growth statistics for this career. In this guide, you will also find how to optimize your resume to attract more recruiters with our professional Resume Builder, libraries of templates and intelligence analyst resume samples.
Need cover letter guidance? Add a cover letter to your resume using our cover letter formats how-to guide and add value to your resume.
Want to boost your resume? Your Jobhero subscription comes with a complimentary cover letter builder. Once you choose a cover letter template, the builder will suggest job-specific skills and prewritten entries, allowing you to save multiple letters for various applications fast.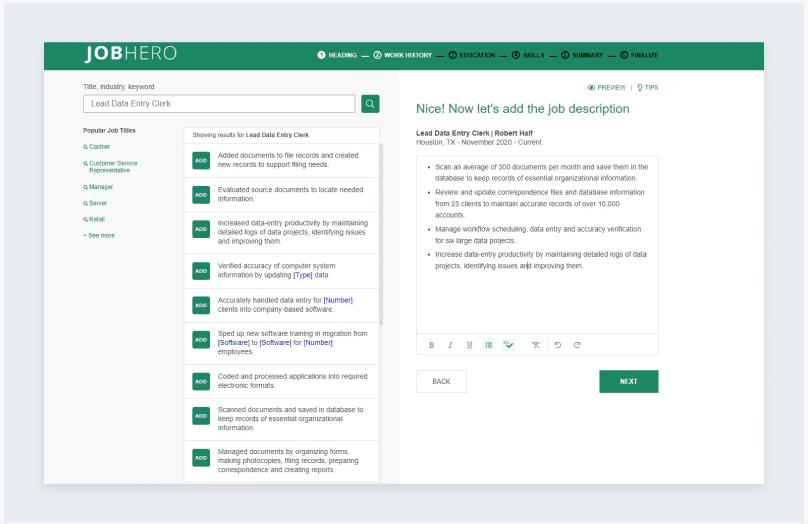 BUILD MY RESUME
What Does an Intelligence Analyst Do?
An intelligence analyst works closely with special agents to identify and analyze potential threats, counterterrorism and organized crime. Their work is crucial to mitigate national and international risks proactively.
An intelligence analyst aims to report helpful information to prevent attacks on data or citizens from those participating in organized criminal activities. Some typical intelligence analyst duties and responsibilities include:
Prepare comprehensive reports based on information gathered during research.

Validate information with other intelligence sources.

Study the assets of criminal suspects to determine the cash flow to or from targeted groups.

Study foreign languages or communication codes to translate possible intelligence.

Identify threats and provide a strategy based on a region's culture, history and language.

Networking with international, national, state and local officials and intelligence and law enforcement contacts.
How to Become an Intelligence Analyst
If you are considering becoming an intelligence analyst, this promising career is in constant demand, with a projected growth of 35% through 2031, much faster than the average for all occupations. Based on the government salary scale, this high-paying occupation offers a yearly income of up to $134,776.00, as reported by the FBI. Let's break down the steps of how to become an intelligence analyst.
Intelligence Analyst Skills
The ability to obtain, process and provide information are three of the most important skills an intelligence analyst will be expected to do. Being an intelligence analyst involves observing and receiving data from relevant sources, working with the data to break it down into separate parts and compiling reports that allow an understanding of the risks associated with various groups and individuals.
They should be able to desegregate significant data from large bodies of data they obtain and create and maintain a systematic recording and filing system that allows for cross-referencing of intelligence data obtained.
Intelligence analysts should be able to speak and write clearly and succinctly. Consider becoming multilingual to work in foreign affairs.
The Foreign Service Institute (FSI) features the School of Language Studies (SLS), which provides classes in over 70 languages to prepare government workers for global careers. The most in-demand languages to study for government jobs are:
Arabic

Pashto

Somali

Farsi

Korean

Mandarin

Russian

Spanish

Turkish
Aside from language skills, intelligence analysts need a mix of hard and soft essential skills to succeed.
3
Interrogation techniques
7
Vulnerability assessment
10
Data visualization software
1
Critical thinking is fundamental for intelligence analyst professionals.
4
Research plays a vital role in accessing crime data and assessing models.
5
Problem-solving is critical to identify complex issues and create solutions.
6
Leadership ensures everyone works toward the same goal.
Insights About Intelligence Analyst
In order to get an inside look at how to become an Intelligence Analyst, we talked to Dmitri Oster, who has an extensive background in international affairs and associated disciplines. Here's what he had to tell us.
What Is the Common Career Path for Intelligence Analysts?
There are many paths available for a person to qualify as an intelligence analyst. Any given applicant must be very well-read, intelligent and with a deep knowledge base for all types of civil and worldly affairs. Any such applicant should also not have anything resembling a criminal record as background is thoroughly examined and judged according to various national security guidelines. Some people in this industry would say that a typical intelligence analyst would come from an academic background in political science or international affairs or something associated with such fields of study. And, many who enter this field do come from such an academic background. However, it is important to know that other backgrounds are considered when one is attempting to enter this professional domain.
What Career Advancement Opportunities Are Available to Intelligence Analysts?
There are options available to ascend to higher levels of managerial oversight or supervisory status within both the governmental and even private sectors of industry. The abilities required to collect, analyze, and think through complex sets of data while rendering an intelligible product in a timely and efficient manner to consumers is a skill-set that is highly regarded in upper levels of practice in both the intelligence and private sector domains. There are some intelligence analysts that even choose to enter the political domain with their gained understanding of the intricacies embedded in political phenomena. Although, that is always only a personal career choice with a very different set of priorities and orientation. It is fair to say that an intelligence analyst would most likely have a different set of eyes to be able to interpret and help inform their viewpoints on political and even business matters, should the need arise.  I refer to this simply as the creative impulse, and harnessed in a productive manner it can lead to success in various fields of operations.  Good intelligence analysts often emerge from this backdrop of functioning.
Who Makes a Good Intelligence Analyst?
People who excel in this type of job are those that have a penchant for detail and can follow various protocols, but also have a developed sense of critical inquiry. Any type of intelligence analyst without a critical consciousness is simply following regulations. The best analysts are those that can work within complex guidelines but also are not afraid to think and question beyond the standard parameters of inquiry. 
What Should Someone Consider Before Becoming an Intelligence Analyst?
First and foremost is the question of emotional and behavioral stability. It is important to consider this domain and dynamic of human functioning because most intelligence analysts must have the refined abilities to multi-task with a keen sense of focused attention and detail-orientation while at the same time having the capacity to see the bigger picture of any particular project.  This is the ability to see and perceive on different levels at the same time, while not being burdened by distraction and other forms of stimuli that are always present. I firmly believe that only those analysts and other operators that have spent a good amount of time on their emotional development have the capacity to carry out these functions in the most efficient and mature manner.
How Much Do Intelligence Analysts Get Paid?
Intelligence Analysts earn a median hourly wage in the United States of over $37.00. The lowest-paid Intelligence Analysts make around $20 hourly, while the highest-paid can earn more than $60 per hour.
Top 10 States for Intelligence Analyst's Salary
Intelligence Analysts in the following states make the highest median hourly wage in the U.S.:
Intelligence Analyst Resources
Need more information? We put together this list of extra resources to assist you as you continue exploring a career as an Intelligence Analyst.
On the Web
CIA
Office of Intelligence and Analysis
On LinkedIn
Kenneth Costine
Intelligence Analyst at Office of the Director of National Intelligence
Industry Groups
IALEIA
International Association of Law Enforcement Intelligence Analysts
IACA
The International Association of Crime Analysts