Featured in:
Veterinary Technicians use their knowledge and skills to assist veterinarians in the care and treatment of animals. A Veterinary Technician works closely with supervising veterinarians to provide preventive care, diagnose injuries and illnesses and perform medical procedures on dogs, cats, small mammals, reptiles and birds. Some Veterinary Technicians also work with horses, cattle and other large animals. Although the job requires a great deal of collaboration with veterinarians, Veterinary Technicians also have the opportunity to work independently.
Veterinary Technicians typically report to a veterinarian or practice manager. In some cases, they assign tasks to volunteers or office workers. Animal hospitals, small-animal practices, veterinary clinics, animal shelters, kennels and large-animal practices employ Veterinary Technicians to care for a variety of animals. The number of jobs available in this field is expected to grow by 19 percent through 2023, reports the Bureau of Labor Statistics.
If you are having writers block, our resume examples can help. Choose from hundreds of job titles to find the right example for your needs.
Want to boost your resume? Your Jobhero subscription comes with a complimentary cover letter builder. Once you choose a cover letter template, the builder will suggest job-specific skills and prewritten entries, allowing you to save multiple letters for various applications fast.
Veterinary Technician Duties and Responsibilities
The primary responsibility of a Veterinary Technician is providing basic care to animals that come to a veterinary practice or animal hospital. To provide adequate care, a Veterinary Technician must perform a variety of duties. We looked at several job listings to identify the core duties of a Veterinary Technician.
Obtain Case Histories
It's important for the veterinarian to know as much as possible about an animal's diet, exercise routine and home environment. A Veterinary Technician gathers this information by asking what kind of food the animal eats and how much exercise it gets. If an animal is ill, the Veterinary Technician asks if it spends a lot of time outside or has access to table scraps, cleaning products or other potentially harmful substances.
Collect Laboratory Specimens
Blood, urine and stool samples are used to diagnose viruses, bacterial infections and other diseases. Veterinary Technicians collect these samples and run simple laboratory tests.
Prepare Animals for Surgery
Before a veterinarian performs surgery, a Veterinary Technician prepares the animal by shaving and sterilizing the surgical site, administering sedatives and performing other pre-operative procedures. Veterinary Technicians also assist veterinarians during surgery.
Educate Animal Owners
Veterinary Technicians teach animal owners how to administer medication and perform basic medical procedures at home. In many cases, a Veterinary Technician is also responsible for answering questions about general pet care.
Assist in Veterinary Exams
It's difficult to perform a thorough examination on a wiggling animal, so a Veterinary Technician assists with every exam. The Veterinary Technician may have to hold the animal in a certain position, hand instruments to the veterinarian or record an animal's vital signs.
Veterinary Technician Skills
Veterinary Technicians must have a blend of technical skills and interpersonal skills to succeed in the industry. Communication skills are especially important, as Veterinary Technicians spend much of their time talking with veterinarians, office personnel, clients and vendors. Employers want Veterinary Technician candidates who also have the following skills.
Core skills:
After reviewing several job postings, we determined that veterinarians want to hire Veterinary Technicians with the following skills. If you are interested in working as a Veterinary Technician, spend time learning how to do the following.
Administering medications to animals in a safe manner
Restraining animals during exams and procedures
Taking vital signs accurately and collecting lab samples
Performing first aid on sick animals
Maintaining laboratory equipment
Providing post-operative care to a variety of animals
Advanced skills:
Not every practice requires Veterinary Technicians to have the following skills, but several postings did list them as preferred. Develop these additional Veterinary Technician skills to improve your standing as a candidate.
Performing dental exams and dental cleanings
Training new employees to perform veterinary procedures
Using AVImark practice-management software
Create your own professional resume in just minutes.
Try our resume builder today
Build Your Resume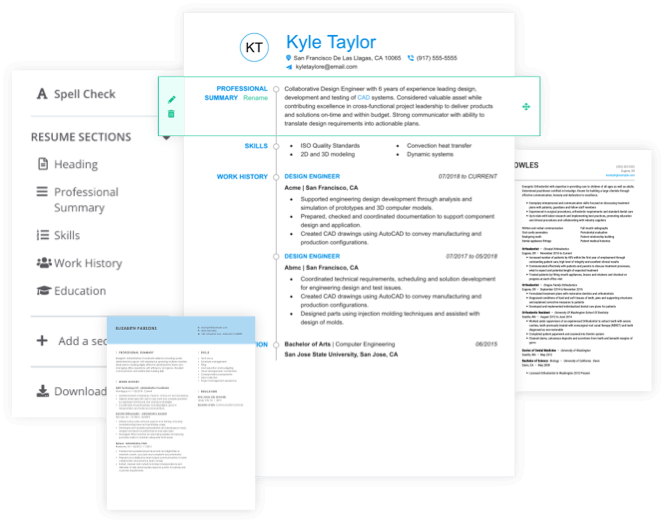 Veterinary Technician Resources
We searched for resources to help you learn more about the veterinary field and determine if you have what it takes to become a Veterinary Technician. Use these books, industry groups, and websites to learn new skills and meet other veterinary professionals.
On the Web
: Access free continuingeducational materials to help you become a better Veterinary Technician.
: Find out if you are eligible to take the Veterinary Technician National Exam (VTNE).
IDEXX
: Learn more about providing veterinary care to cats, dogs and small animals.
Industry Groups
(NAVTA): Join NAVTA to take advantage of networking opportunities, survey data, and resources created specifically for Veterinary Technicians.
(VSPN): Access a community forum and library of resources for Veterinary Technicians and other veterinary support personnel.
(AAEVTA): Join AAEVTA to meet other equine Veterinary Technicians.
Veterinary Technician Books
: Improve your chances of passing the Veterinary Technician National Exam.
: Brush up on the terminology you need to succeed as a Veterinary Technician.
: Use this guide as a reference any time you have a question about animal care, medications, or other veterinary topics.
Veterinary Technician Resume Help
Explore these related job titles from our database of hundreds of thousands of expert-approved resume samples: