The hybrid format is a smart, creative way to present your work history that emphasizes your skills and achievements. Because a hybrid resume will highlight your skills and achievements section first, it can be an effective way to direct a hiring manager's attention to what makes you a good fit for a job, even if you haven't followed the most obvious career path.
The focus of a hybrid (or combination format) resume is a skill summary. This format allows you to emphasize relevant skills while de-emphasizing any gaps, flaws, or question marks in your work history.
Is a Hybrid Resume Right for You?
The hybrid format is best for people who haven't followed a conventional career path, including artists, veterans, and people make a major career changes.
A hybrid resume highlights relevant achievements and skills, and de-emphasizes gaps in employment history.
A hybrid resume might be the right fit for you if you:
Lack an extensive or consistent work history
Have unexplained gaps in your employment
Are a military veteran or recent graduate
Have had several career changes or are now looking to change careers
Not sure a hybrid resume is right for you? Head to our
Resume Formats
page to see if a
chronological
or
functional
resume format makes more sense for you.
Why Use a Hybrid Resume Format

Highlight your skills and accomplishments, while de-emphasizing any gaps in your work history.

Shift focus away from work experience and turn attention toward transferable skills.

Make a great impression despite job history gaps or career changes.

Make sure your resume is easily read by automated bots that scan resumes for most major businesses
How is a Hybrid Resume Ordered?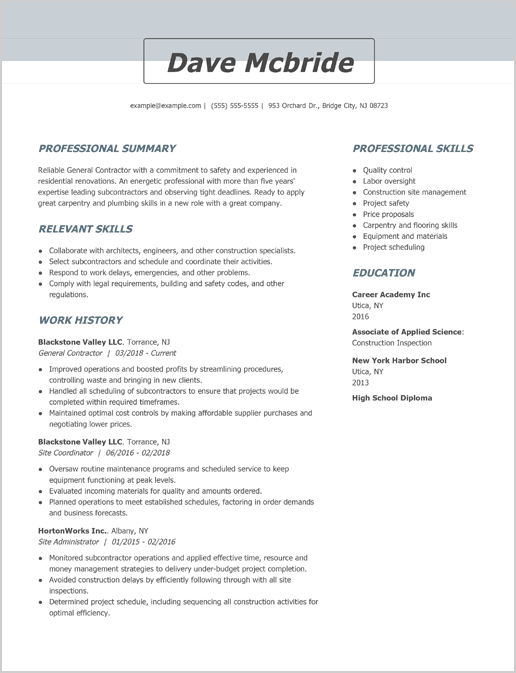 1
Your Name
This is important: if a hiring manager wants to offer you the job of your dreams, they need to be able to reach you! Place your name at the top of your resume so it's easy to see. Your name should be formatted in a larger font size. Make it bold, so it stands out.
2
Contact Information
Your contact information should be up-to-date and placed below your name and job title. Use your phone number, LinkedIn profile, or email address as your main form of contact. Rule of thumb: Keep it simple, clear. and professional.
3
Skills Summary
This section is the main focus of a hybrid resume. Create a list of key skills that are relevant to the job or career path you want. Bold the skill (for example "Leadership") and beneath that, use bullet points to briefly list a few supporting facts, achievements or experiences that provide proof and validation.
Rather than making hiring managers work hard to discover and understand your achievements, the benefit of a hybrid resume format is that it allows you to extract and highlight standalone skills, and then support those with any awards and certifications.
Look at the position's job posting to make sure you are aware of the specific skills the company is looking for; reflect on your skills and think of how they might be transferable to the position for which you're applying.
Pro Tip:
Remember to customize your skills section for the job you're hoping to get. Even if you feel super-proud that you climbed Mount Everest (which understandable) mountain-climbing isn't a skill that matters if you're applying for a job as a software engineer. Your resume is also about the future you envision, not just the past you've had.
Here are three simple steps to writing your resume skills section.
4
Additional Skills
If you're fresh out of school or don't have an extensive work history, you may not need this section. But if you've been in the workforce for a few years, you can pack the skills summary section with skills that are directly relevant to the position you're applying to and still use this section to briefly list some additional skills. These may not be directly relevant to the job you want but still have value because they show you are a well-rounded professional. This section should be brief. Just list up to six skills with a bullet point, and a brief adjective, for example:
Spanish--fluent.
InDesign--proficient.
Photoshop--expert.
5
Professional Work Experience
Yes, a hybrid format resume highlights your skills but that doesn't mean you completely leave your work experience off! A hiring manager will still need to understand how you developed your skills in a professional setting.
List your positions in reverse order chronologically, with the most recent first.
Include the dates you worked, your job title, and the company name for each position you held. Include up to two bullet points to list responsibilities or achievements.
Note: these bullet points under your work experience will probably overlap with information you listed above in your skills summary, and that's OK. Remember: recruiters are quickly scanning your resume, so it's important to reinforce key facts. Bullet points also make it easier for ATS (applicant tracking software) to scan your resume.
Pro Tip:
Making information easy to understand at a glimpse is the key to a good resume; overloading your work history can make your resume seem clunky. No matter how proud you may be of a past accomplishment, if it's irrelevant to the position you're applying for, leave it out.

When possible, speak to the achievements and accomplishments of each position, rather than responsibilities. Use strong action words for each bullet point, such as achieved, managed, delivered, started, increased, helped, etc.
Learn how to write your resume work experience section.
6
Education
On a hybrid format resume, your education comes last (or second to last if you want to add optional additions). You don't need to go into great detail. Just list your degree. your major, the name and location of your school, and any honors or awards.
For example:
2018 BFA in fashion design
Fashion Institute of Technology, NY
Dean's List
How to showcase education on your resume.
7
Optional Additions
If you'd like to add more information to your resume, make sure it is necessary and relevant to the position you are applying for. Here are a few things you may want to add:
Certifications
Achievements
Volunteering
Hobbies and interests
The best ways to list professional certifications on your resume.