If you're looking for an easy, no-fail format to organize your resume, the chronological resume is your best choice. A chronological resume, also referred to as the reverse-chronological format, presents work history in a clear list that's easy for recruiters and hiring managers to digest. It shows each employer in a timeline progression, with the most recent work history first.
Why Chronological Resumes Are the Most Used Format

Job experience and titles are showcased; these are often the #1 hiring factors for hiring managers and recruiters.

Easy format for Applicant Tracking System (ATS) to scan. Learn more about getting through an ATS.

Most recognized format by hiring managers and recruiters

Delivers a quick, easily digestible overview of work history
Is a Chronological Resume Right for You?
A chronological resume might be the right fit for you if you: have a long, consistent work history; have minimal gaps in your employment; or are a recent graduate and want to education and collegiate achievements.
If you've had several career changes or gaps in employment, a skill-based resume format (like the functional or hybrid resumes) may be a better choice.
Not sure a chronological resume is right for you? Head to our Resume Formats page to see which one is the best fit.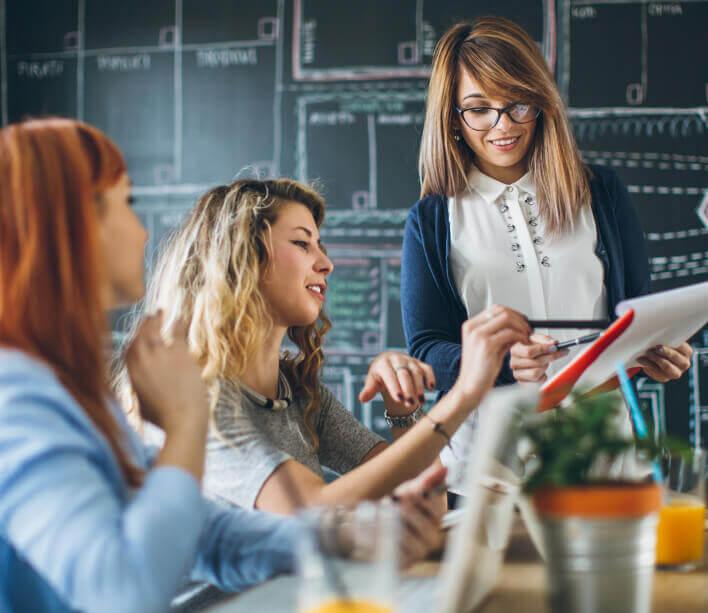 How Is a Chronological Resume Ordered?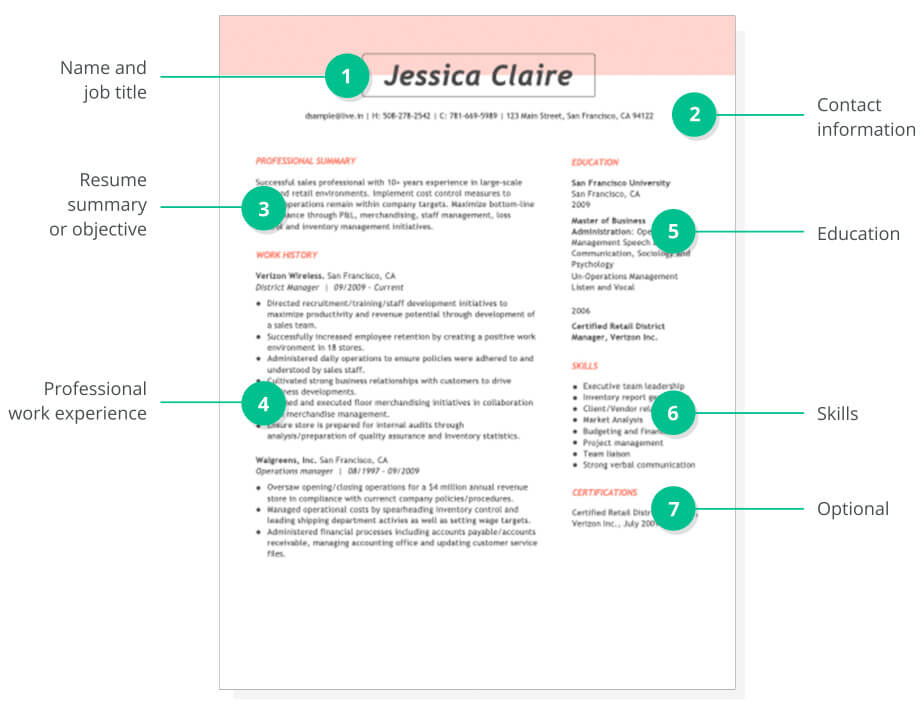 1
Name and Job Title
Place your name and most recent job title at the top of your resume so they're easy to see. Both can be formatted in a larger font size, or even made bold, to stand out.
If you're making a career change, your current job title may not be applicable to the position you're applying for. If this is the case, nix the job title, but put more emphasis on your summary and objective as an overall descriptor.
You may even want to look into using a functional or hybrid resume to highlight your skills, rather than your current or most recent work experience.
2
Contact Information
Your contact information should be up-to-date and placed below your name and job title. Use your phone number, LinkedIn profile, or email address as your main form of contact. Rule of thumb: Keep it simple, keep it professional.
3
Resume Summary or Objective
Below your contact information, you'll write a short, two- to three-sentence summary of your overall experience and objective. This is your first and best opportunity to speak to your unique skills and work history. What makes your experience different? What are your goals? Make it tight and impactful, painting your work experience and history in the best light possible.
4
Professional Experience
List your positions in reverse order chronologically, with the most recent first. Ultimately, this section is the main focus of your resume and should be given special attention. Here's how to set it up:
Current position first, followed by the rest of your work experience in reverse chronological order

Dates worked, job title, and the company name for each position held

Location of position (optional)

Bullet points for main responsibilities, up to six for each position. (Note: Formatting your responsibilities in a paragraph can make it harder for an ATS to scan your resume and process the content correctly; that's why bullet points are the better choice.)
Quick Tips:
Stay away from including work responsibilities that are irrelevant to the position you're applying for. Remember: Quick and digestible is the key; overloading your work history can make your resume seem clunky.

When possible, speak to the achievements and accomplishments of each position, rather than responsibilities.

Use strong action words for each bullet point, such as achieved, managed, delivered, started, increased, helped, etc.
Learn how to write your resume work experience section.
5
Education
If you have more than two years of experience out of college, you can set your education section up as follows:
University/college name

Major

Degree

Graduation year
If you have graduated from college within the last two years, you can consider the addition of the following after your graduation year:
GPA

Relevant coursework

Minor

Dean's list

Honors

Study abroad
If you started working directly out of high school, list any licenses or certifications that you've received that are applicable to the industry you work in, or the industry you would like to get into.
Find out ways to showcase education on your resume.
6
Skills
Your skills section should be a master list of your hard, soft, and technical skills. Choose approximately 10 skills that could be transferrable to the position you're applying for. To help you decide which skills to choose, take a look at the position's job posting to verify which skills the company is specifically looking for.
Quick Tip:
Pepper your key skills (that are relevant to the position you are applying for) throughout your resume for additional impact.
If you started working directly out of high school, list any licenses or certifications that you've received that are applicable to the industry you work in, or the industry you would like to get into.
View three simple steps to writing your resume skills section.
7
Optional
If you'd like to add more information to your resume, make sure it is necessary and relevant to the position you are applying for. Some considerations:
Languages

Certifications

Achievements

Volunteering

Hobbies and interests
Learn the best ways to list professional certifications on your resume.