Featured in:
More Travel Agent Resumes
Use these Travel Agent samples as a guideline or visit our extensive library of customizable resume templates.
Additional Travel Resume Samples
How to Format a Travel Agent Resume
As a travel agent, you can take one of three approaches. If you have over three years of experience, you can use a timeline-based resume like the chronological or hybrid resume. These two formats help potential employers trace your previous jobs and experience. Candidate A uses the chronological resume to highlight almost two decades of experience.
With over three years of experience, Candidate B could use a hybrid resume. This resume format dedicates equal importance to your skills and experience. However, they took a nine-month sabbatical. This work gap could raise red flags with potential employers, so they used the functional resume format instead. This resume downplays your dates of employment and prioritizes your technical knowledge and experience based on your skills. For example, Candidate B prioritizes experience based on their understanding of customer service and travel arrangements.
Chronological Resume
18

years of experience

3

years at this job

BBA

Hospitality Administration
Work History
Travel Agent, Daily Tropics Agency
November 2019 - now, Miami, FL
Research destinations and dates to find the best travel package and identify necessary applications or documents.
Follow up with clients to confirm their travel specifications, budget and finalized itineraries.
Distribute and collect forms needed for travel permits, travel arrangements, hotel accommodations or onsite rentals.
Functional Resume
4

years of experience

2

years at this job

MBA

Hospitality management
Professional Skills
Travel Arrangements
Research destinations, hotels, cruises, airfare options, site seeing, and additional trip information to best meet the client's needs and expectations.
Facilitate professional, accurate, cost-effective travel arrangements, including flights, hotels, on-site transportation and client-requested activities.
Processes final documents, including itineraries, air and transportation tickets and final payments.
Customer Service
Process bookings in a timely and friendly manner for walk-ins, appointments, phone calls and email clients.
Responsible for selling and retaining travel clients for cruises, tour packages, hotels and airfare.
Inform clients of CDC travel restrictions, world events and weather that might affect travel plans to ensure a positive, well-informed experience.
Travel Agent Resume Samples
No results found
0-5

years of experience

Successfully and efficiently steered travel operations to generate high volume growth and revenue, including cruises, tours, airline reservations, car rentals, and hotels.
Consistently ensured delivery of quality customer service vital to growing a loyal clientele base.
Drive productive travel operations, achieving $1M sales quota goal in 9 months, inducted into the Chairman's Club for $1.2M+ and recognized as a top travel agent in the Southern Region.
Currently highest producer of the Mid-Atlantic region of sales for 2013, at $856,000 in generated travel revenue YTD, and over $300,000 for the month of May
10+

years of experience

Maintained up-to-date knowledge of travel products including: airline travel, hotel and car reservations, cruise and tour travel.
Developed and maintained outstanding relationships with clients and exceeded their expectations for customer service while securing their travel arrangements.
Carefully listened to and assessed clients' needs in order to create a match for their vacation plans.
Demonstrated consistent ability to close sales and achieve high productivity.
Utilized excellent verbal and written communication skills and maintained professional, positive demeanor.
Continuously demonstrated exceptional organizational skills with ability to multi-task.
10+

years of experience

A membership service organization that specializes in travel arrangements, emergency road service and automobile insurance.
Supported the Managing Director by reconciling the airline reports for six offices and working on account discrepancies
Provided service to customers in a busy travel agency, booked flight reservations, cruises, tours, hotels and car rentals. Worked independently in a branch office and then as an outside sales representative.
Advised clients of required travel documentation and procurement options
Supervised emergency road service and domestic travel in a busy environment with 15 or more employees, depending on the season.
0-5

years of experience

Consulted member based clientele with a focus on group and individual travel needs.
Advised clients of proper travel documentation and forms of payment for all types of travel.
Processed Tourist and Business Visas, International Driver's License's and Passport photos.
Analyzed and compiled information from preferred vendors thru webinars and workshops and maintained compliance and certification with vendor related agent programs.
Expedited the sale of local amusement park and movie theatre tickets and Visa credit card applications.
Communicated travel insurance related claims to necessary vendors for clients.
Maintained company wide and specialized training for all business lines in compliance with AAA's corporate headquarters.
Volunteered and participated in afterhours AAA sponsored events for community outreach groups.
10+

years of experience

Founded scuba diving and adventure travel reservation center generating individual and group sales to both wholesale and retail markets.
Arranged and booked custom vacations with airfare for individuals, families, scuba diving
Negotiated contracts with multiple vendors and increased commission by 5%.
Coordinated transportation and tour logistics for multiple day itineraries encompassing all
Created new tour packages, itineraries and retail pricing using MS Excel.
Authored web content, contributed newsletter articles and created marketing materials.
Supervised social media postings to Bill Beard's Facebook, Google+, Linked In, and
Exhibited company product and presented seminars at consumer trade shows and industry functions.
Maintained accounts payable, accounts receivables and payroll via QuickBooks Pro
0-5

years of experience

Interacted daily with clients, tour companies, airlines by telephone, email and written correspondence
Customized and facilitated clients' global and domestic travel itineraries
Scheduled meetings with clients and vendors to discuss future travel
Collected payments from clients and dispersed monies to vendors in a timely manner
Strong written and verbal communication skills
0-5

years of experience

Made reservations and advised clients as to travel plans involving air, ground, and hotel considerations.
Promoted groups for cruise travel and made presentations to organizations to describe group travel benefits.
Developed growing base of contacts with local cruises.
Troubleshot problems and resolved them to the satisfaction of clientele
Promoted as Manager of Cruise Operations after 5 months.
0-5

years of experience

I design all marketing and promotional campaigns to generate new business.
In charge of all personal and business travel arrangements international and domestic.
Initial contact for all reservations, which includes all, cruises, excursions, hotels, airlines, limos, rental cars, event tickets, and dinning.
Built and maintained relationships with vendors to assist in travel accommodations as needed.
Assisted customers with setting up online profiles and website navigation so clients can submit payments for their vacation packages, or customize, and build their own.
Increased travel sales by 50% by up selling different attractions international and domestic.
Followed up with customers to ensure safe arrival, made sure they were satisfied and vacation packages were accurate.
10+

years of experience

Offered personalized travel booking service to marketed groups and individual consumers.
Responsible for gathering information from customers to form custom packages.
Collected payments, secured insurance, and booked travel packages for clients.
Marketed products and services to prospective customers through several forms of media.
6-10

years of experience

Oversaw all aspects of every sale from greeting to consultation to booking to post-travel follow up.
Organized group travel for families and incentive travel for companies.
Marketed and hosted travel nights, open to the public, through radio and print ads.
Coordinated sales presentations by tour company reps to prospective clients.
Did site inspection tours of resorts and cruise ships and attended seminars and on-line classes to keep my industry knowledge current.
6-10

years of experience
Received, processed, and fulfilled fast-paced corporate client travel requests.
Arranged and verified air, train, hotel, and car reservations and ticketing orders.
Coordinated and helped plan leisure air, hotel, car, tour, and cruise travel arrangements.
Provided consistent and courteous telephone customer service to help ensure repeat client business.
Collaborated effectively with employees & management, sharing team responsibilities when needed.
0-5

years of experience

Trained 4 agents in the travel industry. Worked with our Club Members in planning all phases of their vacation requests.
Senior Top Travel Agent with Individual Cruise travel yearly sales to $200K.
Maintained excellent customer relations with existing travel club clients for repeat business.
Serviced clients by developing their travel plans to include airline, cruise, car rental, and hotel reservations.
0-5

years of experience

Planned itinerary and arranged travel accommodations and tours (air, car, hotel, etc.) for AAA Club members
Lead Sales Agent, consistently exceeded sales quota
Computed travel costs, quoted package tours and collected credit transaction payments from clients
Sold and coordinated cruises, escorted tours and independent travel packages
Resolved customer complaints
6-10

years of experience

Worked as a Special Service Desk agent for three corporate accounts. Responsibilities included file finishing the records booked online by the travelers in GOV TRIP, complete their special requests including upgrades, hotel and car requests.
Booked air, car, hotel and Amtrak reservations according to client specifications.
Completed Passenger name records (PNR) to include stored fare, car rate quote and hotel pricing.
Coordinated travel and meeting services for large and small groups
Successfully processed arrival, departure and cost reports for all the groups. Created Spreadsheet in Microsoft Excel.
Handled and resolved customer service issues.
Received Associate of the Month Award and several Thank you and spirit awards based on the Customers compliments.
0-5

years of experience

Completed all ticketing, secured payments and submitted all monies and paperwork to accounting department.
Prepared detailed itineraries upon bookings to ensure accuracy of reservations and provided confirmation to clients.
Arranged accommodations according to the customer specification.
Ensured the ticket booking followed the correct date and format
Developed strong relationships with managers and staff, creating a cohesive and productive team within a deadline-driven environment
Responded to client's questions, concerns and billing inquiries with highest degree of professionalism
Tracked unused e-tickets for exchange toward future trips and personal expenses
Helped determine the most efficient way to make flight connections, made transportation arrangements to and from airports
Apart from that provided clients the best travel package deals along with offering prompt, accurate and courteous service to clients
0-5

years of experience
Booked hotel and air travel for US customers to Caribbean scuba diving destinations.
Trained 5 agents in Sabre.
Processed weekly IAR accounting and reconciled back office accounting in TRAMS.
Arranged and monitored group air travel.
Coordinated group air payment due dates with group leader.
0-5

years of experience

Reservation specialist for a member based travel agency.
Assisted members with travel inquiries and bookings on an Apollo CRS system.
Dealt with multiple suppliers in the hotel, rental car, and airline industries.
Received thorough knowledge of various reservation transactions, including: arranging itineraries, booking, and interfacing with contracted vendors.
Began employment in the hotel and rental car department. Promoted to packages department.
Duties included providing competitive quotes for specific inquiries, booking reservations, and tendering form of payment. Responsibilities included researching travel packages and arranging flights for clients.
Resolved client problems and special requests.
0-5

years of experience

Booked international and domestic travel for a fortune 500 Co, while consulting client on lowest available air fare with in company policy. Maintained excellent customer service and professionalism.
Exceptional customer service skills created many returning clients.
Learned and took over new on line corporate accounts.
Communicated clearly and used good listening skills.
Independently made decisions for client in an emergency situation all with in a timely manner.
Customer satisfaction score was 99%.
0-5

years of experience
Developed and managed ongoing database of over 700 clients and prospects acquired through walk-in, phone, and web leads.
Booked and quoted vacation packages including air, accommodations, cruise, escorted tour, rail, car rental, transfers, excursions, park passes, and travel insurance to any destination in the world to match the client's needs.
Maintained dollar per file, margin percentage, conversion and repeat client rate above company goals on a monthly basis.
Processed payments and registered accounting for thousands of dollars of cash and credit transactions daily.
Communicated with external suppliers to issue checks and credit card payments for finalization of client bookings and ensure trip details were precise.
Educated clients on the features and benefits of travel insurance and assisted in the claim process.
Presented and thoroughly explained booking terms and conditions to clients prior to completing the sale.
Assisted in daily store tasks including accounting reconciliation, banking, queue management, daily planners, close of business and updating marketing.
10+

years of experience

A Leading Travel Agency of the Year 2012 specializing in Supporting clients via phone and e-mail
. Booked airfare, bus, cars, and hotels. Processed exchanges and refunds for airline tickets.
Recruited, scheduled, and supervised workers.
Determined customer needs and provided world-class service to corporate, leisure, and group travel customers.
Interacted with clients via phone and e-mail.
Aided clients with matters regarding passports and visas
Processed exchanges and refunds for airline tickets
Load More
Travel Cover Letter Examples
Create your own professional resume in just minutes.
Try our resume builder today
Build Your Resume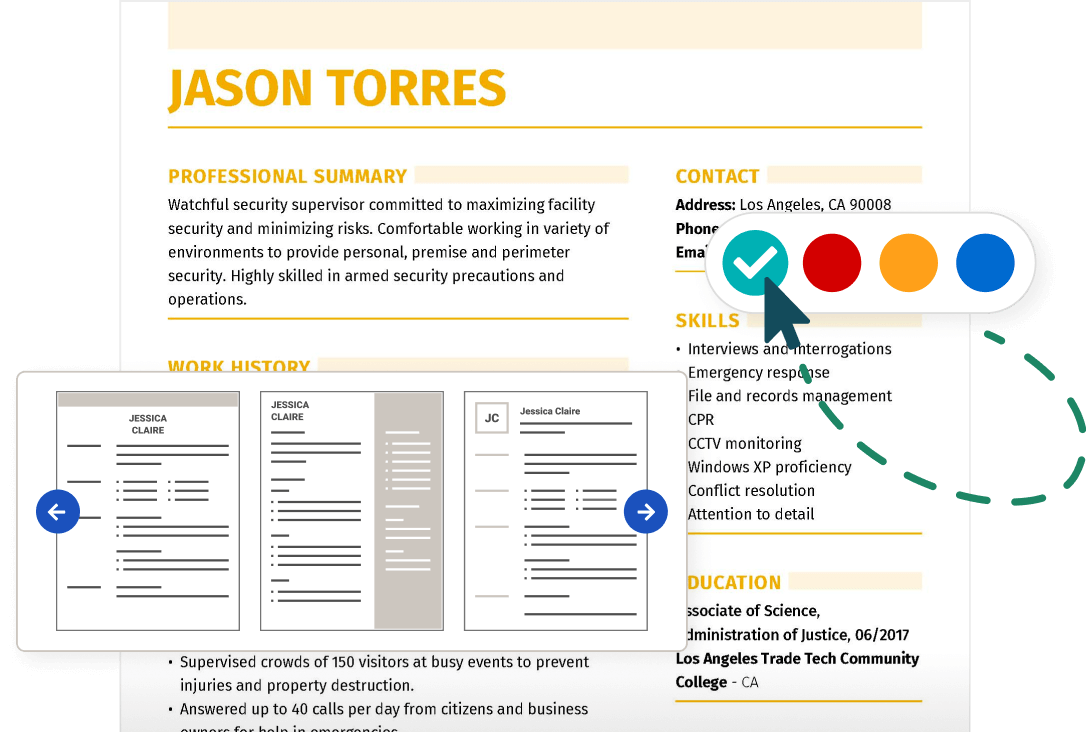 Travel Agent Resume FAQ
How do you describe a travel agent on a resume?
Prioritize relevant skills related to customer service, travel research, computer skills or improvisation.
Focus on the needs of the hiring travel agency or company. For example, if an international agency is looking for agents with experience with private tropical travel, mention your experience booking charter flights and boats.
Showcase certifications in the industry like Certified Travel Associate (CTA), Elite Cruise Counselor (ECC) or Certified Travel Counselor (CTC).
What skills does a travel agent typically need?
An exceptional travel agent should remain calm under pressure and exhibit these skills:
Amiable customer service
Written and verbal communication
Strong sales skills
Knowledge of optimal travel periods and off-season travel
Client administration and organization
Active listening skills
Persuasive speaking style
Data management
Record keeping
What are the duties of a travel agent?
Arrange travel for business and vacation clients.
Plan and arrange tour packages based on client's needs, interests and budgets.
Provide on-hand support in response to travel-related delays or issues.
Find and provide fare, schedule and payment deadline information.
Calculate total travel costs, including fees, insurance and premium add-ons.